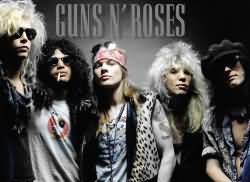 From left to right: Duff McKagan, Slash,
Axl Rose, Steven Adler, Izzy Stradlin
Years active: 1985-...
From: Los Angeles, California, USA
Genres: Hard Rock, Rock 'n' Roll
Main Band Members:
Axl Rose (lead vocals, piano): 1985-...
Tracii Guns (lead guitar): 1985
Slash (lead guitar): 1985-1996
Izzy Stradlin (rhythm guitar, vocals):
1985-1991
Gilby Clarke (rhythm guitar): 1991-1994
Duff McKagan (bass, vocals): 1985-1998
Dizzy Reed (keyboards): 1990-...
Steven Adler (drums): 1985-1990
Matt Sorum (drums): 1990-1997
External Links:


An explosive band !
The Los Angeles hard rock scene was very strong in the second half of the 80's. While the bands looks were more important than their music, a true dirty rock n' roll band appeared and made a revolution in the genre. That band, formed from a fusion between Hollywood Rose and L.A. Guns, would be named Guns N' Roses.
Only a perfect album (Appetite For Destruction) and 2 long records issued simultaneously (Use Your Illusion I and II) were necessary to make the band a true legend. After that, the group would disintegrate slowly around Axl Rose who would stubbornly continue the adventure with new musicians. A new album (Chinese Democracy) took many years to get issued, but it was finally released in November 2008.
Richard Dion
You can buy Guns N' Roses products and merchandise by visiting our partners :
You can use this banner to create a link to this website: