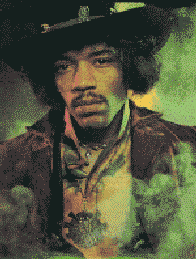 Full Names:
Johnny Allen Hendrix, then
James Marshall Hendrix
Born on:
November 27, 1942
Born in:

Seattle, Washington, USA
Died on:
September 18, 1970
Died in:

London, England, UK
Genres:
Hard Rock, Blues Rock, Psychedelic Rock, Soul
External Links:


The guitar master !
Jimi Hendrix largely contributed to the impact of electric guitar on levels never reached before by other musicians. He was one of the first to maximize his amplifier by using distortion to a large scale, making it even the heart of his music.
He could play as much blues as rock n' roll, funk or free jazz, but always in a completely single way making him build his own style. He is recognizable very easily among any other musicians by his simple way of playing guitar.
According to several, Jimi Hendrix is the best guitarist of all time. Anyway, his special creativity, his technique and his effects transformed forever the sound of rock n' roll. In spite of his too short career, he left an indelible trace in the history of music.
In addition to his huge talent, his charisma on stage allowed him to offer some of the greatest performances in concert in the world of rock. His presence to the festivals of Woodstock and Monterey remain classic ones, 30 years later.
His premature death at the age of only 27 upset the world of music in 1970, but we still miss him today when we think of all he could have offered us in the following years.
Richard Dion
You can buy Jimi Hendrix products and merchandise by visiting our partners :
You can use this banner to create a link to this website: