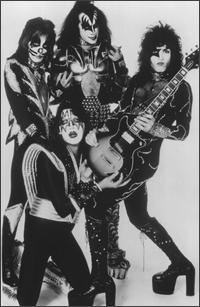 Years active: 1973-...
From: New York City, New York, USA
Genres: Hard Rock, Arena Rock, Pop Metal, Pop Rock
Original Band Members:
Paul Stanley (lead vocals, guitar)
Gene Simmons (lead vocals, bass)
Ace Frehley (guitar, vocals)
Peter Criss (drums, vocals)
Other Band Members:
Vinnie Vincent (guitar): 1983-1984
Mark St. John (guitar): 1984
Bruce Kulick (guitar): 1984-1995
Tommy Thayer (guitar): 2003-...
Eric Carr (drums): 1980-1991
Eric Singer (drums): 1991-...
External Links:


The hottest band in the world !
KISS is regarded as one of the most influential rock and roll bands of all-time. Their career milestones are staggering. The band holds honors as Americaís top gold record champion, only behind the Beatles in the entire world. They recorded 36 albums over 32 years selling over 75 million albums worldwide.
Over thirty years of record-breaking tours around the globe include high-profile appearances at Super Bowl XXXIII, the 2002 Winter Olympics in Salt Lake City and most recently, the 2005 Rockiní The Corps concert dedicated to the US troops in Iraq and Afghanistan. Their always mind-blowing performances on stage with costumes, makeup and fireworks almost elevated them to the rank of demigods.
The KISS legacy continues to grow, generation after generation, transcending age, race and creed. The unparalleled devotion and loyalty of the KISS Army to the "Hottest Band in the World" is a striking testament to the bandís unbreakable bond with its fans.
Richard Dion
You can use this banner to create a link to this website: