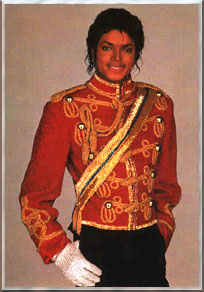 Full Name:
Michael Joseph Jackson
Born on:
August 29, 1958
Born in:

Gary, Indiana, USA
Died on:
June 25, 2009
Died in:

Los Angeles, California, USA
Genres:
Pop, Dance Music, R&B, Soul, Pop Rock
External Links:
Rock and Roll Hall of Fame - Jackson 5


The King of Pop !
Michael Jackson is an American singer, composer-songwriter and dancer-choreographer called "the King of Pop". Famous since his youth within the Jackson 5, and a planetary icon in the Eighties, he still has the world's biggest selling album of all time with Thriller, an album which had a 25th anniversary special edition issued on February 11, 2008.
Michael Jackson remains one of the major figures of the last thirty years in popular music, in spite of many controversies and charges of paedophilia of which he was cleared on June 13, 2005. He was inducted into the Rock and Roll Hall of Fame in 2001.
Michael Jackson was found dead on June 25, 2009. He was 50.
Richard Dion
You can buy Michael Jackson products and merchandise by visiting our partners :
You can use this banner to create a link to this website: