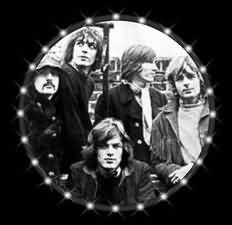 Years active: 1965-...
From: London
, England, UK
Genres: Progressive Rock,
Psychedelic Rock
Band Members:
Syd Barrett (lead vocals, guitar):
1965-1968
David Gilmour (lead vocals, guitar): 1968-...
Roger Waters (bass): 1965-1983
Richard Wright (keyboards): 1965-...
Nick Mason (drums): 1965-...
External Links:


40 years of evolution !
With Pink Floyd, here is the perfect example of a band which was able to renew itself and evolve constantly for 40 years (or we should say 30 years like they didn't release any new material since 1994). Under Syd Barrett's leadership, the band started in a psychedelic direction. After his departure, David Gilmour's integration was perfectly executed and the band developed an atmospheric progressive rock sound culminating with the album The Dark Side of the Moon, one of the best albums of all time.
Later, Roger Waters takes definitely the control of the band in which he can show his own ideas and vision. The band took a pop direction, especially on a couple of tracks of the album The Wall.
The implosion of the band in the early 80's was inevitable, but was only a way to a new Pink Floyd era, a band without Waters and leaded by Gilmour. That line-up offered us 2 great albums and totally unforgettable huge concerts.
Split off rumors and rumors of a comeback on CD and on stage, everything was heard since their last tour of 10 years ago. Nobody really knows what they are doing right now, but we will certainly hear about Pink Floyd in the years to come...
Richard Dion
You can buy Pink Floyd products and merchandise by visiting our partners :
You can use this banner to create a link to this website: