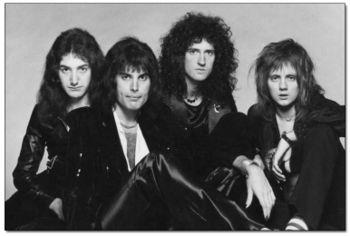 Years active: 1971-...
From: London, England, UK
Genres: Hard Rock, Pop Rock, Glam Rock, Arena Rock, Progressive Rock
Main Band Members:
Freddie Mercury (lead vocals, piano):
1971-1991
Brian May (guitar, vocals)
John Deacon (bass)
Roger Taylor (drums, vocals)
External Links:


A different band with a flamboyant singer !
Queen was formed in the 70s when the music industry was in complete transformation. Rock bands were more aggressive and progressive than ever, pop music was brighter and the Beatles were now a band from the past. Queen came somewhere between all that with a varied and unique sound, a style that wasn't part of any musical movement.
Most of all known for their numerous radio hits, Queen produced anyway first quality albums throughout their career, many of them being now considered as classics. On stage, the charisma and powerful voice of singer Freddie Mercury gave Queen the opportunity to offer incredible performances, and to become the greatest band in the world in the 80s, playing in sold-out stadiums all around the globe.
On November 24, 1991, we heard about the decease of Freddie Mercury, one day after he announced to the entire world that he had AIDS. The band never disappeared after the death of Mercury and a posthumous album was issued in 1995. Queen was inducted into the Rock and Roll Hall of Fame in 2001.
Since 2004, Queen works with former singer of Free and Bad Company, Paul Rodgers. In 2006, they entered the studio to work on an album tentatively scheduled to be released before the end of 2007.
Richard Dion
You can use this banner to create a link to this website: