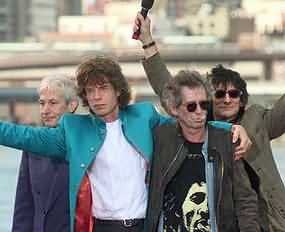 From left to right: Charlie Watts,
Mick Jagger, Keith Richards, Ron Wood
Years active: 1962-...
From: London, England, UK
Genres: Hard Rock, Rock 'n' Roll,
Blues Rock, Pop Rock, Psychedelic Rock
Band Members:
Mick Jagger (lead vocals, guitar, harmonica, percussion)
Keith Richards (guitar, vocals)
Brian Jones (guitar): 1962-1969
Mick Taylor (guitar): 1969-1974
Ron Wood (guitar, vocals): 1975-...
Bill Wyman (bass): 1962-1993
Charlie Watts (drums, percussion): 1963-...
External Links:


The greatest rock 'n' roll band of all time !
What can we say about the Rolling Stones? They are the most popular band in rock n' roll history, the most durable group in history and, even if they didn't have as many #1 hits as the Beatles, they had many easily recognizable hits. The greatest hits collection Forty Licks does a great job reminding us of 36 of those greatest hits of their career (+ 4 new tracks).
At their beginnings, the Rolling Stones were the alternative to the Beatles that were too sweet. The Stones were more considered as bad guys, very appreciated by the youngsters, but hated by their parents. Today, we consider them more like the guys that carried rock n' roll from the 60s to the 2000s, influencing a great number of other artists on their road.
The band was inducted into the Rock and Roll Hall of Fame in 1989. In 2007, the Rolling Stones are 45 years old... and still active.
Richard Dion
You can buy Rolling Stones products and merchandise by visiting our partners :
You can use this banner to create a link to this website: