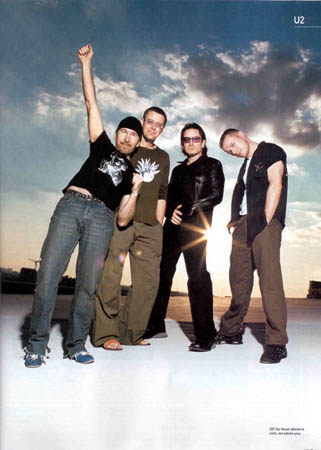 From left to right : The Edge, Adam Clayton, Bono, Larry Mullen Jr.
Years active: 1976-...
From: Dublin, Irland
Genres: Pop Rock, New Wave, Post Punk
Band Members:
Bono (lead vocals, harmonica)
The Edge (guitar, vocals)
Adam Clayton (bass)
Larry Mullen Jr. (drums)
External Links:



The greatest band in the world !
U2 constitutes one of the rare groups to have been as much successful with a large audience as with the critics during more than 2 decades. They knew to evolve artistically in their music while putting a particular effort on the lyrics, and they succeeded in being socially engaged throughout their career. Moreover, the 4 members didnít change since their beginnings more than 30 years ago, staying good friends with each other, which is exceptional.
In the Eighties, one regarded U2 as the greatest band in the world and they could preserve this title throughout the following decade, in spite of albums a little more disappointing, more experimental. We have to say that after the masterpiece of 1987, The Joshua Tree, too much was awaited from the group and it was impossible to produce. Despite everything, they knew to rebound in 2000 with the excellent All That You Can't Leave Behind, a remarkable album and the best of the year 2000.
U2 was inducted into the Rock and Roll Hall of Fame in 2005. The entire planet is in a hurry to see what they will be able to offer us in the next years. Long life to U2!
Richard Dion
You can use this banner to create a link to this website: