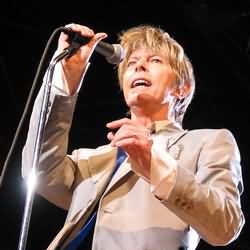 Nimes, France - 2002

Note: If you can read French, go to the French section for additional content.
2006

Nicholas Pegg - The Complete David Bowie

The career of David Bowie has been one of the most colorful and intriguing in modern rock history. In The Complete David Bowie, now in an updated edition, Nicholas Pegg chronicles the star's every move—from his first appearance as balladeer Davy Jones in the 60s, and his spectacular, gender–bending turn in the 70s as Ziggy Stardust, to his starring roles in films like "The Man Who Fell to Earth." This definitive reference also includes a detailed production history and an analysis of all of Bowie's albums; hundreds of entries with facts and anecdotes about all his songs, including unreleased rarities; and set lists and histories of every live show.

2006

David Buckley - Strange Fascination David Bowie : The Definitive Story

The ultimate intimate look at Daniel''s life based on his private and professional photo collections and the archive of his recordings. Exclusive images give a unique insight into his private life, his early career and current global superstardom. Also covers the wedding to Daniel''s beloved wife Majella, their wonderful home and the many famous people he has met along the way.

2005

David Bowie & Mick Rock - Moonage Daydream: The Life And Times Of Ziggy Stardust

In 1972 David Bowie released the iconic LP The Rise and Fall of Ziggy Stardust and the Spiders from Mars, which established him as a major force in modern pop music. It was also his platform to present a visually fascinating and sexually ambivalent stage persona called Ziggy Stardust. Simultaneously, Bowie befriended the famed rock-and-roll photographer, Mick Rock, whom he invited to chronicle his Ziggy persona on film. Mick Rock amassed an amazing archive of footage that traces the entire stratospheric two-year career of Ziggy Stardust-from the early acclaim to the pivotal American tours, and the final blockbuster concert that marked Ziggy's retirement.Ziggy was a combination of extraordinary costumes, colorful makeup, outrageous hair, and-above all-first-class rock. More than 650 of Mick Rock's compelling pictures reflect his amazing collaboration-and friendship-with Bowie. The result of this incredible collaboration is a vast album of images of onstage performances and backstage antics. Together, David Bowie's text and Mick Rock's images trace the rise and final swansong of Ziggy Stardust. This affordably priced edition will be a must-have for every fan.

2003

Myriam Santos-Kayda - David Bowie: Live In New York

In October, 2002, David Bowie performed the New York City Marathon Tour. Five different nights in five different venues in each of New York's five boroughs. It was a tribute to New York, and a tribute to his fans. For the first time in over fifteen years, he let a photographer follow him on tour, capturing a David Bowie we've never seen before. Myriam Santos-Kayda, acclaimed portrait photographer for the music industry, has captured David Bowie in rehearsal, in the dressing room, onstage and backstage, alone and hanging out with his band. Bowie, one of rock's most influential and enduring figures, reveals his complexity, humor, grace, and rigor as an artist and performer. About the Marathon tour, Bowie writes, "The last time I came through the Northeast it was on the Area 2 Tour. We played in amphitheaters, which are usually a good distance from the major cities. Marathon courses are strategically planned to bring the runners to the streets. I would like to repay the fans that traveled so far to see me by bringing my show to them. But most importantly, I could get home from all the gigs on roller skates." DAVID BOWIE: LIVE IN NEW YORK is an intimate portrait of one of rock and roll's most exciting events of the decade.

1999

Chris Welch - We Could Be Heroes: The Stories Behind Every David Bowie Song

Musical chameleon David Bowie has had a more varied and influential career than any other single performer in rock. He was a young balladeer performing as Davy Jones in the late '60s and Ziggy Stardust in the glam rock era of the '70s. He switched gears again with Young Americans, and then reached multiplatinum success with Let's Dance in the '80s. David Bowie: We Could Be Heroes is a song-by-song analysis of every song Bowie has written and recorded, full of behind-the-scenes stories and quotes from those who have worked with him. Chris Welch has interviewed those who most influenced Bowie, such as Iggy Pop, Lou Reed and Tony De Fries, as well as those who provided the inspiration for his music and lyrics.