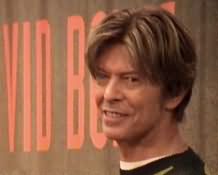 Full Name:
David Robert Jones
Born on:
January 8, 1947
Born in:

Brixton, England, UK
Died on:
January 10, 2016
Died in:
New York City, New York, USA
Genres:
Pop Rock, Glam Rock, Experimental Rock,
Proto Punk, Hard Rock
External Links:




The chameleon singer !
What can we say about David Bowie in a few words? Letís say that heís a man with multiple personalities who always liked to explore several genres, at a musical level as well as for his looks. Heís probably the only artist in history to have never made two identical albums, and most of the contemporary musical genres were explored at least once by Bowie on one of his albums, very often before it becomes in. He was in fact one of the precursors of the glam movement which was very important in the Seventies and Eighties.
Artistically, it had a rather poor period in the Eighties (like so many other artists), but for the rest of his career, between the mid-60ís and today, we cannot count many bad albums. There are quite certain unequal ones, but his desire of experimentation made him often inaccessible and misunderstood by a larger audience.
David Bowie was introduced into the Rock and Roll Hall of Fame in 1996.
David Bowie died of cancer on January 10, 2016, two days after the release of his last album, Blackstar, that was also the day of his 69th birthday.
Richard Dion
You can use this banner to create a link to this website: