Note: If you can read French, go to the French page for additional content.
to SEARCH this page
SEPTEMBER 2015
Featured Review: Carly Rae Jepsen Featured New Artist: Years & Years
September 1-7 (more to come):
Bon jovi - Sabrina Carpenter - Chemical Brothers - Coeur de Pirate -
Dr. Dre - Mike Evin - Lianne La Havas - Meek Mill - Sublime with Rome
Reviews coming up next month:
Duran Duran - Jewel - The Dears
and much more...
archives:
FEATURED REVIEW:
The pop female singer from British Columbia is back with her third album, three years after the success of Kiss, powered by the bomb "Call Me Maybe". Even if we do not find any hits of that size on E-MO-TION, most of the 12 songs remain above the average of what is done in this genre that is often disposable after use. Carly offers light and entertaining pop music, yet creative. The influences of the 1980s are evident throughout the record, but the young woman of 29 years old skillfully managed to carry on these influences in 2015 for a modern and fashionable set. In this sense, one can partly compare her to another one of her biggest influences, Robyn. Ultimately, E-MO-TION is more consistent than Kiss with a better guideline. It only lacks another "Call Me Maybe".
Music Videos: « I Really Like You » - « Run Away With Me »



½

FEATURED NEW ARTIST:
Years & Years is a young London electro pop band formed in 2010. The trio offers music based on synthesizers and the voice of singer Olly Alexander. Their sound is thus somewhere between 1980s pop and Justin Timberlake. There are also some moments a little more deep house or post-punk in the New Order style. The group has several pretty atmospheric introductions, but also some well supported rhythms thanks to the bass of Mikey Goldsworthy. In fact, the band seems to have very varied influences, even if it remains primarily a pop trio. Certainly, it is a very good first album that offer us the three young men.
Music Videos: « Real » - « Take Shelter » - « Desire » - « King » - « Shine » - « Foundation »



½

September 1-7:
Bon Jovi – Burning Bridges
With a new album coming in 2016, Bon Jovi have decided to make a gift to their fans to make them wait by releasing songs never released, incomplete so far and two new ones. Although it is labeled as an album for the fans, Burning Bridges seems more like a contractual obligation before moving elsewhere. Several lyrics are also lacking subtlety about it, including the title track. This is the first record without Richie Sambora and it is perhaps also a way to prepare the public for what it is awaiting in the future. What is worrying is that the only track co-signed by Sambora, "Saturday Night Gave Me Sunday Morning", turns out to be one of the best moments of this record of 10 songs. "I'm Your Man" is also interesting, but for the rest, Burning Bridges is dangerously lacking melodies and is frankly exaggerating on ballads and mid-tempo songs without energy. Let's wait for the real new album before judging of the future of the New Jersey band, but we certainly could have done without this music patchwork of little interest, except perhaps for their biggest fans.



After a tour as lead singer of Queen, former American Idol finalist is back with a new album. First album for Warner, The Original High also revives the Max Martin and Shellback producers, those behind the hit "Whataya Want From Me" in 2009. Lambert seems to have finally found the right balance between pop, electro and rock, always keeping the dance rhythms that characterize him since his debut. One can even hear the screaming guitar of Brian May (Queen) on the electro beat of "Lucy". The other guest artist is Swedish Tove Lo for the song "Rumors". Adam Lambert manages to present good pop songs on this new album, but it is the mid-tempo tracks that remain the least interesting. He should definitely concentrate on the danceable songs, either in the 1970s disco style or in a more contemporary electro style. Despite some moments that are a little less exciting, Lambert perhaps issues his best recording to date. This is maybe his presence in Queen that gave him this inspiration... (August 2015 Featured Review)
Music Video: « Ghost Town »



½

Algiers is an indie rock trio that was formed in Atlanta in 2009 and travels since that time between London and New York. It offers a mix of post-punk and blues with some industrial elements and good pop and gospel melodies. Although the mixture may seem odd at first, this is a highly creative first album that release Algiers. One finds there an unusual intensity, delivered with surgical precision. The three musicians seem to know very well where they are going and they drag us after them. Difficult to compare, the music of Algiers certainly deserves you tend the ear since the group manages to present a remarkable first album. (August 2015 Featured New Artist)
Music Video: « Blood »



½

Alee – Say Hello to Goodbye
Alexandra Adamoski is a young 23-year old country singer from Edmonton. The singer-songwriter issues her first EP of 6 tracks after having performed on several stages around the country. She offers a somewhat different approach to country music with a decidedly pop touch which will quickly be comparable to Shania Twain and Taylor Swift. She has good songs on Say Hello to Goodbye, which will certainly bring the spotlight on her over the next few years as the new rising star of Canadian country music. (August 2015)





Argentina Chill Out Social Club – 80'
s

Experience
Argentina Chill Out Social Club is a project created to remake different classics of the most popular music in history. On this first of six CDs, 12 classics of the 1980s (or almost) are played in an electro jazz style with latin and bossa nova accents. The really nice voice of Analiah Robledo sings hits of Madonna (« La Isla Bonita »), AC/DC and KISS (« You Shook Me All Night Long/Rock and Roll All Night »), Michael Jackson (« Billie Jean », « Dangerous »), Bon Jovi (« Never Say Goodbye »), Metallica (« Nothing Else Matters »), Guns N' Roses (« Sweet Child O' Mine »), Queen (« Somebody To Love »), U2 (« Where the Streets Have No Name »), etc. In addition to this important album for the 1980s, the collection includes 5 tribute albums in the same style: Beatles, Pink Floyd, Michael Jackson, U2 and Sting. (August 2015)
Estudios Moi / Musik2Musik



½


The progressive metal band from North Carolina is 15 years old and they already offer us their eighth studio album. The most they go further in their careers the most the guys of Between the Buried and Me leave out their first influence, death metal, to a more experimental and progressive sound. In this sense, the band can recall Voivod on several occasions. Coma Ecliptic is a concept album that offers a journey through the mind of a man in a coma who makes a return on different stages of his life. Although the concept may seem somewhat original and suggests an experimental and a bit odd album, it is rather the most accessible music the group have ever did. Of course, we must appreciate progressive music that leads into all sorts of directions, but several times during the 68 minutes of the CD they have what it takes to reach a broad audience. We find influences from the 1970s rock with guitar solos comparable to Brian May's or rhythms reminiscent of Rush, but it is mostly the very effective pop melodies that surprise us, especially when we know their past dominated by guttural voice. Coma Ecliptic is a varied album, but it still has a solid director line, based on the typical sound of Between the Buried and Me. It necessarily takes several listens to discover all the subtleties, but the accessibility of the record makes it a pleasant exercise. Here is possibly the best album of the band to date. To discover! (August 2015)



½


A break has been more than beneficial to the English hard rock band which is back with Last of Our Kind, their fourth album. The group seems more united than ever and they offer many good songs with unforgettable riffs and melodies. Justin Hawkins's falsetto voice seems to not steal the spotlight anymore and it is rather part of the band's extremely effective music. For sure, The Darkness are still and always based on the hard rock sound of the 1970s and 1980s, but they managed to make a style all their own and carry it pleasantly in the 2010s. From the opening tracks "Barbarian", "Open Fire" and the title track, one finds with pleasure catchy songs like those which had seduced us to the group's debut 12 years ago. Even if the surprise is no longer the same, the little awaiting we had for a new album by The Darkness means that we are still a little surprised of appreciating and continually tapping the foot . Some mid-tempo songs can break the rhythm a bit, but the whole remains of high quality, worthy of one of the best hard rock albums of the past decade. (August 2015)
Music Videos: « Barbarian » - « Open Fire » - « Last of Our Kind »
Canary Dwarf / Kobalt



½


Ontario post-grunge band Finger Eleven has been around for over 20 years. However, they release their first album since 2010. They do not reinvent their style on Five Crooked Lines with metal riffs and a voice that recalls the grunge sound. But, the work of producer Dave Cobb allowed them to simplify their music which was becoming increasingly unnecessarily complex for several albums. So they have very good melodies (sometimes in the Beatles style) and some tracks with catchy rhythms, especially the excellent "Wolves and Doors" and the Zeppelin-like "Gods of Speed". The band also explores stoner metal with "Save Your Breath" that reminds Black Sabbath. In fact, this is an album returning to the roots that offer the guys of Finger Eleven, a pleasant album to listen to. (August 2015)
Music Video: « Wolves and Doors »




Heartbeat City is a new indie rock band from Winnipeg with some folk influences. They can be compared in part to the Weakerthans and Band of Horses. Led by Ian La Rue, well known musician from the Winnipeg scene, the band has several very good songs, with always catchy melodies. In the second half of the CD containing 10 songs, there are several pieces that stretch a bit long, approaching even 7 minutes regarding the last two tracks. The whole still remains greatly interesting anyway. (August 2015)





Victoria Loren Kelly (Tori Kelly) was born in California in 1992 and was drawn to music at an early age. After various singing contests, Tori decided to learn the guitar and to work on her own songs. On this first album, she offers a great mix of pop and contemporary R&B, both catchy and intelligent. In addition, she has a soulful voice that impresses quickly. Tori Kelly represents something of a cross between Taylor Swift and Alicia Keys. Produced by Max Martin (Kelly Clarkson, P!nk, Ellie Goulding), Unbreakable Smile contains as much emotional ballads as melodic rock songs and acoustic pop. It proposes a range that highlights the full extent of her talent. Several songs such as the title track and the hits "Nobody Love" and "Should've Been Us", as well as other good moments, deserve that we are attentive to the album of this talented artist. Note the Ed Sheeran and LL Cool J collaborations. We will surely hear about Tori Kelly in the coming years. (August 2015)
Music Videos: « Nobody Love » - « Unbreakable Smile » - « Should've Been Us »



½

Melanie Martinez is a young American singer of 20 years old who releases her first album with Cry Baby, after participating to the third season of The Voice in the US. She offers intelligent pop music that incorporates many electronic elements and a little bit of rock. Her soft voice is perhaps at the heart of her music, but she can count on prominent arrangements to envelope it very nicely. She delivers 13 quality songs that flow beautifully, with no apparent weaknesses. This results in certainly one of the best electro pop albums of the year. A great discovery! (August 2015)
Music Videos: « Dollhouse » - « Carousel » - « Pity Party » - « Soap » - « Sippy Cup »



½

Miguel Jontel Pimentel is a singer, songwriter and producer from California who made a career for quite some time, but mostly behind the spotlight. Among others, he worked with Usher and Mariah Carey. Wildheart is his third album and it contains a good mix of pop and R&B, even including a good rock guitar on several occasions, thanks in part to the collaboration of Lenny Kravitz for two songs that close the album. Miguel therefore has a good record in the genre. (August 2015)



½


The Texas country singer is back with a new album with folk and pop accents. The whole is rather soft and emphasizes on the melodies and the beautiful voice of Kacey. Unlike many country albums that remain raw, the Pageant Material arrangements are superb and create a wonderful atmosphere around the voice. Kacey offers us several excellent compositions, especially in the first half of the album that includes leading material with songs like "High Time", "Dime Store Cowgirl", "Biscuits" and the title track. The artist demonstrates humor on several occasions, which adds a touch of nice lightness. In fact, the entire CD proves to be both intelligent and pleasant to listen to. (August 2015)
Mercury / Universal



½

The emo band from Missouri is back with its seventh album, Black Cat. Never Shout Never are maturing and possibly present the best mix to date of their various influences, between emo-folk, psychedelic rock and dancing pop-punk. Masterfully produced by Dennis Herring (Elvis Costello, Modest Mouse), the album offers some very good songs that benefit from large-scale and quality production. We still find a little more stripped and intimate tracks for a very good range of styles and moods. To conclude, Black Cat is a pleasant album to listen to, certainly their strongest to date. (August 2015)




Canadian country singer Lindi Ortega is already releasing her fourth album since 2011. Faded Gloryville presents a very good mix of country, folk, pop and rock highlighted by a handful of talented producers. It includes some very good tracks, starting with the beautiful title song, which is likely to remain to mind for long. Otherwise, recorded in three separate studio sessions, the album may lack a bit of focus. We understand the idea of wanting to show a good sampling of all her influences, but the style variations are not always happy. (August 2015)




Pitbull – Dale
Five years after his last album in Spanish, the excellent Armando, the Cuban-born rapper from Florida is back with Dale. For the occasion, he was surrounded by a multitude of collaborators, from Ricky Martin to Sensato through Don Miguelo, Mohombi, Wisin and Yandel. He is so well surrounded we almost don't hear him on many occasions while his guests literally steal the spotlight. Pitbull therefore has no choice but to launch his famous "Mr. Worldwide" regularly to be sure we will not forget him. In fact, Dale is almost like a Latin music super compilation. Effective? Surely, since you cannot stop yourself from dancing. However, it is questionable whether the record would not have been as good without the presence of Pitbull. Perhaps not since after all he plays the role of conductor and creates the link between all these artists to put together 12 very good Latin songs. (August 2015)
Music Video: « Piensas » (feat. Gente de Zona)



½



For her new album, the singer from Vermont decided to work without The Nocturnals, the band that accompanied her since her debut more than 10 years ago. However, many of the group's musicians still work with Grace, including her husband, drummer Matt Burr. She also leaves out country on Midnight while she is instead offering a pop rock album with several potential hits. Produced by Eric Valentine (Queens of the Stone Age, Nickel Creek), the album shows a different face of the singer with sounds reminiscent of 1980's pop. Although it may look like a cross between Heart, Stevie Nicks and Madonna, Grace Potter fully assumes her new musical direction and she managed to put the style to her hand. The result is an extremely efficient album, well produced and with very few weaknesses, which is pleasant to listen to the end. (August 2015)



½

Having achieved great success as the singer of the band fun. Nate Ruess went solo with a debut album. We have to say that fun. is on a "break" for an indefinite period. Ruess can therefore exploit his romantic side in an alternative pop rock sound that focuses on his powerful voice. With fun. directors Jeff Bhasker and Emile Haynie, he managed to create a rich and wonderful atmosphere, heavily influenced by the world of Freddie Mercury and Queen. This is also when he indulges in excess that Nate Ruess shines the most, as in the excellent "Great Big Storm" and "Harsh Light". The singer can count on renowned collaborators in Beck and Jeff Tweedy that add their talent to his work. Although the album has several inequalities, it also showcases in a beautiful way the voice and personality of Ruess who doesn't have to be ashamed of his album. The fun. fans will certainly appreciate. (August 2015)
Music Videos: « Nothing Without Love » - « Great Big Storm »




The Los Angeles duo is back with their second album. TST offers a psychedelic indie pop music heavily influenced by the 1960s. They can be compared in part to Tame Impala, Jacco Gardner and MGMT, with a good dose of echo on the voice. The set is mostly mid-tempo with a sort of indefinable nostalgia. But what we must especially remember is the enveloping and calming side of their music, which manages to hypnotize us quickly and keeps our interest until the end. The Smoking Trees made a tour de force with TST, that of really breaking up on the indie scene. (August 2015)



½


The young Californian rapper presents his first full-length album after the Hell Can Wait EP issued last year. In fact, Summertime '06 is more than a full-length album; it's a double album of 20 tracks, although the total remains below the hour. His feat is that he manages to retain our interest throughout the two CDs with an excellent guideline while maintaining great variations of styles. His melodies are also proving to be highly effective, as well as his flow. In fact, it's a great conceptual album that offers us the young man of 22 years old. Summertime '06 is likely to be among the best albums of the year as it takes the lead of the rap scene. (August 2015)





Joss Stone – Water for Your Soul
With Water for Your Soul, the teen prodigy of soul music matures and incorporates influences of reggae, hip hop and world music. We obviously still find some adult pop rock songs that perfectly complement her R&B / neo-soul repertoire. But these are the times flirting with African beats ("Stuck on You"), incorporating flamenco ("Cut the Line") or with a pleasant light rhythm of reggae ("Love Me") that really catch attention to Water for Your Soul. This is her first album in four years and her work with SuperHeavy (with Mick Jagger, Damien Marley and Dave Stewart) seems to have brought a new energy to her writing. Joss Stone issues therefore a refreshing record, her best in many years. (August 2015)



½



Australian band Tame Impala are back with their fourth album, three years after the excellent Lonerism. The group is shifting somewhat with Currents while you can hear a wall of synthesizers. Kevin Parker recorded the album by himself and it becomes a bit more unidimensional. Otherwise, he adds a touch of hip hop and R&B to the 1970's soft rock sound. The new direction taken may seem refreshing at first, but many mid-tempo songs lose our interest along the way, even becoming boring by times especially because of the vocal delivery. It's still exciting to see that Tame Impala can go ahead without getting stuck in a specific style. Currents is far from being a bad album; there are only lacks of the psychedelic guitar that made their reputation so far… (August 2015)
Modular / Universal



½

The Tequila Mockingbird Orchestra is a fairly eclectic group of musicians from British Columbia. They offer a folk sound with both traditional and indie rock influences. The band uses the accordion profusely, as well as violins and double bass. These modern-day troubadours offer a mix of love songs that are far from seducing at first listen because of frankly annoying rhythms. There are a few interesting songs of the nine (including "Wolfe et Montcalm"), but most of them require that we move to the next one. They certainly have a good potential for their singularity, but they would have to make us to fully discover it. (August 2015)
Bitter North


½

Horizontal Lines is the debut album by this duo from Hamilton, Ontario. It presents an often atmospheric indie pop sound with folk influences. The string and wind instruments arrangements of Kirk Starkey create a magical atmosphere for this album that might seduce many listeners. The melodies are always catchy, even if the whole album remains out of standards. The 30-minute CD (only 8 tracks) has strangely some lengths and a little more catchy songs are welcome as "We Talk". Twin Within offer us nevertheless a good first album. (August 2015)




Valectra – Surfing on this Wave
After a notable participation to the second edition of La Voix in Quebec, Valectra releases her second album, "surfing on the wave" caused by the TV show. Valérie Cormier of her real name offers an album entirely in English on which she was involved at all stages from the composition to production through the arrangements and mixing. It is issued on her own label, Spin Gloss Records. She sings pop songs with a lounge atmosphere and some rock and world music elements. It also contains the beautiful classic by Bob Marley, "Is This Love". The complete artist has accompanied for many years renowned singers as a pianist, keyboardist and accordionist, including Éric Lapointe, Lhasa de Sela, Richard Petit and The Box. All this accumulated experience can surely be heard on this album that seems to have been long matured. (August 2015)




Ghost Notes is the first album by Veruca Salt since 2006 and only their fifth in career. Otherwise, this time, they return to the original line-up, a first since 1998. The band that first became known in the post-grunge era seems somewhat frozen in time with a sound that goes back to that time. Creaking guitars, effective beats and very good melodies still characterize the group. This therefore results in a more than interesting album, which revives memories of another era, but is still listening well in 2015. A few mid-tempo songs have maybe a little less interest, but when arrive bombs like "Love You Less" and "Laughing in the Sugar Bowl" we become younger by 20 years and we realize that the band fills a gap in current rock. For a good mix of alternative rock, hard rock and pop, you can always count on Veruca Salt that will really please you. (August 2015)
Music Video: « Laughing in the Sugar Bowl »



½


For his new album, Neil Young is accompanied by the band of the brothers Lucas and Micah Nelson, sons of Willie Nelson. Promise of the Real rock brings a new energy to Young allowing him to freely expose the ecological impacts of the Monsanto multinational company specializing in agricultural biotechnology including genetic modification. Even if the group brings a rock sound on electric guitar that reminds the time of Crazy Horse, or even his work with Pearl Jam, Young still has some smooth songs, on acoustic guitar ("Wolf Moon", etc.). A DVD is added to the CD and presents the work done in the studio to the final outcome of this great protest album. (August 2015)



½

Paper Towns (Music From the Motion Picture)
On this soundtrack of the Paper Towns movie, you can hear 16 contemporary artists and bands in the indie rock and indie pop genre. One can find among others Santigold, Twin Shadow, Sam Bruno, Vance Joy, Vampire Weekend, HAIM, Grouplove, The Mountain Goats and several other extremely interesting artists. In addition, there is a good guideline throughout the CD while the songs admirably flow well, despite some dance remixes in the middle. The result is a surprising soundtrack and very pleasant to listen to the end, a rarity for a movie soundtrack. The CD of the music of Paper Towns is therefore one of the best soundtracks in a long time. (August 2015)



½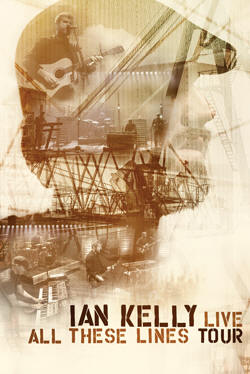 Ian Kelly – Live: All These Lines Tour (DVD)
The Montreal folk rock singer did a capture of a show of his All These Lines tour on December 3rd, 2014 at the Théâtre du Vieux-Terrebonne. This concert is presented on this 98-minute DVD. Kelly is accompanied by three talented musicians in Josh Toal (guitar and bass), Jonathan Cayer (keyboards and trombone) and Kevin Warren (drums), allowing him to offer his best songs in the best environment, with magnificent arrangements. Of course we can hear most of the songs from his latest album, but also the greatest hits of his previous three records including "Parliament", "Take Me Home" and "I Would Have You". Here is a very nice way to discover the talent of this artist from Montreal. (August 2015)
Sunset Hill



½


Mika – No Place in Heaven
Now aged in his thirties, Mika releases his first album since he was a judge in The Voice in France. He therefore necessarily matured since the disappointing album The Origin of Love in 2012. And this is quickly perceived listening to No Place in Heaven which appears as a mature pop album. Otherwise, Mika has lost none of his unforgettable melodies, his theatricality and his touch of madness. His music is catchy pop coating often personal lyrics, in which he takes a stand and settles accounts with his past, including with his father in the title song and with his mother in "All She Wants". Mika certainly presents a mature album, but an album that remains musically rich and extremely entertaining to the end. In fact, the artist has more than ever the secret of creating quality pop music. (July 2015 Featured Review)
Music Videos: « Boum Boum Boum » - « Talk About You » - « Good Guys »



½

It's been a long time since Jamie Smith of The XX worked in parallel of his band by remixing various popular songs, including Adele, and presenting compositions on the web. But now he finally issues his first album as Jamie XX. The electronics specialist certainly abuses of synthesizers on In Colour, but his boundless creativity makes us quickly forget it. The opening track, "Gosh", may leave more than one perplexed. Otherwise, once the slow rhythms take possession of us from the second track, we cannot give it up. This is high-flying hypnotism! The instrumental "Obvs" is certainly the unavoidable masterpiece of the album, while the single "Loud Places" (starring Romy found also on "SeeSaw") quickly captures our attention and that we cannot discard it. The pace steadily increases until the end with more dancing pieces on a background of drum 'n' bass. In fact, it is most of the album that lives in us when it comes to the end. Here's a great album, danceable but gently, which has no equal in the electro style. (July 2015 Featured New Artist)
Music Video: « Loud Places »
Young Turks / XL / Beggars





The Aristocrats is an out of the ordinary progressive rock band. Formed by guitarist Guthrie Govan (Steven Wilson, Asia), bassist Bryan Beller (Joe Satriani, Steve Vai) and drummer Marco Minnemann (Steven Wilson, Joe Satriani), the trio offers rather raw instrumental music where the virtuosity of the musicians is only equaled by their power. For this new album, they went to the legendary Sunset Sound studios in Hollywood that saw the Rolling Stones, Van Halen and Led Zeppelin among others. So they have nine new compositions, more complex and deep than ever, even if improvisation always seems present. More experimental than their previous two albums, Tres Caballeros has what it takes to satisfy a demanding audience of progressive rock. The DVD contains bonus performances recorded live in San Pedro, California between January 29 and February 1, 2015, as well as footage of their work in the studio. (July 2015)
Boing! / Conveyor / SIX



½

The Stephen Barry Band – Treat Her Right
With this new album, the Stephen Barry Band celebrates its 40th anniversary. For the occasion, the legendary bassist and his group offer covers of 10 classics of blues ("Little Red Rooster", "As Long As I Have You") and rock (Rolling Stones' "Salt of the Earth") in addition to an incomparable version of Stevie Wonder's "Higher Ground". One can also discover two original songs that blend beautifully to the whole: "Brains" and "Sister Francis". This ninth album, by the band that has performed on the same stage than the greatest musicians (John Lee Hooker, Bo Diddley, Buddy Guy, Big Mama Thornton, etc.), was recorded in Montreal and we can find as a guest guitarist one of the founding members, Jorn Reissner. Despite a good record, the Stephen Barry Band remains primarily a festive band to discover on stage. To watch throughout Quebec all summer! (July 2015)




The Beatdown & Hugo Mudie – The Beatdown Meets Hugo Mudie
The Beatdown is a warm reggae band from Montreal born of the ashes of One Night Band in 2009. Within a few years, the quartet has performed more than 400 times everywhere in the world through festivals and with bands like Fishbone, Black Crowes, The Skatalites, The Slackers, UK Subs and The Creepshow. For this album, The Beatdown teamed up with Hugo Mudie (Miracles, St. Catherines) for an album with rocksteady and dub flavors. The voice both hoarse and sweet of Hugo perfectly merges with the catchy rhythms of The Beatdown for reggae music that recalls the origins of the style in the 1960s in Jamaica. This amalgam is also reminiscent of The Clash reorientation towards reggae in the early 1980s. Here is a very nice album to accompany the hot summer in Montreal. (July 2015)




Guitarist and composer Thomas Carbou, known for his unique playing on eight strings guitar, issues his new album, accompanied by David Binney on saxophone and Jim Black on drums and percussion. Other Colors of Hekatê is the logical follower to his Hekatê trilogy, in reference to the Greek goddess Hecate. So, the album blends again jazz and world music in a rather experimental set. The album of 12 tracks totaling more than 61 minutes takes us between various music worlds of contemporary jazz with a good dose of exotic. (July 2015)



½


The Fall – Sub-Lingual Tablet
Nearly 30 years of career forged the unique style of the British punk band that releases once again a new album, its 31st. Mark E. Smith and his band certainly don't reinvent on Sub-Lingual Tablet, but they still seem to have fun playing together, which is not bad for a band of this age. The group navigates between different styles of alternative rock and punk rock with some pranks to metal or rap. You can hear some good tunes from Smith, but it is the rhythms that dominate for much of the CD. Without crossing any barriers, The Fall remain well present with their unique style. (July 2015)




HoneyHoney is a country rock duo from Venice, CA formed by Suzanne Santo and Ben Jaffe. For this third album, they completely drop the jazz and neo-soul influences of their debut to focus on an alternative rock sound with strong country intonations, especially thanks to violin and banjo. They seem to have finally really found a sound of their own. After a first recording session in Nashville, they redid everything again, dissatisfied with the end result. Finally, 3 represents a huge step forward for HoneyHoney, musically and creatively. This is a rich and varied album that has very good times to the end. (July 2015)



½

The singer-songwriter from Switzerland presents her fourth album with Supermoon. It was recorded between Brussels and San Francisco and it offers a variety of atmospheres between soft pop ("Love is Not the Answer"), ambient music (the title song) and supported rhythms ("Superman Woman"). She also performed a song in German, "Die Ganze Welt", and one in French, "La chanson d'Hélène". Going from rock to pop and with a little folk, Supermoon is certainly an eclectic album that gives something for everyone. What is particularly nice is that despite a constant change of styles, Sophie Hunger succeeds in forming a cohesive album with a good guideline, an album we want to listen to the end so it contains strong compositions. This is another very good album from this talented artist. (July 2015)
Music Video: « Supermoon »



½

The American jazz singer is back on record with a beautiful album, both nostalgic and contemporary. She sings such brilliantly Charles Trenet's "Que reste-t-il de nos amours?" becoming "I Wish You Love" in a bilingual version. It also contains among others classics of George Gershwin ("Our Love is Here to Stay") and Cole Porter ("I've Got You Under My Skin"). In addition to the surprising reinterpretations she offers, Halie has many original compositions with the help of guitarist Daniel Gallo among others that brings a touch of blues and soul to the more standard jazz sound of Halie. The warm and sensual voice of the singer is literally at the heart of this recording that has everything to seduce her audience. (July 2015)



½


Muse – Drones
A Muse album is always highly anticipated, even if their last one, issued three years ago, The 2nd Law, was not up to par. For its seventh record, the trio led by Matt Bellamy takes a political stand, among others against modern wars. They go elsewhere without much subtlety, right from the front cover. Musically, the contribution of producer Robert John "Mutt" Lange gives a touch of hard rock to the album that is not unpleasant to the ear. Muse obviously still has a wall of sound that becomes doubly impressive on stage considering that this is a trio that we have in front of our eyes. The anti-war theme was inspired by moments of Pink Floyd's The Wall, among others with the interlude "Drill Sergeant". Other influences remain the usual Radiohead, Coldplay and U2, but one can also discover a guitar in the Van Halen style in "Reapers". But the problem often remains the same with Muse when they are not able to present truly creative compositions, they quickly fall into clichés, all wrapped in a cacophony of sound to stun us completely. This is exactly what happens with Drones which nevertheless has better ideas than their previous record, but becomes exhausting in the long run and especially lacks of subtlety. (July 2015)
Music Videos: « Dead Inside » - « Mercy »




No Joy – More Faithful
No Joy is an indie rock / shoegaze band from Montreal that exists since 2009. More Faithful is their third album and it includes a true wall of guitars with distortion while including very good pop melodies. Moments a little surreal take us into doom and gothic. The set is rather varied, but it stands beautifully with a solid direction and an incomparable creative energy. The roaring bass and powerful guitar prove to be a delight for the ears. This is certainly the most effective of their albums to date, propelling at the same time the band among the best in the Montreal and Canadian indie scene. (July 2015)



½

After their first album three years ago that pleased both the public and the critics, the Icelandic indie band is back with a second album which should meet expectations. They still have a folk side with the abundant use of acoustic instruments. Otherwise, they managed to make it a real wall of sound mostly cinematic or orchestral. In this sense, their chamber pop music is undoubtedly close to Arcade Fire, a band they are often compared to. We definitely easily imagine them in an outdoor stadium more than in a small smoky bar as their songs have unparalleled scale. The catchy choruses add to the mix conducive to a mega concert where all the assistance can take pleasure in singing loudly. Beneath the Skin has perhaps only the weakness of lacking guidance, with great moments of romance, but also several other disparate topics. But musically, no complaints! Fans of the first album will find with pleasure what they had enjoyed right away, but without a hit like "Little Talks", one of the greatest radio hits in 2012. (July 2015)
Music Video: « Crystals »



½

The Scottish folk singer is back with a second intimate studio album, full of melancholy. Otherwise, it has a darker side and it is a little more indie than Under Mountains issued in 2012. Her sublime voice still captures our attention right away, and it adapts perfectly to her rather dark folk sound. If she somewhat explores in terms of the sound of the album, the compositions against remain in familiar territory, often predictable. Still, fans should again appreciate what Rachel Sermanni has to offer. (July 2015)




One of the most respected sitar players of her generation, Anoushka Shankar is already releasing her eighth album. As always, her unique playing allows her to deftly cross the barriers between classical music and world music. Home contains only four tracks, but that vary between 10 and 18 minutes each. Entirely recorded at her home in London, the album has a very meditative intimate atmosphere inspired by her father, the legendary Ravi Shankar. She once again pays tribute to the traditions of her home country, India, and she is certainly one of the greatest ambassadors to make a bridge between East and West. Home is an album to be listened in a specific context, a context of meditation and reflection. (July 2015)
Deutsche Grammophon / Universal



½

The US band offers indie rock, but on arrangements for a choir, based on vocal harmonies. The choir of over 20 singers presents only two a capella songs including the opening track, "From the Snow-Tipped Hills". For the rest, there are arrangements of guitars, synthesizers, strings and drums that instantly carry us to indie rock, far from the choir to which one has accustomed us. This first album contains rare pieces or original works by authors such as Sia, Aimee Mann, Tegan & Sara, Ben Lee, A.C. Newman (The New Pornographers), Ben Gibbard (Death Cab For Cutie), The Flaming Lips, Justin Vernon (Bon Iver), etc. The most accessible song is certainly Ben Gibbard's "Nervous Soul" which presents itself as a simple pop song, very pleasant to hear. This entire self-titled album, produced by Ben Lee, is sailing in different repertoires between choral singing and indie rock and it can sometimes become somewhat disorienting. Otherwise, it is a rather interesting exercise in style. (July 2015)
SIX




There are already more than 30 years that the British band Simply Red made a career. Otherwise, Big Love is their first album in eight years, which represents their longest break to date. It's because singer and frontman Mick Hucknall embarked on a solo career during that period, an experience that was not really successful. Hucknall and Simply Red being inseparable, here they are together again for a quite romantic pop rock album. The whole is rather soft in a style reminiscent of the soul of the 1970s with few rare songs accelerating the pace in a style that often approaches disco. Big Love perhaps proves to be a little too clean, but it's a style that fits well with Simply Red. (July 2015)




When the DJ master of dubstep (Skrillex) meets the DJ who made his name in hip hop and bass music from the south (Diplo), it certainly results in an album on which bass dominates and rhythms constantly face us. We could stop here and most have been said about Jack Ü. The short album of 10 tracks totaling 35 minutes indeed presents a mix between the often conflicting styles of the two producers. Rhythmic but not often danceable, the album has some interesting melodies thanks to the guest singers and especially female singers. Kiesza makes indeed "Take Ü There" interesting, when AlunaGeorge ("To Ü") and Justin Bieber ("Where Are Ü Now") create hits. Note also the very successful remix of "Take Ü There" by Missy Elliott. For the rest, it is typically underground, difficult to access and difficult to follow. The main "advantage" of Jack Ü is that it has all the power necessary to disturb your neighbors. (July 2015)
Music Video: « Where Are Ü Now »
Mad Decent / Atlantic / Warner




Soak – Before We Forgot How To Dream
Bridie Monds-Watson is a young 18-year old Irish female singer. She chose Soak as stage name to combine soul and folk, but she admits herself that her music is neither the one nor the other style. In fact, she rather gives us an introspective indie rock sound, although folk influences can be detected in some moments. Her compositions are proving to be pretty teenager with often melodramatic tendencies. They are mostly based on her guitar and her voice. Soak has a strong Irish accent when she sings and her phrasing at times can remind Quebecer Cœur de Pirate. Her voice still remains special enough for us to have the desire of hearing more in the future. We'll see how she will evolve through her twenties, but Soak definitely has a raw talent that remains to be polished. (July 2015)



½

After three EPs, the quartet from Brooklyn, New York releases its first full-length album, carried by the hit "Renegades". X Ambassadors offer an indie rock sound with very good pop melodies. Their music incorporates acoustic and electric instruments, as well as some electronics used sparingly. Produced skillfully by Alex Da Kid (Eminem, Nicki Minaj, Imagine Dragons), the album includes collaborations with Jamie N Commons on the hit "Jungle" and Imagine Dragons for "Fear". The talent of singer Sam Harris is unquestionable, as is the keyboardist Casey Harris and guitarist Noah Feldsuh. VHS contains 20 tracks, but with several interludes for a total not exceeding 48 minutes. It includes several very good compositions, despite some inequalities throughout the record. (July 2015)
Music Videos: « Renegades » - « Jungle »




On his new album, Jason Derulo has several light pop songs, moving away from his R&B influences, as is the case among others of the first single, "Want To Want Me". We can also hear two other hits: "Cheyenne" and "Get Ugly". It contains several important collaborators, for example K. Michelle, Meghan Trainor, Stevie Wonder and Keith Urban ("Broke"), Julia Michaels, as well as Jennifer Lopez and Matoma (the excellent "Try Me"). More underground R&B songs are still present on the record, but they alternate quickly with danceable pop songs. In addition, with 11 tracks totaling less than 39 minutes, Derulo does not fall into the trap of offering a too long album that could make us lose interest along the way. This therefore results in an album that is still pleasant to listen to the end. Actually, Everything Is 4 is possibly the most interesting and fun to listen of his records to date. (June 2015 Featured Review)
Music Video: « Want To Want Me »




Holychild – The Shape of Brat Pop to Come
Holychild is a Los Angeles duo formed of singer Liz Nistico and multi-instrumentalist Louie Diller. They release their first album with the title inspired of The Shape of Jazz to Come by Ornette Coleman. Otherwise, musically, Holychild has nothing to do with jazz, but rather presents an electro pop sound with rock guitars. The duo takes inspiration from the punk energy, hip hop and dancehall in a mix that compares to the new wave of the 1980s and 1990s pop rock. The 12 songs offered on The Shape of Brat to Pop Come have not only a great energy, but also a very refreshing creativity. Without pieces that truly stand out, the album contains very few weaknesses. It is a very good first record that offer us Holychild. (June 2015 Featured New Artist)
Music Videos: « Running Behind » - « Money All Around »



½

Andee

– Black and white Heart
After a long wait, here is the first album by Andee (Andrée-Anne Leclerc), a former Star Académie contestant in Quebec. After a landmark meeting with Sebastien Lefebvre (Simple Plan) and a signing with Universal, she releases an album in English mixing pop and rock to her soulful voice in a fairly energetic set. Produced by Lefebvre, Black and White Heart includes the hits "Never Gone" and "Sorries" plus a collaboration with Hedley for the bilingual version of "Kiss You Inside Out". You can hear three French versions for "Never Gone", "Tu enflammes mon corps" and the title track. Finally, there is a third version of the latter, a remix by Lesko Cerf. The powerful voice of the singer is highlighted throughout this record that sticks perfectly to her skin. Otherwise, musically, few tracks are distinguished by their creativity. (June 2015)
Music Videos: « Never Gone » - « Sorries »




After more than 25 years of existence, the punk band from Pittsburgh, Pennsylvania seems to have lost none of its energy and passion to denunciate. Anti-Flag offer indeed a generally dynamic tenth album, despite slower songs. Unfortunately, the style was saturated for a long time and few bands can still expect some credibility in their opposition to capitalism and modern society. This is especially the case for Anti-Flag when they come to us with a clean production like this one, so much so that at times it's Simple Plan that comes to mind rather than Black Flag, such as in powerful choruses like "Sky is Falling" and "Without End". It is important to mention two major collaborations to American Spring: Tim Armstrong (Rancid, Transplants) on "Brandenburg Gate" and Tom Morello (Rage Against the Machine, Audioslave) on "Without End". Despite some good moments, we must face the facts that Anti-Flag cannot attract true punk rock enthusiasts anymore, but fans of too corporate pop punk. (June 2015)


½

Randy Bachman quickly announces his colors with the title of his new album. He gives us indeed his heaviest solo album to date, abusing unrestrained distortion. For the occasion, he surrounded himself with a new all-female rhythm section: Anna Ruddick (bass) and Dale Anne Brendon (drums). The trio is joined by several guest guitarists, including the late Jeff Healey, Neil Young, Peter Frampton and Joe Bonamassa. And for guitar, there is a lot on Heavy Blues with a real wall of sound that is assaulting us. The production of Kevin Shirley (Iron Maiden, Rush, Led Zeppelin) brings a good dose of power to the album that has very good rock energy, although the compositions certainly don't revolutionize the genre. In fact, with this new record, Bachman has the ideal product to go on a long tour which will certainly be very successful. (June 2015)




After more than 25 years of career, the Ontario band is still very present in the Canadian rock landscape. Silverball is their third album without Steven Page, and it keeps going in the same direction as the previous two. There are indeed very effective pop rock tunes, many of which are unforgettable. Although we still find alternative folk influences, the whole is keeping its pop trend remaining extremely accessible. "Say What You Want" has a little something of R.E.M., while other times are reminiscent of the 1970s with traces of ELO and the Beach Boys. Note that Silverball also marks the return of Kevin Hearn, who won his fight against cancer a few years ago. A song is also dedicated to him, "Tired of Fighting with You". The group seems to be in a better shape than ever on this 12th album, which rather proves to be pleasant to listen to the end. (June 2015)
Raisin' / Warner



½

After an enviable success at the turn of the 2000s, the Montreal duo took a long pause before coming back in 2013. Here they are back on record with Seeds, an album containing only eight songs for a total of just over 30 minutes. Bet.e & Stef offer again this mix of jazz and world music that has made them famous, plus a significant touch of pop music. The melodies are indeed still highly effective and memorable. They also add some folk and electro elements, perhaps to follow the strong current trend. Their styles amalgam remains as efficient and pleasant to listen to the end. It's just a shame that the album is so short because we would certainly have taken more. Here is the perfect record to accompany your sunny summer days! You can see them on an outdoor stage on July 1 as part of the International Jazz Festival of Montreal. (June 2015)



½

Faith No More – Sol Invictus
a translation of a review by Jean Jean (Rocklegends)
Eighteen. Eighteen long, long years have passed since the release of Album of the Year, finding an excellent end of discography... ultimately not final. After a reunion in 2009 for a series of concerts including large festivals, Faith No More did not let presage the release of a new studio album... Sol Invictus is nevertheless very real, massive and far from dissonant in the discography of the Californians. Reformed with the same line-up as on Album of the Year - understand without Jim Martin on guitar - Faith No More has again called on Matt Wallace for a fifth collaboration, this time to the mixing (the album being produced by Billy Gould himself...). Indescribable band unless you use a long combination of styles, adjectives and superlatives, Faith No More is a musical curiosity. And Mike Patton, monstrous chameleon singer, is certainly no coincidence. Sol Invictus as always offers him an ideal ground for a multitude of vocal antics going very easily from punk to heavy metal, from crooner to hip hop, from ballad to hardcore clamor. Mike Patton, the general, illuminates once again the record of his lived, invested and tortured chant... Behind, it is also the great musical gap, with "Sol Invictus" is perched introduction, "Superhero", a mid-tempo obscure, "Sunny Side up", a dramatically poignant ballad, "Black Friday", a pop "p(f)unk" offset. As always, Faith No More provide a rough and hearty feast that assimilation requires patience, listening and skinning in order. And there is the splayfooted. So if they had to reassure skeptics and anxious, Faith No More have not backed off. Energy is superabundant, lush abundant creativity and desire. Nothing suggests a discography hiatus of fifteen years. Nothing suggests that the flame was extinguished. But everything suggests that Faith No More were clearly missed during that time. (June 2015)



½

Florence Welch and her band are back with their third album presenting some kind of a turn. Three and a half years after the excellent Ceremonials, this new record produced by Markus Dravs (Arcade Fire, Coldplay) offers music and lyrics a bit more down-to-earth. This is perhaps the maturity that has come to Florence as her pop songs that were often left-field before are becoming mainstream now, sometimes without great personality. This is particularly the case in the second half of the CD so you can hear frankly boring tracks. There are some interesting songs in the beginning, with quality arrangements and beautiful orchestrations, but it is not enough to meet the high demands that we are entitled to have with this unique artist who knew how to impress with her two first recordings. It remains to be seen whether How Big, How Blue, How Beautiful is only a transition to something better. To be continued! (June 2015)
Music Videos: « What Kind of Man » - « St. Jude »




The Good Lovelies are a Toronto female trio of folk music and beautiful vocal melodies on high quality songs. This new album starts strongly with the surprising "In the Morning", marked of an electronic touch, and the excellent "Waiting For You". The musicians who accompany the trio include Les Cooper on guitar and mandolin (which also produced and mixed the album) and Luke Doucet (Whitehorse) on electric guitar for two tracks. Burn the Plan is definitely an excellent album by the Good Lovelies, a record that will please all melodic folk enthusiasts. (June 2015)
/
SIX



½

Always on the line between lyrical singing and pop song, Josh Groban presents on Stages music that sticks perfectly to his skin. Indeed, he plays some of the best works taken from Broadway musicals and some movies (like "Over the Rainbow" from The Wizard of Oz), with pop arrangements but also great orchestrations. The extracts from musicals include Les Misérables, Notre-Dame de Paris and The Phantom of the Opera ("All I Ask From You" with Kelly Clarkson). Groban doesn't go far in opera and he instead remains in a mainstream pop record. Anyway, he delivers in a great way some unforgettable works. (June 2015)




A native of Tennessee, Holly Herndon moved to Berlin to blend to the techno scene. Back in the US, she discovered the fun of creating from a computer. On this second album, she offers a rather experimental electronic sound, often downtempo, but also with some occasional pop melodies. To this often difficult to access music, she adds different themes close to her heart as political, ideological concepts and technology. This therefore results in a complete album, a wholly creative work that confirms the talent of the composer. (June 2015)



½

After a ten year career, the Canadian songwriter and singer finally releases his first solo album, Golden. He was accompanied for the occasion by some collaborators, including Brian Murphy (Alvvays), three members of Ladies of the Canyon and Rich Knox (Danko Jones). Produced by John Dinsmore (Sarah Harmer, Kathleen Edwards, Elliott Brood), the album presents a folk rock sound with very good melodies and some country accents. (June 2015)





Acclaimed worldwide Cape Breton violinist, Natalie MacMaster has sold over 200,000 albums in her career. As for Donnell Leahy, he is also a violinist and music director of the Celtic band Leahy. They met as teenagers, then each had their careers before reuniting and marrying. Oddly, One is their first joint album, from a lucky meeting with legendary producer Bob Ezrin (Pink Floyd, Alice Cooper, KISS, Deep Purple) who recruited Justin Cortelyou (Taylor Swift, Ke$ha, Alan Jackson) as co-producer. The duo offers instrumental Celtic rock music highlighting their virtuosity on the violin. They also play a number of traditional tunes for a happy mix between music of the past and contemporary music. One is a unique violin album. (June 2015)




The London alternative folk rock band is back with their fourth album, moving away somewhat from their previous recordings as they drop their famous banjo. They certainly had the desire to dissociate from the numerous bands that emerged in recent years that seemed to want to do the Mumford & Sons style. Yet even while trying to redirect, the band looks like about all that can be heard today in alternative rock based on acoustic instruments. At least in sound, since in terms of the quality of the compositions, it's not impressive. Mumford & Sons have always favored sound over creativity, and we will have much less difficulty in realizing it with Wilder Mind. The album is not totally uninteresting, but several songs quickly become stale when we start listening carefully. It is best to keep a remote or distracted ear if we want to enjoy this new album by Mumford & Sons. Even their biggest fans might be somewhat disappointed. (June 2015)



The first album by 21 year-old jazz singer and pianist Ariel Pocock is finally available in Canada. Produced by Matt Pierson (Jane Monheit, Joshua Redman), Touchstone introduces especially her nervous featured piano style, even if her sublime voice also greatly impresses. She is accompanied by seasoned musicians including Larry Grenadier on bass and Eric Harland on drums. She includes pieces of the traditional jazz repertoire as "Devil May Care", "All the Things You Are" and "When I Fall in Love", but she also puts forward a more contemporary repertoire. With Touchstone, Ariel Pocock demonstrates a huge talent as a musician and jazz singer. (June 2015)



½

Philip Sayce is perhaps born in Wales, but it is Canada that saw him growing up from the age of two. While he released a few albums, none of them was available in Canada. With Influence, his first album on a major label, he can finally make his music known at home. Sayce gives us a blues rock sound strongly influenced of Stevie Ray Vaughan, but especially Jimi Hendrix, his idol. Among the 13 tracks offered on Influence, seven are covers of classics like "Evil Woman" and "On the Road Again". This is an energetic and very entertaining album that is offering us Philip Sayce with Influence, an album that finds its roots directly into the 1970s. (June 2015)



½

The Toronto duo is formed of Andrea Ramolo and Cindy Doire. Established in 2012, Scarlett Jane offer us their second album in the pop folk style, with some country influences. This self-titled album was written in Cuba during a stay devoted to musical creation in 2013. It contains short stories full of evocative details that demonstrate good maturity compared to their first record. Their vocal harmonies remain at the limits of perfection, so the two artists seem made to perform together. Note also their interpretation of a beautiful song in French, "Cours". Here is an excellent album that is proposed to us by this fusion duo... (June 2015)



½

SC Mira – Waiting Room Baby
SC Mira is an indie rock band from Winnipeg led by singer, guitarist and songwriter Sadye Cage. Waiting Room Baby is the first EP for them and it includes six energetic tracks with catchy melodies and some folk influences. Buck 65 collaborates to one of them, "Motel Honey". Although the CD is much too short to explore the full potential of Sadye Cage and her band, the fact remains that they are much solid compositions that are offered to us here. This will be more than enough to create great expectations for the future. (June 2015)



½


Sea Perry is a pop rock band from Sudbury, Ontario which has some folk influences. Do What You Do was recorded in Toronto with producer Michael Jack (Rush, Bono, Nelly Furtado). We can find downright catchy choruses to sing along and loudly. What really differentiates Sea Perry is its positivism present in practically each of the 10 songs of the album, full of this need of perseverance and enjoying life. Tracks like "Molly's Shoes", "Burning California", "Lion" and the title track are likely to remain in mind for long. Sea Perry can remind us of the Barenaked Ladies, but in a revamped version of 20 years younger. Here is a very pleasant album to listen to. (June 2015)



½


A native of Las Vegas, Shamir Bailey offers an electro-pop sound incorporating elements of hip hop music and house music of the 1990s. On this first album, he offers us some essential dance songs that will appeal to both pop music fans and hip hop fans. He had already catch attention with the single "On the Regular" that is included here, but it is confirmed with Ratchet that we were right to believe in his potential. You can hear influences of Prince, Michael Jackson, Grace Jones and the Scissor Sisters, but he fits perfectly all these influences into a whole of his own style. His compositions are very effective and borrow as much to the past as to contemporary technology. Here is an excellent debut album from a very promising artist! (June 2015)





The alternative folk rock singer from Detroit is back with a new album that continues the way already well underway in his creative journey. Otherwise, on Carrie & Lowell, Sufjan Stevens pays tribute to his mother deceased in 2012 and his stepfather. This is an album about love, but also sadness, anger and uncertainty, since Sufjan had a difficult relationship with his mother who broke with his father when he was only one year old. He certainly presents his most personal songs to date, with a good dose of emotion and very little restraint. Musically, Stevens offers us gently beautiful melodies that help to carry us quickly into his family universe. With Carrie & Lowell, Sufjan Stevens puts his guts on the table and he will certainly not be accused of hiding himself. Here is a very good album, a nice addition to his work! (June 2015)



½

Recorded in Los Angeles and Montreal, Love Songs for Robots certainly has more scope than the intimate album Adventures in Your Own Backyard, the home recording of Patrick Watson that appeared three years ago. Otherwise, he remains just as intense and melancholic that he has been in the past. More synthesizers add some layers to final arrangements much more complex than on the previous record for an ambient whole, but of great wealth, blending science fiction and folk music. This is again a very good album that offers us Patrick Watson with this fifth recording, but you'll certainly need some patience to adhere completely to his universe rather difficult to access. (June 2015)
Music Video: « Places You Will Go »



½

The musician, composer and producer passion for trains goes back to his childhood when he accompanied his two grandfathers, railway industry employees, in locomotives and wagons. After many years of sound research, Erik West Millette honors the great transcontinental expresses and presents the ambitious project of 2 CD and a book called West Trainz. All the music was inspired by trains he had the chance to take and it is interspersed with real railway sounds. To do this, he surrounds himself with renowned collaborators including Gianmaria Testa, Pierre Flynn, Jordan Officer, Thomas Hellman, Bïa, Marie-Jo Thério, Yves Desrosiers, and many others. Largely instrumental, the double album offers fairly creative jazz music, also incorporating elements of blues. The whole is more than interesting and carries us into a fascinating journey, in America on the first CD, then in the rest of the world with the second one. For Erik West Millette, West Trainz is more than the project of his career, it is also the project of his life! (June 2015)



½

Recorded in August 2014, Live+ is not really a summary of the career of Jeff Beck because it ignores much of his best songs instead focusing on having fun with the guitar in different styles. For example, he reworks The Beatles' "A Day in the Life" in fusion jazz before concluding with some harder blues moments. We can hear personal versions of Stevie Wonder's "Superstition", Jimi Hendrix' "Little Wing" and "Danny Boy". In addition to the 14 tracks recorded in concert, we can discover two new studio songs: "Tribal" and a cover of "My White Tiled Floor". Even if the record seems quite uneven, it presents a Jeff Beck who has lost none of his skill on the guitar. (June 2015)




Guitar Heroes
The Guitar Heroes album was recorded on July 12, 2013 at Vancouver Island MusicFest by four masters of the Telecaster guitar: James Burton, Albert Lee, Amos Garrett and David Wilcox. This memorable evening was immortalized as is on record, without any editing or reworking. The four living legends play great classics of blues and rockabilly as "That's All Right (Mama)", "Susie Q", "Sleep Walk" and "Flip, Flop and Fly". A must for every guitar fan! (June 2015)



½

Robin Gibb – Saved by the Bell: The Collected Works of Robin Gibb 1968-1970 (3 CD)
One of the Gibb brothers who were successful in the 1960s in the Bee Gees, Robin embarked on a brief solo career in 1968 and produced the album Robin's Reign. In 1970, he returned to the band, but he still had time to record many songs. This triple album presents first Robin's Reign, but enhanced by 9 additional songs, some left out for the album, others that are songs of the record in mono versions, etc. The second CD offers the Sing Slowly Sisters recording sessions, an album that was never released after the reunion with the Bee Gees. Finally, the third CD features 23 rarities: demo versions, recordings at the BBC, two Italian versions, etc. Producer Andrew Sandoval had already started to work on assembling Gibb's solo works before his death in 2012 and he resumed after. It is pop orchestral music, usually mild and often captivating. These three CD therefore present a comprehensive overview of what Robin Gibb recorded during his short break off the Bee Gees. (June 2015)



½

Jethro Tull – Minstrel in the Gallery: 40th Anniversary Edition
After having released two progressive rock classics in 1971 and 1972 with Aqualung and Thick as a Brick, the British band Jethro Tull has experienced a slight decline of creativity, the time of two albums. But, it was to better come back in 1975 with Minstrel in the Gallery, recorded in Monaco. Forty years later, here is a re-issue of the original album newly remixed by Steven Wilson. It was certainly one of their most creative and elaborate albums, most of all thanks to the song in 5 parts totaling 17 minutes "Baker St. Muse". Despite many British folk elements, the album remains progressive rock with a good deal of hard rock. This new edition offers as bonus a very detailed 23-page booklet that tells in detail the story of the album. Even if we do not find any additional songs compared to the original, this 40th anniversary edition of Minstrel in the Gallery may be quite exciting for the biggest fans of the band. (June 2015)
Chrysalis / Warner





Led Zeppelin – Physical Graffiti: 40th Anniversary Edition (3 CD)
Forty years after its original release, the sixth album by Led Zeppelin, a double album, is reissued and is offered to us again. It has been digitally remastered by Jimmy Page himself. We can rediscover with great pleasure the classics "The Rover", "Trampled Under Foot", "Kashmir", "Down by the Seaside", "Boogie With Stu", and so on. Physical Graffiti is considered by many as one of the most important double albums in rock history, despite some disparities unworthy of their previous material. In addition to the remastered original album on two CDs, one can hear a third CD with 7 songs including unfinished versions, demos and alternative versions of the original record tracks. (June 2015)





Brian Wilson – Brian Wilson (1988) (2015 Reissue)
After more than 25 years of success with the Beach Boys, Brian Wilson finally released his first solo album. It created a lot of waves, but not necessarily because of its music. Yet we can find the elements that contributed to his legend as incomparable melodies and dense symphonic orchestrations. Otherwise, it seems to miss the spark that marked his band in the 1960s. In addition, very synthetic arrangements and overflowing echoing percussion certainly not restore the prestige of this music genius. The reason why the album has passed to history thus remains only that it was the first solo album by one of the greatest songwriters of the 20th century. On this reissue, we can hear 11 additional tracks (demos and alternative versions), as well as interview excerpts about the songs "Love and Mercy", the 8-minute suite "Rio Grande" and "The Source". There is also a detailed 23-page booklet. (June 2015)




R.E.M. – R.E.M. by MTV (DVD & Blu-Ray)
R.E.M. and MTV started together in 1981. Since then, the music TV station has documented just about everything about the band, whether their music and their stories, until their decision to disband in 2011. This film shows the real-time parallel runs of the two institutions by archive documents. We thus find the documentary R.E.M. From Beginning To End (for the first time available on Blu-Ray), to which were added five deleted scenes and movie trailers. One can also rediscover five concert performances pulled from the REMTV box set. Here is a great way to make an overview of the band's career. (June 2015)



½


After the abrupt split of the Beach Boys during their 50th anniversary tour, which left Brian alone on his side, he took the opportunity to enter the studio with Jeff Beck and producer Don Was. The project did not succeed, but many recordings from those sessions are the foundation of No Pier Pressure, recorded with his long-time collaborator Joe Thomas. The pro-Brian branch of the Beach Boys is still very present on the album: Al Jardine, David Marks and Blondie Chaplin. The album of 18 tracks totaling 56 minutes can be rapidly destabilizing, as soon as at the second track with the almost disco "Runaway Dancer" featuring Sebu Simonian of Capital Cities. It definitely does not seem to have its place on an album by Brian Wilson. There are also many slow songs with an atmospheric trend and very good vocal harmonies. Wilson even tends to jazz on "Half Moon Bay" with Mark Isham. Other collaborators include She & Him, Nate Ruess and Kacey Musgraves (for two of the most effective songs of the record, "The Right Time" and "Guess You Had To Be There"). Unfortunately, it is too uneven and too long for a Brian Wilson album, which still presents very good compositions, but with also many weaker pieces. In cutting some of these weak songs, Wilson would certainly have succeeded in offering a high quality album. No Pier Pressure is therefore this kind of album to listen to the piece, remote control in hand. (May 2015 Featured Review)




Courtney Barnett - Sometimes I Sit and Think, and Sometimes I Just Sit
Courtney Barnett is an Australian songwriter, guitarist and singer who plays an alternative rock sound both inspired and exciting. After two EPs that provoked many reactions, Courtney finally offers her long awaited debut album. She has a garage rock sound that recalls the Nirvana grunge on several occasions, as well as the origins of punk. Otherwise, we can also hear a little more folk influences, which can bring Patti Smith to mind. Where she is particularly strong is that she manages to dip into her different American influences and make it her own by delivering it in her own way, with her charming Australian accent she is very proud of. Here is a songwriter of great talent, a complete artist it is imperative to discover. (May 2015 Featured New Artist)





Blick Bassy is a Cameroonian now living in Paris for ten years. He is a guitarist of finger-picking blues which he mixes with jazz and complex African rhythms. Influenced by Skip James, his Cameroonian roots still dominate on this album almost entirely in his native tongue. He not only mastered his instrument, but he has in addition a singular voice that allows us to distinguish him quickly. Blick Bassy offers us music that pierces us and therefore will leave no one indifferent. (May 2015)



½


Bears of Legend is a folk rock collective from Mauricie, Quebec presenting a new album inspired by an old diary found at sea on a mysterious boat. Ghostwritten Chronicles tells metaphorical stories of a crew taking place between the years 1400 and 1700. Each character is introduced and illustrated in the booklet and it describes its context. The concept album incorporating folk instruments is expanded and ambitious. Beautiful vocal harmonies make the project still accessible, and they are accompanied by large-scale orchestrations that add to the rich and creative arrangements. The poetry of the album is also inspiring, on a sound mixing folk, classical and progressive rock. Mainly in English, Ghostwritten Chronicles is a greatly rewarding and interesting album. To discover! (May 2015)
La Tanière / SIX



½


Blur – The Magic Whip
For The Magic Whip, Damon Albarn, Graham Coxon and company reunited in studio for the first time since the disappointing Think Tank in 2003. In the meantime, they have had many separate projects, but it's rather pleasant to find back the quartet that was among the bands at the forefront of brit pop in the 1990s. The Magic Whip seems to be a real continuity to their best albums, not only a reunion years later. It is as if all that time Blur remained alive and had continued its creative process. Started in Hong Kong during a 5-day recording session, the album was certainly inspired by their stay in Asia with lyrics depicting a certain loneliness due to remoteness. Musically, the songs are generally smooth, often slow, with beautiful melodies, coated in extremely rich textures. Arrangements are absolutely stunning and help to show Blur at its best. There are quite a few small irregularities or less exciting tracks, but the overall is great to listen. Here is something to satisfy the fans of the band that were left to themselves since 13 released 16 years ago. (May 2015)
Music Video: « Lonesome Street »



½

Circuit des Yeux is an experimental folk rock project by Haley Fohr which exists since 2007. In Plain Speech is her 4th album and it still moves away from the loud and cacophonous sound of the early years. While it remains totally experimental, the album has beautiful melodies and great melodramatic climbs that make it rather pleasant to listen. From a creative standpoint, Fohr is exploring different sounds and styles, always as original. Otherwise, she succeeded more than ever by creating a certain guideline throughout the 54 minutes of the album. The music can rely on rich orchestrations and sophisticated arrangements, which make it quite cinematic. With In Plain Speech, Circuit des Yeux has probably its most accomplished album to date. (May 2015)



½

Jesse Cook has always merged the genres, from jazz to new age and world music. On One World, the guitarist transcends more than ever in this area with a mix worthy of a world tour. The guitars, sitar and violin blend with keyboards and electronic sounds. He therefore manages the feat of creating an almost perfect guideline between past and present, while we travel. Unlike his previous records that might contain rumba or flamenco tracks, One World beautifully integrates all his influences into a rather creative distinct sound. Not only is this new album different from anything he has done before, but it is perhaps also one of his most successful from a creative point of view. Here is a very nice album to carry you elsewhere. (May 2015)



½

While Chris Walla has left the band during the recording of Kintsugi, Ben Gibbard has hired producer Rich Costey (Kimbra, Muse, Interpol) to help to complete the album. It is possibly the smoothest record by the band to date with obvious pop melodies that bring more than ever indie pop and new wave in their sound. Gibbard and his band are also very comfortable as they explore disco rock ("Good Help (Is So Hard to Find)"). The album contains some great songs like "Black Sun" and "The Ghosts of Beverly Drive," and all is well aligned from one track to another for a 45-minute solid album to the end. It is certainly not the best record of the band to date, but it has enough interesting material to satisfy its audience. (May 2015)
Music Video: « Black Sun »



½

The British quartet is back with a new album pursuing the same musical direction than on its first record issued three years ago. Django Django have established themselves with their characteristic sound merging rock and electronic, all accompanied by a creative beat. We hear again influences of Devo, but also of the Beach Boys and Brian Eno. The quality of the melodies dominates throughout the CD and several tracks stand out of the lot as the excellent "Giant", "Found You" and the first single, "First Light". A few pieces are a little less convincing in the second half and may leave somewhat uncertain, but Born Under Saturn still remains an album of great creativity. (May 2015)
Music Video: « First Light »



½

In 2010-2011, the Italian musician was invited to conduct the orchestra during the Notte della Taranta festival, wanting to revive the ancient songs of the tradition of Salento (the "heel" of the Italian boot). On this album, Einaudi offers a reinterpretation of the songs once used to chase the evils of the world and create a connection with the traditions and music cultures to make coexist the ancient and the modern. Several renowned musicians are collaborating on this musical adventure: Ballaké Sissoko, Justin Adams, Mercan Dede, Redi Hasa, Mauro Durante, etc. Taranta Project is a complex and dense album that brings together influences from all over the world while eliminating the gap between traditional and contemporary music. (May 2015)




Emmylou Harris & Rodney Crowell – The Traveling Kind
Two years after the success of Old Yellow Moon, the country duo is back with The Traveling Kind. Crowell and Harris co-wrote 6 of the 11 songs and they seem to have an incomparable chemistry in such a context, like when they sing and play by the way. They allow a pair of covers: Lucinda Williams' "I Just Wanted To See You So Bad" and Amy Allison's "Her Hair Was Red". Despite quite a few songs that are energetic, it is in the more intimate songs that the duo actually achieves harmony ("You Can't Say We Didn't Try", the title track, etc.). Produced by Joe Henry, The Traveling Kind reconfirms that these longtime friends should have joined forces well before the 2010s. (May 2015)



½

With her lyrical pop voice, Brigitte M had impressed on her album From Metal to Crystal covering classic hard rock and metal in her own way. These are other immortal songs she sings in a style of her own. She pays tribute to Queen ("The Show Must Go On"), Scorpions ("Send Me an Angel"), Aerosmith ("Dream On"), Sting ("Fields of Gold"), Styx ("Suite Madame Blue"), Evanescence ("My Immortal"), and even Edith Piaf ("Non, je ne regrette rien"). For the first single, "Space Countdown", Brigitte merges David Bowie's "Space Oddity" with Europe's "The Final Countdown" and Mozart's "The Queen of the Night". In any case, she delivers these classics with all the sweetness and subtlety that characterizes her, giving new lives to these timeless songs. (May 2015)
Music Video: « Space Countdown »





Born in Sao Luis de Maranhao, Brazil, the singer, guitarist, composer and arranger has adopted Quebec in 2007. With Meu Quelê (My Child), he merges Brazilian traditions and contemporary world music. The rich melodies and complex rhythms are wrapped up in beautiful arrangements. The fusion seems perfect between the guitar and the voice of Neto and the innovative and unique percussions of Rogério Boccato (Antonio Carlos Jobim, Milton Nascimento, Joe Zawinul). The two musicians also produced the album. Note also the collaborations of flutist Amina Mezaache, singer-songwriter Bïa Krieger, and singer-composer Anne Boccato. Meu Quelê offers lyrics in Portuguese on a contemporary Brazilian music. (May 2015)
Carcarasom



½

When the Ontario troubadour issues a new album, we can expect a quality record while he still has an impressive number of prominent compositions on each new CD. This is still the case on Carousel One that contains great pop melodies with in addition beautiful arrangements to showcase his fingering on the guitar. This 14th album features a little more variety than on his previous recordings, sometimes quite away from the folk sound that has long characterized him. Produced by Jim Scott (Wilco, Foo Fighters), the album features several experienced musicians around Sexsmith which seems less alone than ever with his guitar. "Getaway Car" might well have been recorded by the Beatles of the late years, and various references to the past like this are leading at different times of the album. The solo work of George Harrison may also seem to have been an important influence on the work of Ron Sexsmith. Otherwise, once you bother to stop to listen carefully to the songs, you discover that they fully belong to him. Carousel One is confirmed as another very good album by Ron Sexsmith. (May 2015)



½

Ringo Starr – Postcards from Paradise
Casually, Postcards from Paradise is the 18th solo album by the former Beatle. One still finds some autobiographical songs, but above all, lots of sunny songs that come to us just in time for summer. You can even hear a very nice reggae song with "Right Side of the Road", written with Richard Marx. Most of the loyal acolytes of Starr collaborate again on the album, like Todd Rundgren, Dave Stewart, Steve Lukather and Joe Walsh. Starr manages to present some interesting tracks like "Rory and the Hurricanes", "You Bring the Party Down" and the title track. Otherwise, as it is often the case with a record by Ringo Starr, Postcards from Paradise has many inequalities during its 44 minutes. (May 2015)




Gilles Valiquette – P.S. I Love Uke: A Beatles Tribute
After releasing the book C'est fou mais c'est tout – Parcours discographique des Beatles au Canada in November 2014, the undisputed Beatles fan comes back again with an album covering this time fifteen compositions of his favorite band. The record does not necessarily contain the greatest hits of the quartet, but it still includes favorites such as "Love Me Do" and "Here Comes the Sun". He is accompanied by many musician friends (Patrick Norman, Michel Normandeau, Bruce Huard, Richard Séguin, etc.) and members of his family to sing with a certain pleasure his favorite songs of the Fab Four at ukulele. He even does two of their songs in their French version: "C'est fou mais c'est tout" (Pierre Labelle's version of "Hold Me Tight" popularized by The Baronets) and "Des bises de moi pour toi" (Claude François' version of "From Me To You"). A genuine journey through the discography of the band, PS I Love Uke has the feature to navigate between their first record ("Love Me Do") and the last ("The End") by offering a sample from each album. In fact, the most negative point of the CD is that it only lasts a little over 30 minutes and we would have liked to hear additional material. (May 2015)
PGV / Universal



½


After two years marked by illness, the Quebec bluesman is back in great shape with After the Storm. This 11th career album for Bob Walsh has an intense blues sound, with some folk influences, but mostly jazz. He is accompanied among others by a large brass section. Walsh alternates between reinterpretations of classic Charles Calhoun, Leon Russell, Bill Withers, etc., and original compositions by Ray Bonneville, Vincent Beaulne and many others. It is good to hear again the unique voice of this giant of Quebec blues, a living legend who has weathered the storm! (May 2015)



½


Three years after the excellent Sonik Kicks, the former member of The Jam is back on record, but this time without Simon Dine, his faithful collaborator in recent years. On Saturns Pattern, Weller indulges in an atmospheric and space sound on several occasions, while constantly returning to more energetic beats. He even has a rather heavy blues garage at times like with "White Sky", "Long Time" and "In the Car". It is a varied album full of subtleties that offers us Paul Weller, an extremely satisfying album. (May 2015)



½

The American country singer from Kentucky has thirty years of career and issues a new album paying tribute to the past while looking to the future of country music. With solid compositions that manage to avoid the worst clichés of the genre, Yoakam quickly impresses by his ability to bridge the gap between past and future. He offers a great blend of country, pop and rock while respecting a certain guideline and without major weaknesses. If Dwight Yoakam found a new life in 2012 with 3 Pears, well this time he finds himself firmly established in the 2010s with Second Hand Heart which is a very good album that country lovers should certainly not ignore. (May 2015)



½

The French with Moroccan origins is back with her second album, five years after Handmade. Hindi Zahra still offers a jazz sound with folk and eastern influences, but also with a tinge of blues and great pop melodies. Her warm voice is accompanied by rather rich acoustic music and very good percussions. Homeland allows once again to make a very nice trip for 48 minutes. (May 2015)



½

Chicago – Chicago XXXIV: Live in '75 (2 CD)
This double live album presents the pop rock band when it was at the peak of its career. It includes recordings during three concerts given between June 24 and 26, 1975 at the Capital Center in Largo, Maryland. On this 34th album by Chicago, you can hear as many as 24 songs among their most popular for a total of nearly two hours. You can hear again with pleasure the hits "Beginnings", "Does Anybody Really Know What Time It Is?", "Old Days" and "25 or 6 to 4". The sound quality is not perfect, given the technology of 40 years ago, but it is interesting enough to make us appreciate the band's talent, which incorporates elements of jazz to its pop rock / soft rock style. Here is the perfect album for their hardcore fans to go back to their memories of that era. (May 2015)



½

Needtobreathe – Live from the Woods at Fontanel (2 CD)
After numerous major concerts, including opening for Taylor Swift, the Christian alternative rock band was ready to release its first concert album. So here is Live from the Woods at Fontanel, recorded in front of 4,500 people in Nashville on September 13, 2014. The 17 tracks on two CDs cover all their albums except the debut. Since the concert was recorded during the Rivers in the Wasteland tour, it is normal to find several songs from this album (there are 9 of 11). It includes an 8-minute jam version of "Oh Carolina" and a version of "Wanted Man", which turns into a hard rock cover of Modest Mouse's "Float On". One can of course also listen to their greatest hits, including "The Outsiders" and "Brother". You can clearly hear the crowd at several moments of the album, especially during quieter passages or between songs, which helps create a beautiful festive atmosphere, even in our living room. Needtobreathe offers us an energetic and contagious performance, an essential album for fans of the group. (May 2015)