Note: If you can read French, go to the French page for additional content.
to SEARCH this page
JULY 2018
Featured Review: 5 Seconds of Summer Featured New Artist: Tracyanne & Danny
July 1-5:
June:
Charlie Puth - Justin Saladino Band - Chromeo - Corneille - Father John Misty -
Florence K - Harold Lopez-Nussa - Tami Neilson - Judith Owen - Steve Hill
Reviews coming up next month:
Rolling Blackouts Coastal Fever
and much more...
archives:

FEATURED REVIEW:
Following the huge success of their first two albums released in 2014 and 2015, the quartet 5 Seconds of Summer took a break from the studio and they are now back with their third album. The hit title-song, as well as the first single, "Want You Back", set the tone for this very teen pop album. Their emo side from the debut, which even earned them the pop punk label when they first appeared opening for One Direction, is completely gone here. However, there is some rock in a few tracks, probably since it is a full band and not just a vocal group like so many others in the genre. 5SOS offer energetic music with catchy choruses. So, even if few tracks stand out, the band has everything to achieve another incredible success with Youngblood.
Music Videos: « Want You Back » - « Youngblood »




FEATURED NEW ARTIST:
British duo Tracyanne Campbell (Camera Obscura) and Danny Coughlan (Crybaby) are releasing their debut album. The self-titled record unfolds smoothly and with a lot of emotion. The mixture of both voices is particularly successful, which does not prevent that they can shine each other throughout the CD. Danny's style is reminiscent of Roy Orbison, which is getting along well anyway with Tracyanne's contemporary indie pop. Danny draws all the attention on him with "Jacqueline", a sad and touching ballad. However, it is Tracyanne who steals the show in the opening track, "Home & Dry", as well as several other times throughout the record. Some mid-tempo pieces have a little country side that is not uncomfortable at all, adding an interesting flavor to their soothing music. Tracyanne and Danny complement each other beautifully on this first album, which could not have been released without this fusion between the two artists.



½

juLY 1-5:
After four years of absence on record, Jill Barber reinvents herself on Metaphora. She enters indeed the world of pop music. With her new single, "Une femme doit faire", which is found here in English ("Girl's Gotta Do"), she has already managed to catch attention on French radios. This is a catchy and rhythmed song that deals with gender equality. After proving her talent in folk, jazz and even French song, Jill demonstrates all her ability to write also very good pop songs. It must be said that she had help from Ryan Guldemond (Mother Mother) who collaborated with her to write the entire album. Jill has entrusted the production to another great name, Gus Van Go (Whitehorse, Arkells), who, from his studio in New York City, is always accompanied by the creative strength of Werner F. The collective Likeminds also collaborated on the album, as well as Gavin Brown and Maia Davies who did some tracks in Toronto. We can hear many dance songs, but also some more introspective tracks on the piano, including the touching "Mercy". It's an audacious album that Jill Barber offers with Metaphora, but she's up for the challenge with a high-quality pop recording.



½

Five years have passed since Neko Case's last solo album, but she is back strongly on Hell-On. The alternative singer with folk and country influences offers indeed a greatly inspired record that cleverly navigates between genres. The melodies manage to catch us from the beginning and it would be very difficult to stop listening before the end. Neko ensures the production of the album, with Bjorn Yttling who co-produces five songs (he also co-wrote all 12 tracks). Neko's warm and dominant voice is accompanied by beautiful arrangements that bring great richness to the album. With the inspiration and the quality of the production that one can hear on this, one can certainly consider Hell-On among her most interesting records in career.





Toronto folk rock singer returns with a new album, Better Human. He tells us nine stories, as only him can, on fairly traditional folk music with also more pop, very catchy parts. For the occasion, Kunder surrounds himself with some collaborators who add their voices to his: Oh Susanna, Jim Guthrie and Carleigh Aikins (Paper Bird, Bahamas). There are also Sarah MacDougall and Maia Davies (Ladies of the Canyon) co-writing respectively "Better Days" and "Fight for Time" (the first single). This is a very nice album that Ben Kunder offers us, once again.




After the very solid Death of a Bachelor two years ago, Panic! At the Disco are back. Once again produced by Jake Sinclair, this sixth studio album by the band is a kind of logical continuation of the previous one. It presents a conceptual idea that is inspired this time by R&B and hip hop of the 1990s, in almost perfect fusion with the pop rock sound now very characteristic of the group. We could talk about overproduction on several occasions with beefy musical packaging that goes in all directions, but it is this loaded music that has made the band so interesting in recent years. The arrangements may be reminiscent of a musical show, but it is mostly the catchy melodies that become completely addictive. The band offers once again both an exciting and a refreshing album.



½

After the huge radio hits of two years ago, including the inevitable "Marvin Gaye", the American pop singer returns with his sophomore album. It contains again some bombs, like "Attention" and "How Long". But what keeps most of the attention on Voicenotes, it is a much greater coherence throughout the record. Puth now seems in full control of his career, when he was literally propelled to the forefront with his debut album after his success on YouTube. He opens a little more about his personal life on several occasions, but he delivers mostly solid pop songs. He can still be compared to Justin Timberlake, but he is increasingly establishing his own style of pop / R&B with soul influences. We can hear some contributors on Voicenotes: Kehlani, Boyz II Men and James Taylor. (June 2018 Featured Review)
Music Videos: « Attention » - « How Long » - « Done For Me »




Even though he is only 23 years old, the Montreal guitarist has been present on the Quebec music scene for more than 10 years. He has shared the stage with many artists including Victor Wainwright, Steve Strongman, Frank Marino, Paul DesLauriers, Jack of Keyzer and Ronnie Baker Brookes. On A Fool's Heart, Saladino skillfully mixes genres, from blues to rock and soul, with a touch of funk on some occasions. The album was recorded in Montreal and produced by Connor Seidel (Matt Holubowski, Beatrice Keeler). By the way, Beatrice Keeler lends her voice to the album, which adds a very appreciated touch of feminine. This is a solid record that Justin Saladino and his musicians offer us, a pleasant album to listen to from beginning to end and that makes us feel good. Mission accomplished! (June 2018 Featured New Artist)



½

Chromeo – Head Over Heels
The Montreal electro duo returns with their fifth album, recorded in their studio in Los Angeles. Dave 1 and P-Thugg demonstrate their love for funk, soul and R&B, styles that have influenced them since their teenage years. For Head Over Heels, Chromeo has many collaborators, including The-Dream, French Montana, Raphael Saadiq, Rodney Jerkins, members of Toto, and many others. The duo is already having its fourth single from Head Over Heels with the latest, "Bad Decision", which follows "Must've Been" (with DRAM), "Juice" and the excellent "Bedroom Calling" (with The-Dream). The latest is considered by Billboard as one of the best songs by Chromeo for years. Chromeo are offering a particularly refreshing album with Head Over Heels, a record reminiscent of the 1980s, while remaining very contemporary. (June 2018)
Music Videos: « Juice » - « Must've Been »



½

For his seventh album in career, Corneille decided to revisit hits of the 1980s and 1990s he was missing. There are timeless songs from Toto, Wham!, Sade, Lenny Kravitz, Tracy Chapman, Simply Red, Cindy Lauper, Chris Isaak, and many more. Corneille sings the whole with his sweet voice, sometimes in a dance R&B version and sometimes acoustic. He has worked for the occasion with some of the most prominent producers in France today: Ofenbach, Joe Rafaa (M. Pokora), Fred Savio (Christophe Mae) and Thierry de Cara (Frero Delavega). Some of the songs that stand out are "Careless Whisper", "Smooth Operator", "It Ain't Over 'Til It's Over" and "Time After Time". On Love & Soul, it is the interpreter in Corneille who takes center stage for our greatest happiness. (June 2018)



½

The indie rock / pop singer returns with his fourth album in 6 years. After Pure Comedy merely a year ago that lasted 75 minutes, Father John Misty (aka Josh Tillman) narrowed it all down for God's Favorite Customer for a total under 40 minutes. It is a lighter and refreshing album, a record with very beautiful catchy melodies. There are ballads reminiscent of Elton John in his early days. Tillman's voice is in the foreground throughout the album, which may put some music lovers off, but the arrangements are still of high quality. So, this is another very good album that Father John Misty is offering us, a very nice and more accessible album than the previous one. (June 2018)



½

After incursions into jazz and French songs, Florence K returns to her first love, with an album of Latin / Cuban music. For the occasion, she worked with Alex Cuba and the result is an album that greatly combines salsa and reggaetón. Mostly in Spanish, there are still moments in English and French, especially with "Morena" that can be heard in two versions, in Spanish and French in conclusion of the CD. The rhythms are still effective and Florence is certainly one of the few non-Cubans to write and play that well the rhythms of this country with rich musical heritage. Here is a warm and sunny album that will accompany your summer, or a trip to the Caribbean... (June 2018)



½

For his new album, the Cuban pianist leaves aside some his Latin roots and offers totally original jazz music. These compositions were designed for this unique trio completed by his younger brother Ruy Adrian on drums and Gaston Joya on bass. A Dia Cualquiera (An Ordinary Day) proposes the idea of ​​entering the studio and playing freely, as one would do at home. The result is a spontaneous album where the pleasure of playing seems obvious. In addition to original compositions, Lopez-Nussa offers two very successful performances of Ernesto Lecuona's repertoire, "Danza de los Nanigos" and "Y la Negra Bailaba". Like Gershwin in the United States, Lecuona is considered as one of the greatest Cuban composers, having succeeded in integrating indigenous and popular forms into the classical repertoire. The pianist also plays the famous bolero "Contigo En La Distancia", performed by several artists through time including Placido Domingo and Christina Aguilera. As well at ease when improvising with his trio, Lopez-Nussa seems to be at the right place and the right time, throughout this album in his image. (June 2018)



½

The Canadian-born singer now living in New Zealand conquered Quebec during her last tours. On Sassafrass (who is said about a sassy person who is not afraid to speak their mind), Tami Neilson seems to want more than ever to have fun. She offers energetic music combining rockabilly, soul, blues and country. With her new haircut as a bonus, it looks like she participates to the soundtrack of a movie by Tarantino. The set of music arrangements gives a cinematic quality to the album. From the opening track and first single, "Stay Outta My Business", Tami offers us an irresistible groove in accompaniment to her powerful voice. She allows herself to revisit a composition by her father Ron Neilson, "One Thought of You". Then she defends the women of Hollywood and all the women assaulted by men in "Smoking Gun" and "Kitty Cat", two songs with a very different tone to treat almost the same topic, the first being much darker. Finally, she pays homage to Glen Campbell on the day of his death in "Manitoba Sunrise at Motel 6". (June 2018)




On redisCOVERed, the British female singer plays a variety of songs, pop, rock and even hip hop, in stripped piano-voice versions with some drums, and discreet strings and brass. Judith Owen makes us rediscover these songs often very well known in a jazzy rather sweet version. We can hear for example "Hotline Bling" (Drake), "Shape of You" (Ed Sheeran), "Black Hole Sun" (Soundgarden), "Hot Stuff" (Donna Summer), "Smoke on the Water" (Deep Purple), Grease's "Summer Nights", "Play That Funky Music" (Wild Cherry), "Blackbird" (Beatles) and many others. She also pays tribute to one of her greatest influences, Joni Mitchell, revisiting "Cherokee Louise" and "Ladies Man". Judith manages to skillfully deconstruct these familiar songs to make them hers. The result is a refreshing album to perfection, and above all, remaining consistent from beginning to end. (June 2018)
Twanky / SIX



½

Steve Hill –
The O
ne-Man Blues Rock Band
Recognized for many years as one of the best guitarists of his generation, Steve Hill is becoming more and more known as a true one-man band. He dazzles wherever he goes on stage as he really plays every instrument on his own. With The One-Man Blues Rock Band, the multi-instrumentalist offers his first live album, recorded at La Chapelle in Quebec City last November. You can hear 12 original blues rock songs, including three acoustic pieces. We can also hear two covers, including the incomparable "Voodoo Child (Slight Return)" that he plays almost better than Jimi Hendrix himself. On this tenth career album, which he considers as his most successful, Steve Hill impresses with his vast talent. One could challenge anyone to guess the number of musicians on stage as he takes possession of the whole stage. The only regret is that we cannot see him perform. When will we get a DVD? In the meantime, don't miss him on stage if he plays in a venue near you, since he will leave soon for a long tour in the United Kingdom and Germany where he gets more and more popular. (June 2018)



½

Five years have passed since her last album, and the singular artist Janelle Monae is now back with a new futuristic R&B work. As usual, she navigates between genres with unheard ease, integrating rock, pop and funk music to a set both disconcerting and captivating. Janelle succeeds more than ever in conquering us from the first tracks and it is very difficult not to stay until the end thereafter, especially since the album is a little shorter here with 43 minutes. With "Make Me Feel", she offers an irresistible funk song that has everything you need in creativity and attractiveness to become a classic. The other two singles from the album, "PYNK" and "I Like That", also have this power of attraction that makes Janelle Monae so mesmerizing. She surrounds herself in addition to giants of music with the discreet collaborations of Brian Wilson, Pharrell Williams and Grimes. The artist continues to intrigue, but especially she hits the nail with Dirty Computer, a gem of her generation and certainly her most complete album to date. (May 2018 Featured Review)
Music Videos: « Make Me Feel » - « PYNK » - « I Like That »
Bad Boy / Warner




½

Soccer Mommy is the stage name of Sophie Allison, a 20-year-old singer-songwriter who grew up in Nashville. She first issued last year a collection of home recordings previously released on the web, and she is back this time with her real first album. On Clean, Soccer Mommy offers 10 indie rock songs that keep a stripped side, even if they benefit here of arrangements much more elaborate than her previous recordings. We can already feel that she is developing more and more her own style that will become quickly recognizable. This is a very good debut album by Soccer Mommy who will remain an artist to watch closely in the coming years. (May 2018 Featured New Artist)
Music Videos: « Your Dog » - « Cool »



½

Four years after Big Romance and two years after his collaboration with his sister Jill Barber for The Family Album, the Torontonian returns with Phase of the Moon, which he produced himself. Carried on by the first single, "Back To You", as well as the beautiful title track, the album presents itself gently, around the voice of Matthew and his discreet arrangements of piano and acoustic guitar, occasionally accompanied by strings. These songs were born in the Montmartre district in Paris, where the singer and his wife settled for a month in early 2017. The album is marked by a certain melancholy, comfort and appeasement. Recorded in three days in Ontario, Phase of the Moon has very personal songs that bring back Matthew Barber to his roots. Very pleasant! (May 2018)



½

Beach House is a Baltimore duo formed in 2005 by Victoria Legrand and Alex Scally. You guessed it thanks to the title, they are already issuing their seventh album. They offer alternative music that goes between indie rock and aerial pop. In recent years, they have blossomed and expanded their musical spectrum. They continue this evolution on this seventh opus while few songs are similar. There's only Victoria's vaporous voice that makes the link all the way through the record, but after all, it's their trademark. Beach House worked differently in the studio this time. They first changed producer by hiring Sonic Boom to replace their loyal collaborator, Chris Coady. Then, they invited their touring drummer, James Barone, to the studio. But above all, they recorded the songs as they were written, for greater spontaneity and not to hinder creativity. The result is rich, varied and it manages to keep our interest to the end. A very good record by a duo who knows now where it is in its career. (May 2018)



½

Quebec pianist and composer Jean-Michel Blais is back with a new album, Dans ma main (In My Hand). Working in a neo-classical style, he decided this time to include minimalist electro. The result is an amalgam of post-classical and contemporary pop music incorporating synthetic sounds that break his intimate world at the piano on various occasions. The title-track draws its influence from the poet Hector of Saint-Denys Garneau. Blais explores the influence of spirituality on everyday life, as he is fascinated by the almost religious silence his music provokes in concert. With Dans ma main, Jean-Michel Blais marks another important milestone in his career by presenting an innovative neo-classical album. (May 2018)



½

The Box – Take Me Home
The legendary Montreal pop rock band is back to everyone's surprise with a four-track EP, available on digital platforms. Jean-Marc Pisapia and his band offer songs that fit perfectly into the band's work, including effective rhythms and unforgettable melodies. With only 15 minutes of music, we are quickly disappointed because we would take a lot more of these effective compositions. After nine years of absence on record, The Box are definitely back in force, ready to find back their audience of the 1980s that never forgot them. (May 2018)
The Great Tomato Company / SIX



½


Jeremy Dutcher –
Wolastoqiyik Lintuwakonawa
Jeremy Dutcher is a classically trained tenor and composer who does not hesitate to mix his Wolastoq roots with the music he creates. The result is totally original music that combines classical, traditional and pop music. Dutcher also accompanies his album with a powerful visual, very artistic, photographed by Matt Burns. Dutcher's music is not very accessible at first, and certainly requires a period of adaptation. (May 2018)




Juliana Hatfield – Juliana Hatfield Sings Olivia Newton-John
Although we would not be sure of it naturally, alternative rock singer Juliana Hatfield had Olivia Newton-John in awe as a child. On this new album, she is pleased by taking 13 classics of her heroine. Indeed, it was the positivism of her songs that she appreciated so much in Olivia, always delivered with her pretty melodious voice. Juliana says that "listening to her is an escape into a beautiful place". We can hear "Magic", "Physical", "Totally Hot", "Xanadu" and "Hopelessly Devoted To You", not to mention "I Honestly Love You" which starts the CD, in addition to returning to the end as a reprise. With this album, Juliana Hatfield makes us rediscover the songs of Olivia Newton-John in a new light. Very nice! Note that one dollar from the sale of every album will be donated to the Olivia Newton-John Cancer Wellness & Research Centre (ONJ Centre). (May 2018)



½

On their sixth album, the Boston quartet Lake Street Dive reaches new heights in power and virtuosity. It must be said that their training in jazz has certainly something to do with it. It's the two women in the band who take control here. First, bassist Bridget Kearney (who issued a solo album last year) composed or participated in the composition of seven of the 10 songs on the album. Then, Tennessee-based singer Rachael Price steals the show with her powerful voice and imposing presence in every song. The group offers solid pop rock music, still with some retro soul influences, but more discreet than before. We can perhaps make some connections with bands of the 1970s like Fleetwood Mac, but the set of Free Yourself Up remains totally original. Certainly their best album so far! (May 2018)



½

Since Dirty Pictures (Part 1), the singer and pianist Adam Weiner has really become the leader of Philadelphia band Low Cut Connie, and it's even more obvious here (we even see him on the cover). The band takes a little further its exploration of old rock 'n' roll brought up to date. In fact, apart from the sounds of another era more obvious on some occasions, it is a contemporary pop rock album of great creativity. The dosage seems perfect between new creations and influences of the past. The group presents perhaps its most successful album to date. A very nice record! (May 2018)



½

After 12 years of absence from the studio, Manitoba's Loreena McKennitt returns with Lost Souls, her first original album since An Ancient Muse. The singer-songwriter again presents the sound that has always characterized her, folk music with Celtic and New Age influences, with passages inspired by Middle Eastern. Her high-pitched voice accompanied by piano remains mesmerizing and certainly makes us travel. Some of the nine tracks offered were composed several years ago, while others are newer. Some were inspired by poems by John Keats and W. B. Yeats, while the title song is based on Ronald Wright's book, A Short History of Progress. The instruments are numerous on Lost Souls and beautifully accompany the piano and the voice of Loreena, for a rich album that is very pleasant to listen to carefully until the end. (May 2018)



½

Modern Studies is a Scottish collective formed in 2015 which releases today its second album. They offer indie pop / chamber pop music with elements of folk and experimental jazz, all wrapped up in beautiful string arrangements. Thanks to these orchestrations, several of the 10 songs evolve in a crescendo that completely hooks us on. Impossible to detach afterwards so we find ourselves hypnotized. More sophisticated than their debut album, Welcome Strangers takes the band to another level. An excellent record, extremely pleasant to listen to along its length! (May 2018)



½

The Australian hardcore metal band has been around for 15 years now, and they seem to be improving from album to album. This sixth record from Parkway Drive borrows from the melodic metal popularized by British bands in the 1980s (Iron Maiden, Judas Priest), without distorting the style of the group developed over the years. Their aggressive side remains well supported by the guttural voice of Winston McCall. But much brighter moments like "Prey" for example, balance things, for a metal album that has the potential to reach a large audience. The rap metal of "Absolute Power" brings us back to the good years of Rage Against the Machine that would meet Sepultura. As for "The Void" (not the most interesting one), it could have appeared on Metallica's black album 27 years ago. In conclusion, what Parkway Drive is doing on Reverence is that they open completely by dropping their blinkers. The result is a varied album that remains solid in all aspects explored. Bravo! (May 2018)



½

Originally from Edmonton and now based in Montreal, Michael Rault is introducing his third album with It's a New Day Tonight. He offers us again a great blend of 1970s folk rock, 1960s pop and neo-psychedelia. He can be compared to Tame Impala among his contemporaries, as well as Wings, George Harrison and Badfinger in the 1970s, from when the album could easily be coming. The themes he addresses here revolve around sleep and dreams, concepts that have attracted him. Recorded at the legendary Daptone studio in Brooklyn, the songs have almost no added arrangements for a very live in studio sound. This is a very nice album by Michael Rault, which also ends in a long sunny jam with "When the Sun Shines". (May 2018)



½

Shinedown – Attention Attention
After more than 15 years of career, the band from Florida returns with its sixth album. True to themselves, the Shinedown guys introduce us to a mix of post-grunge and hard rock. Attention Attention contains several effective beats and melodies, starting with "Devil" and the title track. The first single, "The Human Radio," leaves otherwise somewhat indifferent despite an energetic chorus. And this is unfortunately what we still find mostly on this new album, songs lacking creativity, personality and causing a few positive reactions. They seem to want to dive into metal on several occasions, but they never go far enough. Shinedown remains the American version of Nickelback with a good dose of Billy Talent. (May 2018)
Music Videos: « The Human Radio » - « Devil »


½

Dana Sipos – Trick of the Light
Canadian folk singer Dana Sipos, totally independent and nomadic, returns with a new album on which she worked with experimental producer Sandro Perri. The result is a unique album from which the echoes of the great outdoors transpire, even though the CD was recorded in Toronto. Also noteworthy is Mary Margaret O'Hara's collaboration to "When the Body Breaks". With Trick of the Light, Dana Sipos presents an album that reflects her free personality. (May 2018)




The Ontario duo The Young Novelists is actually a couple formed of Graydon James and Laura Spink. They like to explore the history of a small provincial town group, its involvement to the community, etc. Their often poetic lyrics are always sung with superb harmonies. In City & Country, their third album, was recorded in Montreal with producer Howard Bilerman (Arcade Fire, Leonard Cohen). There are great moments of indie rock carried out by the electric guitar, but the duo also explores folk music on several occasions. We find a lot of melancholy in the ballads. Wilco seems to have been an important influence for the couple. (May 2018)





Eight years after their eponymous album, the Californian band comes back with another self-titled record, as they lack inspiration even for their album titles. Things have happened in recent years. Not only did Stone Temple Pilots lost their singer, Scott Weiland, who died of an overdose in 2015, but they also lost Chester Bennington (Linkin Park) who joined the band for two years and who committed suicide last year. The remaining three members had to hire a new singer and the lucky winner was Jeff Gutt, a contestant on The X Factor. Gutt has a vocal style very similar to Weiland, which will not be too exotic for the band's fans. Musically, STP does not move away from their old style by still offering hard rock reminiscent of the 1990s. The melodies and riffs are generally effective, but the surprises are rather rare. It's a standard rock sound, a perfect match for the band, but that will not be impressive for anyone unfortunately. Even the hardcore fans will have trouble hanging to this new album and will probably fall back on the classics of the band. (April 2018 Featured Review)




The Savilles is a Toronto quartet that arrives with their first full-length album after an EP in 2016. Singer Meagan Brittanie, Montreal guitarist Sylvain Marquis, bassist Gabriele Mabrucco and drummer Nate Finucci offer electro-pop music with good elements of rock. Everything merges perfectly with beautiful and totally unforgettable melodies. We can compare the Savilles to a mix between Alvvays, Yeah Yeah Yeahs and She & Him. It is a refreshing and extremely pleasant record until the end. Its main fault is being too short with only eight tracks totaling just over 25 minutes. Ironically, the CD is ending with « I Want More ». (April 2018 Featured New Artist)



½


After truly establishing her style in 2016 on Magnolia, the Ontario female singer returns with an album with incomparable pop melodies on a background of folk and indie pop. More folk at first, the album takes off with the third song, the potential hit "Your Voice", before following the same path on "What's Good For You". If Separate Rooms picks up the elements that made the success of the previous record, it however has a greater maturity. Another very good album by Megan Bonnell! (April 2018)



½

Camaromance (aka Martine Groulx) offers music inspired by lost loves, an often broken and heavy heart. The artist proposes an introspective and deep folk sound on which she puts her high-pitched voice that helps to illuminate the whole. Eight years have passed since her last album, which she thought would be the last one, but Camaromance has lost none of her creative spirit, inspired by a series of recent bereavements. The result is her most personal album to date. The 12 songs introduce 12 characters who give their names to the titles. It is like 12 paintings of a loaded work. A very good record! (April 2018)
/
SIX



½

Songwriter and performer Damon McMahon is back with his project Amen Dunes, four years after Love which received all kinds of praise. Freedom was produced on a background of drama while McMahon's mother was diagnosed with terminal cancer at the beginning of the recordings. While keeping the songs rather simple, McMahon gives them a certain size thanks to a musical richness little present previously. He is working again with Godspeed You! Black Emperor that adds to the already very charged set. Amen Dunes brings indie folk music to another level, a level rarely achieved before, thanks to an excellent blend of folk, rock and electronics. The arrangements make the songs very bright, for his richest and most accessible album to date. An excellent record! (April 2018)



½

Mark Kingswood is a British singer who recently adopted Quebec. On this first album, the crooner offers a mix of pop and jazz that reminds us of Michael Bublé on several occasions. Kingswood even refers to him in "Got a Thing for Swing". Songwriter and composer, he signed many of the 13 tracks offered. He can also be heard doing renditions of classics from R.E.M. ("Losing My Religion") and George Michael ("One More Try"). The first one takes a whole new dimension in this intimate atmosphere, which makes it a very good ballad. On Strong, it is surrounded by sixty musicians that Mark Kingswood offers us music with rich arrangements. (April 2018)





The career of soul legend Bettye LaVette took a turn in the mid-2000s when she began to surround herself with rockers and bluesmen. It's in recent years that she has produced her best albums, and she still moves forward with Things Have Changed. This time, she sings 12 songs from Bob Dylan's extensive repertoire. Often blues-sounding, the album presents these timeless songs in a whole new light. It must be said that an interpretation by Bettye LaVette allows the song to be transformed and she makes it her own. That's what she does all along the CD for almost an hour, bringing us to completely forget the original version, and even its creator. Noteworthy are the guest appearances of Keith Richards and Trombone Shorty. In addition to the opening title track, the highlights of the album come with "It Ain't Me Babe", "Don't Fall Apart on Me Tonight" and "The Times They Are A-Changin'". But, it is the whole that deserves a careful listening and that will prove to be very enjoyable. The magic still works with Bettye LaVette! (April 2018)





Three years after the excellent Pageant Material, the Texas country female singer returns with her sixth album (excluding her Christmas record from two years ago). What strikes from the first songs of the album is its bright side that carries us immediately under the sun. Her sweet and charming voice is certainly for something in it, but the rich arrangements contribute a lot. Indeed, they quickly come out of the country limits to remind us of 1960s pop music or 1970s folk, flower dresses in bonus. She even explores disco on "High Horse". Kacey Musgraves once again manages to seduce us with a refreshing and enveloping record, a perfect record for the summer season. In addition, you will not be able to get rid of several melodies that are extremely catchy throughout the 13 tracks. Golden Hour can certainly be considered as her strongest album to date and she is taking a serious option on the country album of the year. (April 2018)
MCA Nashville / Universal





The band formed 20 years ago in Virginia is back with a new explosive album. Indeed, by partnering with producer Dave Cobb, widely recognized in Nashville, Old Crow Medicine Show has made sure to expand their repertoire and take a new direction. Volunteer still contains elements of folk, roots and traditional music, but with a country sound much more obvious than before. Above all, what Cobb managed to do with the band is to recreate on record the atmosphere of their inflamed concerts. One quickly realizes it with the energetic opening track, "Flicker & Shine", something never heard on record until then for the band. We find other tracks to make us stomp all along the album, but we can also hear plaintive ballads all equally effective, just to make us breathe a little. Old Crow Medicine Show presents perhaps their most cohesive album to date with Volunteer. Very well done! (April 2018)



½

In the wake of the #metoo movement, the Saskatchewan women's trio could not help but deal with the subject. Rosie & the Riveters wrote more than 40 songs for this new album, before going to Toronto to work with composers like Royal Wood and Matthew Barber. The result is 12 folk songs with a retro twist, but which remain very current. You can also hear elements of jazz, pop and soul. Their stance may seem a bit weird in their musical context, but when you consider that the band's name was inspired by Rosie the Riveter, an active feminist icon during the Second World War, Ms. Behave makes perfect sense in support for sexually-abused women. Indeed, all proceeds from "I Believe You" will be donated to YWCA Canada, which supports survivors of sexual abuse. (April 2018)





Mikhaëlle Salazar is a Quebecker of Chilean origin. She followed in the footsteps of her bassist, guitarist and singer father, and began studying violin at the age of five. She later devoted herself to jazz singing and graduated from the University of Montreal in 2015. She performed with various bands, as well as participating in TV shows as a backing vocalist, such as En direct de l'univers on CBC French television. Mikhaëlle gives us today her first EP containing five Latin jazz songs, strongly influenced by the music of Brazil, Cuba and Chile: salsa, samba, bossanova and funk. Above all, she gives a surprising rendition of Willie Lamothe's Quebec classic "Mille après mille", in a new bilingual bossanova version. She will probably be able to get attention thanks to this extraordinary cover, in addition to presenting warm and sunny music throughout Deslembrança. (April 2018)



½


SC Mira – Keep Crawling / Drug Warm Coma
With this CD, Winnipeg pop rock band led by female singer and guitarist Sadye Cage assembles two EPs. Keep Crawling was released last September with the excellent "Free", "Mexico" and "Breaking My Skin". As for Drug Warm Coma, another three-song EP, we hear it here for the first time. Even if the last is less catchy than the first, SC Mira will surely seduce you with this too short record. (April 2018)



½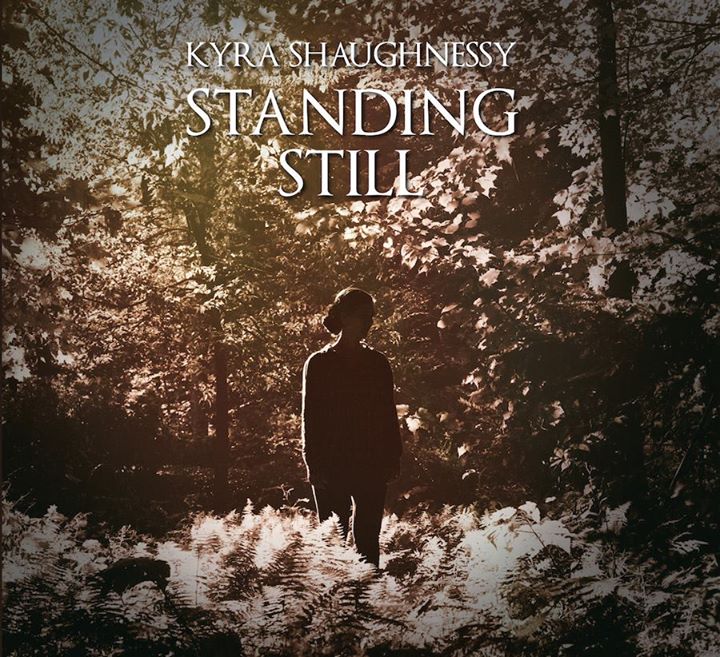 The singer-songwriter releases her fifth album with Standing Still. She offers 10 folk roots songs alternating between English and French, also integrating Irish Gaelic. Among her original compositions, we can hear two traditional rearranged pieces: "Tout passe" (Acadian, inspired by Yves Marchand's version) and "Samhradh, Samhradh" (Irish, inspired by The Gloaming version). On the title track, we can hear lyrics recited by Atikamekw singer Sakay Ottawa. Kyra offers a great mix of sounds from Quebec, Ireland and West Africa with a superb balance between guitar, kora, cello and percussion. Her warm voice envelopes everything and makes her melodies unforgettable. For soft and rich folk music, Kyra Shaughnessy meets expectations with Standing Still. (April 2018)



½

Royal Wood – Ever After the Farewell
For his new album, the Canadian singer-songwriter traveled to London to record with Jamie Scott (Rag'n'Bone Man, Justin Bieber, Major Lazer, Tom Odell, Macklemore). In recent years, Royal Wood had to deal with the death of his father and meeting his great love, and this mix of emotions is heard on Ever After the Farewell. Indeed, there is a fusion between the regrets of the past and a flourishing future filled with positivism. Musically, Royal Wood expands even more his spectrum with influences of the 1960s and frankly contemporary pop music. Some more introspective acoustic ballads are added to the whole. On Ever After the Farewell, Royal Wood plays practically every instrument and recorded almost every song on the day of its creation. The result is probably his most immediate album, a record that quickly captures our attention and keeps it until the end. (April 2018)



½

After the success of his debut album, Dream Your Life Away, thanks mostly to the radio hit "Riptide", the Australian singer-songwriter is back on record. Vance Joy presents again his melodic folk sound with a sometimes pop, sometimes rock trend. Nation of Two once again contains great potential hits, starting with the unmissable first single "Lay It On Me". Superb melodist, Joy manages to hang us with most of his songs. It only lacks a little musical creativity at times to really stand out from Ed Sheeran, Jack Johnson, James Blunt and others. However, his style begins to take shape, for a more coherent second album than the first one. (March 2018 Featured Review)
Music Videos: « Lay It On Me » - « We're Going Home » - « Call If You Need Me »




I'm With Her is a super female trio composed of Sara Watkins (Nickel Creek), Aoife O'Donovan (Crooked Still) and Sarah Jarosz. They offer a stripped-down and discreet folk sound with bluegrass influences. Warm textures and superb vocal harmonies enrich the whole. See You Around is an album that slowly installs, requiring a minimum of patience. On the other hand, fans of soft folk music will be greatly rewarded after 40 minutes. (March 2018 Featured New Artist)




Anne Bisson Trio – Four Seasons in Jazz: Live at Bernie's
Four Seasons in Jazz was recorded live from Bernie Grundman's mastering studio in Hollywood (March 2017), in a completely analog version, direct-to-disc. Anne Bisson offers a sweet jazz sound that sometimes takes on the appearance of folk. She interprets the four seasons in three pieces each, in addition to the introduction to summer, "I Can See Clearly Now". The album concludes with three bonus tracks, including an original song, "Come On, Lolita", to be issued on her next album. If you like stripped-down piano-voice jazz, Anne Bisson will surely capture your attention. (March 2018)




Following the release of their debut album in 2013, the duo Cats on Trees has had tremendous success in France. Thanks in particular to the hits "Siren's Call" and "Jimmy", the self-titled album has sold more than 220 000 copies and allowed the duo to perform over 200 concerts in France during a 2-year tour. On Neon, Nina and Yohan come back with pop music with unusual melodies, on electro-pop rhythms. They are inspired by both the Beach Boys and Arcade Fire, a good mix of analog music from another era and contemporary sounds. Their unforgettable melodies delivered with an incredible charm by Nina succeed again to seduce us. It's hard not to fall in love! (March 2018)



½

The Calgary singer with an exceptional voice is back with her second album, four years after Gold. A great songwriter and performer, Ellen Doty offers jazz music with pop influences and even soul music. On the other hand, on Come Fall, she decided to completely strip down her sound, thus finding herself often accompanied only by a very discreet piano. As discrete drums sometimes add to the whole, but that's it. No bass, no guitar, no brass. This is another successful album introduced to us by Ellen Doty. (March 2018)




After five years of waiting, Franz Ferdinand members make a return on record with Always Ascending. From the opening track (the title track), we can perceive that the band is somewhat lost, with a mix of disco and cheap electro, and rhythm changes that are more useless than unpredictable. Everything is confirmed later with many songs that sound old. There are some rhythms to make us stomp, but the band no longer seems to be the shadow of itself. We rather want to quickly return to the first albums of the band when we hear pastiches of their best songs, much less interesting. One can even hear the melodic line of "Take Me Out" during "Lazy Boy". Very disappointing this fifth album by Franz Ferdinand! (March 2018)


½

Myles Goodwyn – Myles Goodwyn and Friends of the Blues
Founding member of April Wine in 1969, it is at the dawn of his 70 years that singer and guitarist Myles Goodwyn presents today his blues compositions that he accumulated during all those years. He was accompanied by real blues musicians: Jack de Keyzer, Garret Mason, David Wilcox, Amos Garret, Kenny Wayne, Joe Murphy, Frank Marino, Shaun Verreault, Bill Stevenson and Rick Derringer. Goodwyn's voice remains clear and powerful throughout the 12 tracks of the album which is exceeding 52 minutes. This is an effective blues rock album by a Canadian rock legend. (March 2018)




Moby – Everything Was Beautiful, and Nothing Hurt
Five years have passed since his album Innocents, but Moby is finally back on record in his very own style of very cinematic electro music. It must be said that in recent years he had explored other horizons with his punk project The Void Pacific Choir. On Everything Was Beautiful, and Nothing Hurt, his 15th album, we find the Moby that we discovered in the 1990s, especially with Play that will soon celebrate its 20th anniversary. Moby is of course still inspired by English trip hop, but there are also soul and gospel influences through his melancholy music. He succeeds in offering us contemporary music, but in direct connection with the past. Moby points out that all the songs on the album have imperfections or are incomplete, just like weavers in the Middle East who deliberately introduce defects into their carpets, believing that only the Divine can be perfect. Even if these imperfections turn out to be discreet on this Moby CD, there are still some surprising moments, like "The Ceremony of Innocence" which does not have any line of bass. Despite these imperfections, it is a very successful album that offers us Moby. (March 2018)
Little Idiot / Arts & Crafts / SIX



½

On A Crow Looked at Me issued last year, Phil Elverum told us how the death of his wife, Geneviève Castrée (an artist born in Quebec), had changed his life. He's already back with Now Only, trying to look at the future with his daughter. It is with great tenderness that the songwriter and performer tells how much he changed, whether he likes it or not. Less sad than his previous record, it is still extremely introspective, moving away from rock most of the time to flirt with folk, accompanying himself on guitar. Now Only may be less of a hit than the previous critically acclaimed album, but fans of Mount Eerie will be delighted to see where Elverum is with his life. A record to discover slowly and that will leave you a beautiful glimmer of hope facing death. (March 2018)



½


The virtuoso Montreal guitarist presents his fourth album with Three Rivers. After having covered songs that were important for him on Blue Skies, he returns with 11 original songs incorporating blues, soul, funk and gospel, all with sounds of New Orleans. Officer collaborates again with drummer Charley Drayton (Keith Richards, Divinyls, B-52's) who produced the album in a New York City studio. It is through studio improvisations that the duo has managed to create a unique language to this record bringing us to the roots of Jordan Officer's influences. A very good record for any fan of old blues. (March 2018)



½

For their new album, the Montreal quartet wanted to take their time, to be more relaxed in its creation. Suuns entered the Breakglass Studios with Jace Lasek from the Besnard Lakes for five sessions spread over several months. The album was mixed to perfection by renowned John Congleton (St. Vincent), who came straight from Dallas for the occasion. Freer than ever, the band indulges in out of the ordinary musical explorations. The first single, "Watch You, Watch Me", gives a good overview with unique beats by drummer Liam O'Neill to accompany a particular organic / synthetic blend. A little less dark than in the past, Ben Shemie and his band take a more playful path with Felt. It is an album that still requires a certain effort of adaptation and which is thus addressed to an informed public. However, we can hear impressive creative feats, with a very good mix of experimental rock and electro. (March 2018)
Music Videos: « Watch You, Watch Me » - « Make It Real »



½

After having greatly impress with their debut album, Pop or Not, two years ago, the Manchester band is back with a new album. On Empty Words, Dom Thomas and his band did not want to reproduce what had worked on the first recording. Less influenced by French pop and funk, this new record offers avant-garde indie pop music, incorporating electronics. Whyte Horses are then propelled from the 1960s to 2018. We still find obviously their first influences, but a little better sprinkled and integrated into the whole. So, the album remains refreshing, while seeking a little more our intellect. Audrey Pic replaces Julie Margat as lead singer, bringing more experience. We can also hear Melanie Pain (Nouvelle Vague), Leonore Wheatley (The Soundcarriers) and La Roux (who steals the show on "Best of It"). In the end, the much-appreciated qualities of the first album are still found on Empty Words, but with a certain evolution towards more contemporary music. (March 2018)



½

Fall Out Boy had completed this seventh album last year, but unsatisfied, they deleted everything to start from scratch. The result is probably their most pop album to date with many catchy melodies and some dancing beats. They can still go into hard rock on occasion, especially with "The Last of the Real Ones". On the other hand, it is rather the first single, "Champion", that represents the best compromise between their current style and the rock sound of their past. Few moments on the album manage to really stand out, and the whole is rather average. So, nothing really interesting and perhaps their worst album so far. (February 2018 Featured Review)
Music Videos: « Champion » - « The Last of the Real Ones » - « Hold Me Tight or Don't »


½

Lior Shoov is a songwriter and a multidisciplinary artist of Israeli origin who now lives in Paris. She has traveled the world for five years, lugging strange instruments in her luggage. Everything is a pretext for percussion to accompany her soft and unique voice, ranging from various tambourines to simple toys. Lior thus blends the styles, between song, world music and improvisation. It is therefore a very singular artist that we discover with this incomparable self-titled album. (February 2018 Featured New Artist)
Musique Sauvage / L-A be / SIX



½

The Canadian duo is back with their third folk pop album. Big Little Lions present 13 original songs, often energetic, where vocal harmonies dominate widely. We find a good cohesion throughout the record, which remains effective from the beginning to the end. This is perhaps their best release to date. One thing is sure: many of the proposed melodies will remain in you for a long time. You can discover them touring across Canada in the coming months. (February 2018)
Far Flung / Riptide





Here is the third album in quartet for pianist Robi Botos. Accompanied by Seamus Blake (saxophone), Mike Downes (bass) and Larnell Lewis (drums), Botos is becoming more and more prominent on the Canadian jazz scene. He is also accompanied by renowned guests: Cory Henry (Hammond B3 organ), Ingrid Jensen (trumpet) and Lionel Loueke (guitar), not to mention a string quartet for two pieces. Recorded in Montreal in one day, after being performed live in Toronto and Montreal, the album retains its live atmosphere as the band performed together in the same room. The album ends strongly with a unique cover of Prince's "Calhoun Square". With Old Soul, Robi Botos will appeal to both jazz and soul fans with music filled with hope and humility. Very pleasant! (February 2018)
A440 / SIX



½

Considered as one of Canada's greatest jazz singers, Holly Cole returns to the forefront with Holly, after six years of absence on record. The Halifax native offers 11 interpretations of such great standards, including George Gershwin's "I Was Doing All Right", which she sings with the incomparable trombonist and singer Wycliffe Gordon. She comes back a little later with another Gershwin song, "They Can't Take That Away From Me". Recorded for the most part at New York's Studio Sear Sound with producer Russ Titelman (Eric Clapton, Randy Newman, Rickie Lee Jones), the album also has arrangements by pianist Larry Goldings. Holly adds her own personal touch to all those great songs that take on a new timeless dimension here. (February 2018)
Rumpus Room / Universal / SIX



½

The Montreal author and performer who made a name for herself at La Voix in 2015 introduces her second album. Nameless is inspired by the poem Still I Rise by Maya Angelou, writer, poet and emblematic figure of the American black movement for civil rights. Soothing, bewitching and intense, Dominique Fils-Aimé's album pays tribute to the resilience and strength of the people facing adversity. It is a minimalist soul album with African-American blues influences from the early 20th century, a liberating music for the slaves at the time. The voice of Do Mi alternates between power and sweetness, with particularly sweet passages. With Nameless, the artist offers us an album that is good for the soul. It's only sad that it is far too short with only eight songs totaling 25 minutes. (February 2018)



½

The prolific Chicago artist is already presenting his fourth album since he's been playing without the Harpoons. With Transangelic Exodus, Ezra Furman certainly offers his most varied album to date, with aerial and cinematic moments and other more aggressive ones with creaky guitars. In opening, Furman recalls Springsteen on "Suck the Blood from My Wound" by his raw voice. Lou Reed also comes to mind on several occasions. But, where Furman stands out, it's that he can go in different musical directions, while having a clear story, that of a man in love with an angel, both pursued by the government. He confesses that it is a mixture of fiction and his own stories. In any case, Ezra Furman hits the target with Transangelic Exodus, which will probably be recognized as his best recording so far. (February 2018)



½

After Burn the Plan three years ago, Toronto's female folk trio is back on record with Shapeshifters. Caroline Brooks, Kerri Ough and Susan Passmore once again offer superb vocal harmonies with an even more accessible sound, one step closer to pop music. They are therefore ready to conquer a much wider audience than with their previous traditional sound. Considering the quality of their melodies and their harmonies, the result is particularly successful. Here is an album of great efficiency, which will catch attention of many fans of smart pop music. (February 2018)
Music Video: « I See Gold »



½

The English soulman returns with a new R&B album with a retro sound. Recorded live in the studio directly on an 8-track tape, Whatever It Takes seems straight out of the years 1955-65. The album was inspired heavily by his wife Jesse, met in New York City a few years ago. It results in a certain letting go for James Hunter who seems to have received an illumination when writing these songs. Several high-quality tracks will catch your attention quickly, to the point of believing that they are pre-Motown classics. Well no, since the 10 songs on the album are original. Even if it only lasts 27 minutes, Whatever It Takes may surprise even the most skeptical ones. So, here is a very nice journey in time for the sound, but with excellent compositions of today by James Hunter. (February 2018)



½

French singer, guitarist and pianist Sébastien Izambard is best known for his work with Il Divo. For his new album, the tenor returns to pop music, that he has not explored for 20 years. There are still of course traces of the classical singing that made him famous, but we can also hear influences from Coldplay, The Weeknd, James Blake and Adele. He offers us a sometimes-danceable pop sound, with also several ballads, including the title-song. Without breaking any rules, the Parisian is far from his work of the last 15 years with his famous lyrical vocal band. (February 2018)


½

For her new album, the Quebec soprano performs opera heroines by Verdi, Puccini and Massenet, with the Laval Symphony Orchestra conducted by Alain Trudel. She revives some of the most important opera women characters, such as Violetta (La Traviata), Cio-Cio-San (Madama Butterfly), Salome (Hérodiade), as well as Aida and Thais from the operas of the same title. More than just an interpretation, she truly embodies these larger-than-life female characters. The album was recorded live on October 25, 2017 at the Sainte-Rose-de-Lima Church in Laval. As an encore in conclusion of the CD, we can hear her version of Leonard Bernstein's "Somewhere" from West Side Story, with arrangements by Simon Leclerc. (February 2018)



½

The unforgettable voice behind the mega hit "Drinkin' in L.A." by Bran Van 3000, Stephane Moraille has been moving away from the spotlight for the last ten years to devote herself to copyrights as a specialist lawyer. The singer-songwriter from the Port-au-Prince area is back to basics with Daïva. The structure of each song is based on a traditional Haitian rhythm with the addition of percussion, guitars, brass and strings imagined by producer Pierre-Luc Cérat (Bran Van 3000). The result is soul music tinged with R&B, house and jazz. Several tracks highlight her powerful voice, including "Zanmi", "Good Hands" and "Twilit". For lyrics, Stephane alternates between Creole and English. "Reckoning" is built from a text by Jim Corcoran and fits perfectly with the #metoo movement. With Daïva, Stephane Moraille skillfully manages to merge genres, in addition to making links with her roots. Here is an album of great creativity, very enjoyable to listen to the end. (February 2018)



½

Ought – Room Inside the World
The Montreal indie rock band is back with their third album, Room Inside the World, after singer Tim Darcy released a solo album last year. Ought still offer a mix of underground rock and more accessible new wave. A little brighter than the previous ones, the record still has some darker moments that may seem to stretch a little too much. But the whole remains studied and creative. We can compare them to different bands, from The Cure to Protomartyr, but they are more and more successful in establishing their own style. One of the highlights: "Desire" with its choir of 70 singers. Here is an album to listen carefully, and a few times to be well imbued. (February 2018)



½

Jean-Philippe Rio-Py is from the French countryside. A seasoned pianist and composer, Riopy can already be heard in movie trailers (The Danish Girl, The Sense of an Ending), documentaries on English channels (BBC, ITV, Channel 4), as well as advertising campaigns (Ikea, Armani, Samsung). After a first single in the spring of 2017 ("I Love You"), Riopy finally issues his first album, totally instrumental, in a neo-classical style with new age influences. He offers several solid compositions throughout the 16 pieces (57 minutes). (February 2018)



½

Superchunk – What a Time to Be Alive
Although they have almost 30 years of career, the indie rock band from North Carolina has lost none of its adolescent energy. On the contrary, Superchunk seem more dynamic than ever on What a Time to Be Alive. Indeed, on this 11th album and the first in 5 years, the group seems to have fun as in their best years, a contagious energy for 32 minutes where intense rock (but melodic) meets punk on some occasions. Each of the 11 songs is interesting on different levels. The album was written in the wake of the US elections in 2016, and it takes on a particular and important meaning. With What a Time to Be Alive, Superchunk prove to the world that they not only have their place on the indie rock scene, but they have managed to produce one of their best albums to date. A faultless! (February 2018)





Canadian singer and pianist Laila Biali releases her second album of original music, an extremely bright self-titled record. Still influenced by jazz, she somewhat reoriented herself towards pop and soul music with several catchy melodies. One can even hear covers of two very popular songs from a large audience: Coldplay's "Yellow" and the late David Bowie's "Let's Dance". The whole is listening perfectly, with many very pleasant moments. A great album! (January 2018)
Joshua Tree / Chronograph / SIX



½


Born in Montreal and now based in Toronto, Danielle Duval has invited strong collaborators for Lose It. She first worked with Sam Roberts, who can be heard on "Nowhere is Far" as he sings and plays most of the instruments. She has also collaborated with Toronto twins Mark and Matt Thibideau, who have been contributing to the atmosphere of retro synthesizers for most of the album. This energetic electro-pop style is highlighted by the production of the famous tandem of Gus Van Go and Werner F. The rich sound, both contemporary and influenced by new wave, is dominated by the deep voice of Danielle who keeps full control of the album. She offers us a solid record with Lose It. (January 2018)
Music Video: « Undercover »



½



Custom Search