Note: If you can read French, go to the French page for additional content.
to SEARCH this page
MAY 2016
Featured Review: Prince Featured New Artist: Ferraro
May 1-5 (more to come):
Blue Man Group - Deftones - Frightened Rabbit -
PJ Harvey - Lights - The Strumbellas - Rufus Wainwright
Reviews coming up next month:
Beyoncé - Drake - Ariana Grande
and much more...
archives:

FEATURED REVIEW:
Prince – HIT
n

RUN Phase Two
The release in Canada of the latest album by the prince of music takes on a special meaning as it comes out eight days after his death. The prolific composer has not slowed down in recent years, although his health was worsening. HITnRUN Phase Two is indeed his fourth album since 2014 for a total approaching 40 in career. Less pop than Phase 1, HITnRUN Phase Two presents funk and soul recalling The Revolution. We can also hear jazz moments and an energetic rock song in "Screwdriver". Although it is very eclectic, the record has very good passages, possibly his best assemblage of songs since 3121 issued 10 years ago. Prince may be gone, but we can bet that many unreleased recordings are lying around in a drawer, because he was composing and recording constantly in his studio in Minneapolis. So you should see unreleased material by Prince released in the coming years. Meanwhile, enjoy the last good album that he offered.



½

FEATURED NEW ARTIST:
Ferraro – Losing Sleep
Ferraro is a quartet from Toronto formed of brothers Cosmo, Gianni and Tally Ferraro, accompanied by guitarist Tom Ionescu. They propose an indie rock sound that reminds The Strokes, but is heavily inspired by rock's golden age with many references to the 1950s and 1960s, specially the Beatles. Their music is upbeat and the energizing effect is immediate. Losing Sleep proves to be particularly contagious and it certainly makes you want to see them on stage. Bet you'll have many of the 10 songs of the album in mind for a long time. The only problem with Losing Sleep is that it is too short with only 32 minutes.



½

May 1-5:
Reprise / Warner



½

Lights – Midnight Machines
Ontario singer has once again decided on Midnight Machines to drop her electronic dimension to rather offer an acoustic album. A tradition that continues now with each of her albums, it's mostly new versions of songs from Little Machines issued in 2014, and two new songs, "Follow You Down" and "Head Cold". There are only eight in all for a total of around 40 minutes. A string section adds richness and magic to the album that manages to conquer us promptly with its warm atmosphere. In fact, one might even say that Lights is at her best in this context. A very fine record!
Music Video: « Meteorites »



½

Rufus Wainwright – Take All My Loves: 9 Shakespeare Sonnets
Take All My Loves is not his first foray into the world of Shakespeare, but in this case, Rufus Wainwright presents a clever mix between his chamber pop music, opera and readings. Three sonnets have already appeared on All Days Are Nights: Songs for Lulu, but they are presented here in new arrangements. We find 16 tracks in all so, many poems are found in two different versions. Among the guest artists, first note opera singer Anna Prohaska, but also Helena Bonham Carter, Carrie Fisher, Martha Wainwright and Florence Welch (Florence + the Machine). BBC Symphony Orchestra also made many appearances. Some fans might be disappointed not to hear Wainwright sing very often on the album, but he rather acts as the conductor of a varied album which is designed primarily to highlight the work of Shakespeare. In fact, Wainwright especially proves his versatility as a musician and arranger. A beautiful album full of creativity!
Deutsche Grammophon / Universal



½

Gwen Stefani – This Is What the Truth Feels Like
Ten years have passed since her last solo album, but now Gwen Stefani finally releases her third record. This long break was marked by her children, but especially by her divorce from Gavin Rossdale (Bush). We quickly hear it on This Is What The Truth Feels Like when a handful of songs are about liberation ("Used To Love You", "Me Without You", etc.). Musically, she has a modern pop sound, but with trends that are a little too adult at times. Her dance rhythms are certainly approaching Kylie and Madonna over new pop sensations. Rock is unfortunately wiped out and the fans of the first hours of No Doubt are not likely to be concerned. They will wait for the new album from their favorite band to come soon, but with a man instead of Gwen, Davey Havok (AFI)!? To return to this new album, after several mid-tempo songs without much interest, Gwen goes head first into club music focused on bass and produced to perfection. Even if we finally get a bit of excitement, it's nothing to convince us of the relevance of this new record, and the chance to return immediately to the first song are slim. Gwen certainly has quality pop music, but she fails to stand out as much as we would have liked. (April 2016 Featured Review)
Music Videos: « Used To Love You » - « Make Me Like You »
/
Universal




Bullion – Loop the Loop
After having become well known with his samplings of the Beach Boys, Nathan Jenkins issues his first album of original music. The London producer has since gone from hip hop beats to much more electro pop music. This does not mean that he has become accessible either. Instead, the music of Bullion remains rather left field with some good beats, but especially the need to listen carefully to what he has to offer us if we really want to adhere to his work. Otherwise, once you put an effort, you can only be convinced of the effectiveness of his compositions. Do not expect anything for radios, but his electro pop sound with new wave influences, sometimes reminding Gary Numan (the excellent "Speed"), should get to seduce you. Occasional Brass integration also helps to make his music earthier. Here is a very good example that hybrid music of the 2010s can be particularly creative and just as enjoyable to listen to. Bullion offers unique atmospheric music. (April 2016 Featured New Artist)



½

After five years of absence, the US band is back on record. But, they have two important members in less following the departure of guitarist Matt Roberts (a founding member) and longtime bassist Todd Harrell, who had to be replaced. Also, to give life to the music of the band that became frankly monotonous on Time of My Life, they hired producer Matt Wallace. In this sense, it is successful since the group returns to energetic rhythms, powerful choruses and riffs to fill stadiums in their way. Otherwise, forget creativity with 11 songs that remind all Nickelback. It becomes quickly annoying, as soon as with the first songs, "The Broken" and "In the Dark". 3 Doors Down have perhaps never been geniuses of creation, but now they don't have any more inspiration. The only positive think: Us and the Night does not do us sleep as their previous CD, even managing to make us stomp on occasion. (April 2016)
Music Video: « In the Dark »


½

After a dozen years in an independent career of each other, the brother and sister finally meet on the same album. They had collaborated on different records from each other and had tour together, but The Family Album is a first joint recording. They have five new songs, two of Matthew and three of Jill, in a country folk style. The six other songs of the album are covers carefully chosen from a repertoire of folk from the 1960s and 1970s. These include Townes Van Zandt's "If I Needed You" and Neil Young's "Comes a Time". We can also hear the English version of Leonard Cohen's "La complainte du partisan". The album was masterfully produced by Michael Piersante (Willie Nelson, Robert Plant & Allison Krauss, Elvis Costello) and you can discover both their Canadian folk and Americana influences. Although they remain highly effective independently of each other, it seems that Matthew and Jill gain strength when they join together. (April 2016)



½

Bibio – A Mineral Love
The English artist Bibio (his real name is Stephen Wilkinson) is cleverly mixing electronics and acoustics for a unique electro folk indie sound. On A Mineral Love, he explores again modern music of the 21st century, but joining it with a R&B and funk atmosphere carrying us straight to the 1970s. He left aside sampling to play real songs in the studio. That's when he uses old synthesizers or a funky guitar from another era that he is at his best. Bibio offers us music in sweetness and subtlety that creates a very special and extremely pleasant atmosphere. Among the collaborators to the album, there are Gotye, Olivier St Louis and Wax Stag. (April 2016)



½

The pianist and composer from Québec releases his debut album of neo-classical or contemporary classical. It is a minimalist album on which only the piano is expressed. Through eight tracks totaling 27 minutes, he managed to do admirably in spending emotion. It's like a movie playing in front of our eyes. Jean-Michel Blais will certainly become a widely recognized artist. (April 2016)



½

After a first album of great efficiency with Hunt and Chase, the young Ontario female artist returns with a successful record on which she extends a little bit her scope with strong pop melodies on a background ranging between folk, indie pop and more adult alternative music. She increases her level of creativity by taking her own personality and offering an album that really belongs to her. A very nice accomplishment for this young artist with infinite talent... And what a pleasure to hear her voice again! (April 2016)



½

The singer-songwriter from Sydney, Australia releases his debut album with Telluric. He offers a mixture of pop rock and rather introspective adult alternative rock. Names like Jack Johnson and Josh Rouse may come to mind, but Corby has a distinctive voice and a unique phrasing. He presents an album with 11 songs totaling 46 minutes and the whole remains fairly consistent until the end with some very good times. (April 2016)
Music Video: « Monday »




The indie psychedelic band from Los Angeles releases the fourth album of their career. For the occasion, the formation of 10 musicians has changed its creative process by locking everyone in the same room to write and record. This results in an overall work that is a little more consistent, despite surges of some instruments or voices which sometimes emerge oddly from the lot. But these spasms respond after all to their desire to introduce almost experimental psychedelic music. Jazz impulses also come to garnish the whole that is rather indefinable. Although they seem to succeed to tighten their work, the fact remains that the Magnetic Zeros have a messy sound still standing out as if we were listening to a huge unstoppable jam. We must therefore have the ability to enter their eclectic universe to truly appreciate Person A. (April 2016)


½

Issued without warning, untitled unmastered contains eight demos that are only numbered and dated. From the dates, we understand that most of this material was recorded during the studio sessions for the excellent album To Pimp a Butterfly released in 2015. With an album of such a strength, it's not surprising that "the remaining" is still as effective. But above all, the eight tracks are linked together into a coherent whole, very pleasant to listen. The music is accompanying beautifully Lamar's lyrics dealing primarily with extinction and survival. His hip hop sound is still soft but catchy, and it seems to be inspired from jazz and soul on many occasions. Vocally, he is supported at various times by Bilal and Cee Lo Green. Even if Lamar introduces this album as a CD of demos, the fact remains that he once again managed a feat with a record of high quality. Kanye West perhaps should learn from the humility of Kendrick Lamar instead of promising the best album ever. (April 2016)
Aftermath / Interscope / Universal



½

Lost Love – Comfortable Scars
Formed in 2013, the young quartet from Montreal releases its second album, Comfortable Scars. Lost Love offer a melodic pop punk sound that goes straight to the point. The 11 catchy songs talk about the importance of making peace, to find comfort and painful moments of the past. In fact, they talk about topics of their generation, which has nothing to do with the claimant punk of another era. With less than 32 minutes, Comfortable Scars certainly manages to make you have fun, without much effort. (April 2016)





Kevin Morby was first known as a member of two Brooklyn bands, The Babies and Woods. Now based in Los Angeles, he worked in solo since 2013. Singing Saw is his third album and Morby is increasing the scope of his sound with the addition of keyboards, trumpet and electronics. This is still alternative rock music by a songwriter with a unique voice. Otherwise, his music takes on another dimension here, pleasantly gaining wealth. This new sound allows us to appreciate even more the quality of Kevin Morby's compositions. It's like he is going to another level. Here is a unique album, which is likely to be among the best of the year. (April 2016)



½

Motel Raphaël is a female indie pop trio from Montreal that was formed in 2012. They are advantageously compared with Tegan and Sara, Feist and Arcade Fire. After a first rather folk album, Motel Raphaël takes a completely new direction on System with more complex compositions. The 14 songs are finely linked together to form a coherent whole that is so nice to listen to. Their tasty vocal harmonies add to the whole which is particularly exciting. Here is an excellent album by a band that we have not heard the last! (April 2016)



½

Canadian David Myles represents certainly one of the best mixes of pop, folk and soul, somewhere between Justin Timberlake and James Taylor. With the Here Now EP, he moved more than ever in the pop world with six catchy songs with unforgettable melodies. He collaborated again with Classified for the production of the album, in addition to delivering a verse on the touching "Don't Leave It Up To Me". This excellent record comes to us to make us wait while a French album should be released in spring 2017. (April 2016)
Little Tiny / SIX



½

The indie band from Brooklyn, New York is back with their third album, Human Performance. After many weird recordings, especially for the Monastic Living EP, Parquet Courts are back with a better focus. This results possibly in their most cohesive album to date. Great riffs and rhythms even succeed in making us stomp through an atmosphere that remains highly exploratory. This is the case with "One Man No City" that incorporates rhythmic bongos in a long jam of more than 6 minutes. However, they are usually limited to short songs including several below three minutes. They even include some moments of rock 'n' roll that are particularly captivating. This is a key album for Parquet Courts, an album that is likely to be among the best of the year. The group is certainly one of the most creative American bands at the moment, and they will also succeed in expanding their audience with Human Performance. A great and successful album! (April 2016)





Heather Rankin is part of the famous Rankin Family from Cape Breton, Nova Scotia, which was at the top of the Canadian folk scene in the 1990s before splitting in 1999. Heather pursued an actress career and she now releases the album A Fine Line. We still find some traces of Celtic folk music that has characterized her family, but with a direction much more adult pop. She returns with her sister Cookie and her brother Jimmy the time of a song, "We Walk As One". We can also hear Quake Matthews on her cover of Tears For Fears' "Everybody Wants To Rule the World". Produced by David Tyson, who also collaborated on the writing of several songs, A Fine Line offers some interesting moments, without big surprises. (April 2016)
Back Street / Maple




Redfoo – Party Rock Mansion
The youngest son of Motown's founder, Berry Gordy Jr., releases his first solo album after the monster success of his band, LMFAO. Otherwise, the differences are quite rare when you can hear the same music style for party with danceable beats and ridiculous lyrics ("Booty Man", "Juicy Wiggle"). There are a few unavoidable songs that may be as successful as "Party Rock Anthem", "Champagne Showers" and "Sexy and I Know It" by LMFAO. This is the case among others for "Keep Shining", "Party Train" and of course the inevitable "Juicy Wiggle". But the album proves to be somewhat uneven and does not always provide the same level of pleasure. Fortunately, there is still "Juicy Wiggle" to make us smile... (April 2016)
Music Videos: « New Thang » - « Juicy Wiggle » - « Where the Sun Goes » (feat. Stevie Wonder) – « Booty Man » (3600)




Sainte Rose is an indie rock band from Quebec having a second EP out after Bloodlines EP in spring 2015. This is the second part of a trilogy. Sweet Talk EP contains four songs and each will have its music video. One can already discover the one for "Wounded" which looks more like a short film than a music video. Sainte Rose includes Marc Gebrayel and two pairs of brothers: Joey and Mikey Berlangieri, as well as Corey and Bryan Blondi. Wishing to retain complete control over their music, they refused some offers and recorded this record in their own studio. Their music borrows enormously to pop rock with very efficient melodies and good rhythms. (April 2016)
Music Video: « Wounded »





Allen Stone – Radius (2016 Edition with Bonus Tracks)
Radius came four years after his debut album, in the spring of 2015. A year later, a new edition is issued with six new songs and a bonus alternate version of the hit "Freedom". Allen Stone offers soul music including pop rock and a few traces of blues. Even if he does have soul in him, Stone goes a little bit too much in different directions with moments that almost reach Maroon 5. And the bonus songs do not help this fragmentation which is now on 21 tracks totaling nearly 74 minutes. Allen Stone has a great talent of performer, but he still failed to operate correctly in a style resembling a little too much to Bruno Mars. (April 2016)
Music Video: « Perfect World »




Suuns – Hold/Still
The Montreal indie rock band celebrates its 10th anniversary this year and it is the opportunity to offer their third album (excluding the one with Jerusalem in My Heart issued last year). Suuns traveled to Dallas to record Hold/Still with producer John Congleton (St. Vincent, Swans). The arrangements remain minimal, but they succeed every time to mesmerize us. The group goes a little more into electronic music with almost industrial moments ("Resistance"). Their heavy electro beats may also recall PJ Harvey on occasions. If the first half of the album manages to captivate us, the second otherwise stretches somewhat long, especially with "Careful", lasting 7 endless minutes. Fortunately, the CD ends up nicely with the concise and effective "Infinity", perfect to make us want to listen to the album again, which will allow us to better appreciate it. (April 2016)



½

In 2009, Madcaps' singer, Frédéric Pellerin (aka Rico), momentarily left the band to start the solo project They Call Me Rico. Two studio albums and a live album later, he returns with This Time. He pursues his exploration of blues and folk, his first love. He signed 10 new songs, lyrics and music, and he started a rock turning point. The album was recorded in analog and essentially live in two studios of the suburbs of Lyon, including his newest studio, Magneto. The man band surrounds for the occasion of Quebec and French musicians like Dominic "Rock" Laroche (Voivod), Nicolas Grimard (Caiman Fu) and violinist and keyboardist from Lyon Charlie Glad. The mastering was done in London by Ray Staff (Muse, Led Zeppelin, David Bowie). The result is a blues rock sound rather dirty and extremely effective, a sound both contemporary and garage. (April 2016)



½

Weezer – Weezer (The White Album)
Here is the 10th album in the career for Weezer, the fourth simply identified by a color. We have to face the fact that despite some great records, the blue, green and red albums stand out in their now impressive discography. White must now be added to the list. The band brought a breath of fresh air in 2014 with Everything Will Be Alright in the End, but could again renew with very good experiments. The strength of Rivers Cuomo and his band is to successfully experiment while remaining accessible and entertaining. Unforgettable melodies and carrying rhythms reach the goal again, all in a short set of 10 tracks totaling 34 minutes. (April 2016)
Music Videos: « Thank God For Girls » - « King of the World » - « California Kids »



½

The songwriter, singer, multi-instrumentalist and producer from Toronto does almost everything on his new album, to the coproduction with Bill Lefler. The only other collaborations are those of Hannah Georgas and Felicity Williams (Bahamas). With very little electronic assistance, Ghost Light is essentially organic and warm. Wood explores different sounds of guitars and percussion, adding piano and orchestrations, which makes it very rich and extremely varied pop rock music. The first single, "Long Way Out" gives an excellent overview but this is the case throughout the 13 tracks. With Ghost Light, Royal Wood gives a new take-off to his career by taking the forefront of the Canadian pop rock scene. A surprising and so pleasant record! (April 2016)
Music Video: « Long Way Out »



½

Born To Be Blue: Music From the Motion Picture
Born To Be Blue is a film by Robert Budreau whose main character is legendary jazz singer and trumpeter Chet Baker (played by Ethan Hawke). Unfortunately, no original music by Baker was used in the film (maybe for copyright reasons?). It's rather Canadians David Braid (piano) and Kevin Turcotte (trumpet) who play jazz standards associated to Baker, and in a style that is apparent. Many of the pieces presented are interpreted in a short version of just over two minutes, which is not really a tribute to the original work and that only serves the movie. In addition to the covers of standards, there are some new compositions by Braid and original songs by Charles Mingus ("Haitian Fight Song") and Odetta ("Go Down Sunshine"). But the most surprising part is to hear Ethan Hawke sing two songs, including the highly successful "My Funny Valentine", the one that is most associated with Baker. As it is often the case with movie soundtracks, music serves only to accompany the film and provides little value by itself. Playing the old records of Chet Baker remains by far the best option. (April 2016)


½

God Don't Never Change: The Songs of Blind Willie Johnson
Blind Willie Johnson is a singer and guitarist from Texas who lived between 1897 and 1945. He was proposing a mix of blues and gospel with a rare intensity. On this tribute, producer Jeffrey Gaskill has assembled leading musicians from the folk, country and blues. Even Sinéad O'Connor comes to offer an emotional version of "Trouble Will Soon Be Over". Other performers include Tom Waits, Lucinda Williams, Cowboy Junkies, Luther Dickinson, Maria McKee and Rickie Lee Jones. Often covered by artists like Led Zeppelin, Eric Clapton and Bob Dylan, Blind Willie Johnson influenced a whole generation of musicians. You can hear it on this album that goes well beyond the tribute. (April 2016)



½

The compilation produced by Dave Cobb wants to be a cry from the heart for southern music looking further. It includes contemporary country artists exhibiting folk elements and Americana. Although the influences of the past remain very present, they seem to want more than ever to prove that this music will remain alive in the future by subtly breaking some conventions. The idea to refresh the sound of another era is interesting but may cringe. Among the artists included on the album, you can hear John Paul White, Jason Isbell, Brent Cobb, Miranda Lambert, Morgan and Chris Stapleton, Zac Brown, Shooter Jennings and Rich Robinson. This is an interesting and pleasant album to listen to, but it is not clear who this is for. (April 2016)



½

Simple Plan – Taking One For the Team
Five years after Get Your Heart On!, the Montreal band issues their fifth studio album. After more pop getaways, Simple Plan return with their rock sound trending to pop punk, always in a sweet and fun atmosphere. The songs are generally energetic, and even when the band slows the pace, the pieces retain their relevance. The band admits to having kept the best 14 compositions from dozens and dozens of songs and it is easy to believe because it is their best assembly of songs since their sensational debut in 2002. You can hear several guest artists as Jordan Pundik of New found Glory and Nelly (for the instant hit in the Maroon 5 style "I Don't Wanna Go to Bed", we can also find a second time as a bonus in a French version). Taking One For the Team has several highlights ("Opinion Overload", "Everything Sucks", "I Dream About You" in a duet with Juliet Simms), but that's the whole CD that impresses by its constancy, a feat Simple Plan has not been often successful in recent years. Here is an effective pop punk album that draws the best of the genre while being forward looking. A great entertainment! (March 2016 Featured Review)
Music Videos: « Boom » - « I Don't Wanna Go To Bed » - « Opinion Overload »
/
Warner



½

Brian James Sledge (alias BJ the Chicago Kid) has moved from Chicago to Los Angeles at the age of 19 to start his career as a gospel singer. After working with Stevie Wonder and different gospel and R&B artists, he finally releases his first album, 10 years after his debut. In My Mind contains several singles he has previously issued for a total of 15 tracks and more than 62 minutes. BJ offers contemporary R&B music with huge influences of classic soul and gospel. We also find a few traces of hip hop. This is an excellent album of R&B that BJ the Chicago Kid offers us, a rich, creative and comprehensive album that contains only very few weaknesses. It is perhaps just a little too long, since it is possible to lose interest, especially if one is not among the biggest fans of R&B. (March 2016 Featured New Artist)
Music Videos: « Church » - « Turnin Me Up »



½

After nine albums, the Swedish metal band Amon Amarth finally releases a first concept album. Jomsviking tells the story of a brigand who got expelled from his village after having "accidentally" disposed of the man who was to marry the woman he loved. We follow his quest to win back his love. The vikings offer an excellent mix of death metal and guitar harmonies like Iron Maiden. Some riffs are particularly effective, as in "Wanderer" for example. Few tracks will leave you indifferent on this album that contains everything we loved from the band for twenty years (speed, heaviness, precision, virtuosity). Jomsviking is an excellent melodic metal album, certainly one of the best in the career of Amon Amarth. (March 2016)



½

On her new album, Betty Bonifassi pursues her exploration of the work of Alan Lomax reviving eight songs of African slaves deported to America. She offers new versions of three songs from her first album released in fall 2014, which leaves only five new tracks. With a total of 31 minutes, Lomax looks therefore more like an EP than a full-length album. Musically, Betty goes a little more in pure blues with elements of rock, which enriches the traditional songs. Also noteworthy is the significant presence of female choir Les Marjo's giving a special color to the album. Lomax wants to be an ideal companion to her first album. Otherwise, it lacks some tracks to successfully truly satisfy us. (March 2016)




Jim Bryson – Somewhere We Will Find Our Place
The singer-songwriter born in Ottawa has made a name in Canada with his unique alternative country style. Absent on record in recent years, he is back with Somewhere We Will Find Our Place. This is an album of 10 tracks totaling 39 minutes that has many good compositions to folk trend. Throughout the album, his voice seems to whisper in our ears his sweet melodies, which is nice. He certainly does not revolutionize the genre, but he still stands some of the most interesting artists of the current Canadian country folk scene. (March 2016)




The indie pop singer from Toronto releases her fourth album with Good Advice. She decided to give the production to her friend and collaborator Jim James (My Morning Jacket) and she even drove to his studio in Louisville, Kentucky. Less folk than her previous works, the album contains electric guitar, synthesizers and a rhythm section that support a little more her charming voice. It therefore has a more pop sound, as if she finally came out of her shell to show what she can really do with her voice, both in emotion and in power. Certainly her most accessible record to date, Good Advice shows also Basia Bulat at her best. An excellent album by an artist at the peak of her art! (March 2016)



½

After having inflated the blues bars in Chicago and having become a national star at Chicago Blues Festival in 2015, Toronzo Cannon is ready to conquer the world. On The Chicago Way, he presents 11 original songs and he gives credit to the new generation of bluesmen from the Windy City. He offers blues in the style of Chicago in which he shows all his virtuosity. Without revolutionizing the genre, Toronzo Cannon managed to pursue the tradition in a great way with The Chicago Way. For fans of the genre, blues is still alive and well in Chicago! (March 2016)




The former member of the Backstreet Boys, the youngest of the group, releases his third solo album, two years after his tandem with Jordan Knight. He offers melodic pop music, sometimes energetic, with elements of rock. The first track, "19 in 99", sounds like Simple Plan in their most accessible times. Then, on "Get Over Me", Avril Lavigne sings with him, when he reminds us of new wave in the style of the Gogo's in "Tijuana". Carter even tries to reggae in "Second Wind". Very often on the CD the envelope added seems superfluous and above all cheap. "Swet" gives the best example of it with cheap synths and brass that are suffocating in the back. After the few catchy tracks over, Carter seems to have nothing more interesting to offer us. The good surprise did not last long! (March 2016)
Music Videos: « I Will Wait » - « 19 in 99 »


½

The Australian band that mixes rock and reggae music is back with its seventh album. Recorded in Melbourne with producer Jan Skubiszewski (Jon Butler Trio), Rising With the Sun pursues in the atmosphere created by the group on its tour of the biggest festivals. The Cat Empire have indeed played in front of more than 500,000 people during their last world tour, including a significant presence at the Montreal International Jazz Festival and a sold-out concert at the legendary Royal Albert Hall in London. The band therefore has once again effective rhythms and perfect melodies to sing in chorus in a crowd of several thousand people. World beats come again to add richness to the pop rock songs of the band, along with a significant presence of brass. The songs were quickly created in the studio from simple ideas or sounds. This therefore results in a greatly refreshing spontaneity to very pleasant music to listen to, to be discovered on stage. Note also that the cover was created by Australian artist Aaron Hayward. (March 2016)
Music Videos: « Wolves » - « Bulls »
Two Shoes / Fontana North / SIX



½

Céu – Tropix
The Brazilian female singer releases her fourth album with Tropix. She still extends a little more her musical horizons with the incorporation of electro to her Brazilian music, allowing her at the same time to pursue her evolvement. Despite the use of synthesizers, the music of Céu remains warm, perfect music for a late night cozy atmosphere. There are many nods to the past with references to disco and new wave, but always with an eye to the future. Céu signs 11 of the 12 songs on the record, the twelfth being a cover of Fellini's "Chico Buarque Song", an obscure Brazilian band. Again Céu manages to seduce us. An incomparable artist! (March 2016)



½

Dan San is a Belgian indie folk band that returns with a second album a little more ethereal. After a questioning period, the six musicians are back strongly. They trusted this time Yann Arnaud (Air, Phoenix, Syd Matters) which was seduced by the project and wanted to get them elsewhere. He preferred a live recording in the studio to capture the emotion and essence of their music. Also note the arrival of multi-instrumentalist Olivier Marguerit who gives a new light to the songs by adding synthetic sounds. This therefore results in a less folk and more contemporary album that blends acoustic instruments and synthesizers. Without altering their early influences, the band really goes to another level and approach a little more the style of Patrick Watson for example. (March 2016)



½

A year and a half ago, the Quebec rap group issued their first album, Montréal $ud, which allowed them to get a critical and popular success in Quebec, in addition to going on tour in France. Now to the forefront of the Quebec rap scene, the Dead Obies are back with a new album with an unpronounceable title which is tailor made for the stage. In fact, part of the 81-minute album was recorded live at a series of three sold-out concerts at the Phi Centre in Montreal. The band resumes to mix styles, both vocally (joual, slang, Creole, French and English) and musically (hip hop, soul, R&B and electro). They still explore new avenues with powerful bass and ethereal synthesizers for music of vaporous atmosphere that is felt more than it is heard. This is a very good album that offer the Dead Obies, a creative and varied album. Its only problem is that it is too long and could be synthesized to make it more consistent. Fans from the debut will surely appreciate anyway. (March 2016)



½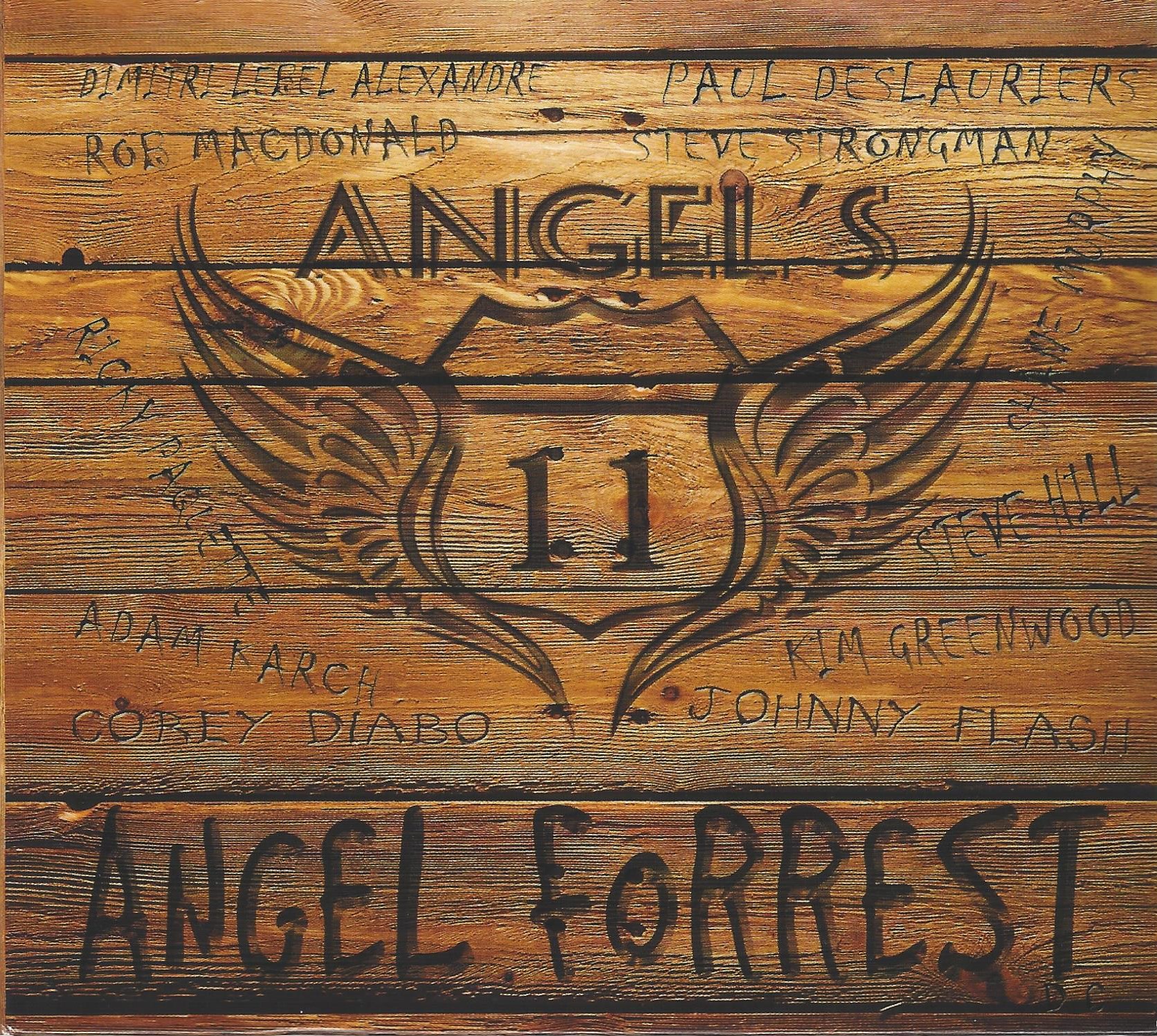 Angel Forrest has a career of already 27 years and she comes to us now with her 10th album. For the occasion, she paid tribute to 11 guitarists allowing them to play each on one of the 11 songs on this record. They include Rob MacDonald, Ricky Paquette, Paul Deslauriers, Steve Hill, Adam Karch, and several other great Canadian blues rock guitarists. Although she gives room to each of the guitarists, Angel dominates them all with her powerful and gravelly voice, which is immediately recognizable. Angel's 11 contains mostly blues at the base, but with a mix of rock and jazz that makes it varied and complete. It lacks only some compositions a little more prominent to make a great album of blues, considering the quality of the performances. (March 2016)




Ron Hawkins – Spit Sputter and Sparkle
The Toronto singer is best known as the frontman of The Lowest of the Low, but he also has excellent solo albums including Greasing the Star Machine (1998) and Crackstatic (2000). On this new album, he offers a great mix of alternative rock and classic rock, occasionally flirting with rockabilly ("Strum and Drag"). He offers some very good compositions that require us to stomp. Otherwise, the whole may be somewhat uneven with frankly boring songs. (March 2016)




Steve Hill – Solo Recordings Volume 3
The Quebec virtuoso guitarist is back with his Solo Recordings Volume 3. He is again offering powerful blues rock, to the limits of hard rock on several occasions. More importantly, he continues to play the one-man band playing everything by himself. He must be seen alone on stage with his guitar and his drums to discover the immensity of his talent. Although he has several songs that quite move, Hill also has some more melodic tracks on acoustic bases ("Slowly Slipping Away", "Troubled Times" and "Emily"). He also reinvented three songs among the 12 tracks of the album: "Still a Fool & a Rollin Stone", "Rollin & Tumblin / Stop Breaking Down" and "Going Down the Road Feeling Bad". With Solo Recordings Volume 3, Steve Hill presents perhaps his best album to date, a diverse but cohesive album to the end that perfectly highlights the virtuosity of this amazing guitarist. (March 2016)
No Label / SIX



½

The James Hunter Six is a British soul band around James Hunter. For their fourth album, the first for Daptone Recording, they decided to go to California and record 10 songs directly to an 8-track. The result is a mono sound reflecting more the atmosphere of the 1950s which is at the heart of the music of the sextet. Nostalgia is decidedly at the rendezvous, but the variety in compositions impresses greatly even though there are only 30 minutes of music. Soul is blended with elements of R&B, funk and Motown for a rich sound from another era. Hold On! is a custom album for nostalgic fans. (March 2016)




On his fifth album, the Montreal singer has a pair of songs in French among the 13 tracks offered, including the strong first single, "Montreal". For the record, Ian Kelly had been stolen from his album while it was on a hard drive in his car. Fortunately, it could be recovered and it is now released. SuperFolk pursues in the same acoustic style to which he has accustomed us, usually on guitar, but sometimes on piano. You can hear many unforgettable melodies, performed with the solidity that surprises us every time. We do not listen to the songs of Ian Kelly, we live them! He is again right on target with SuperFolk and let's bet he will still create quite a stir in the coming months. (March 2016)
Sunset Hill



½

The Boston metal band is back after the disappointing reunion with singer Jesse Leach for the Disarm the Descent album in 2013. The album still managed to get his share of success, but now the expectations are huge regarding Incarnate. The group does not lose its hardcore fury, but it makes more inroads into melodic death metal and progressive metal. So they manage to somewhat reinvent themselves, all in a magnificent production. As the voice of Leach and guitars, everything is clear and in its place for a sound that reminds us the best of Pantera in the 1990s. It is perhaps only a little too clean for metalcore fans, but you can listen to it really easily. Killswitch Engage therefore propose an album with greatly effective melodies enhanced by flawless execution. Without returning to the greatest years of the band, Incarnate succeeds where the previous record failed: presenting a united group again. (March 2016)




The Knocks is a New York duo formed in 2008 and composed of James "JPatt" Patterson and Ben "DJ B-Roc" Ruttner. The duo first produced remixes for Katy Perry ("I Kissed a Girl"), Britney Spears ("3") and Chris Brown ("Beautiful People") before releasing EPs. The DJs and producers now issue their first album including rather soft pop / house dance music taking into soul, funk, disco and rap. The 15 tracks on 55 include several songs previously released as singles or on their EPs. So we feel to discover a collection of greatest hits ("Classic", "Dancing With Myself", "Collect My Love", "I Wish (My Taylor Swift)"). Yet, all stands fairly well and is still listening as an album. We hear many guests as Cam'Ron, Powers, Fetty Wap, Wyclef Jean, X Ambassadors, Matthew Koma, Alex Newell (Glee), Justin Tranter (Semi Precious Weapons), Walk the Moon, Carly Rae Jepsen, etc. In the dance music genre, this is a very good album! (March 2016)
Music Videos: « Classic » - « Dancing With Myself » - « Collect My Love » - « I Wish (My Taylor Swift) » - « Comfortable »



½

For his sixth album, Ray Lamontagne still wanted to mix things up by bringing aboard Jim James (My Morning Jacket) as co-producer. He retains the fuzzy blues guitar brought previously by Dan Auerbach, but he goes more than ever in old English psychedelic rock, somewhere between Cream and Pink Floyd. Comparisons with Van Morrison can permanently disappear when there is nothing more soul in the voice of the American on Ouroboros. He offers a rather old dirty rock sound with complex experimental requiring a lot of patience to actually understand it. Ouroboros is an ambitious record, but not fully mastered. (March 2016)




Greg Laswell – Everyone Thinks I Dodged a Bullet
The songwriter and performer from California releases his seventh album on which he seems particularly haunted by a broken love. Everyone Thinks I Dodged a Bullet in fact contains a blend of dark songs in which sadness or depression are accentuated by synthesizers, piano and electronic rhythms. The atmosphere is not uninteresting, but it becomes heavy in the long run and it is not likely to get you back on track after a separation. Laswell has an incredible talent for melody, as well as for cinematic pop and orchestral music, but there is a bit much this time. It creates a distance with the listener who wants at all costs to get out of this depressing atmosphere. He managed at least to finish strong with "Not Surprised" but it's only if you have been able to go further without letting go. (March 2016)




Following the runaway success of The Heist, awarded a Grammy, the duo rapper / producer is back with its second album. For the occasion, they put everything together with a huge sound, certainly a bit too much at times. Immoderation looks pretty good, but it quickly becomes dizzying after the great hit "Downtown" even in the softest songs. Guest artists are everywhere throughout the 13 songs totaling nearly an hour. You can hear Mike Slap, KRS, Ed Sheeran, Leon Bridges, XP, Carla Morrison, and many others. The duo constantly wanders between hip hop and pop, with each its memorable moments. Otherwise, the whole remains destabilizing and inconsistent. With such a dense album, it's difficult to want to listen to it immediately when it finishes. Macklemore and Ryan Lewis perhaps were trying to go for a new Grammy, but they tried a little too much. (March 2016)
Music Video: « Downtown »




Miike Snow is a Swedish electro pop trio whose two members are best known under the name of Bloodshy & Avant and produced hits for Britney Spears, Madonna and Kylie Minogue. This third album, cleverly titled iii, possibly introduces what the trio has recorded best to date. It comes four years after the disappointing Happy To You. What we particularly like about iii is the injection of a healthy dose of soul in their avant-garde pop music. On some occasions, the band takes an introspective and melancholic trend, but the whole is rather entertaining with well supported beats. The melodies remain effective throughout the CD that contains in addition much creativity, despite some nods to the past with among others the use of old synthesizers. Female singer Charlie XCX just gives an energy boost to "For U", and we can hear samples of jazz and soul singer Marlena Shaw in the first single, "Heart is Full". Another highlight comes to us with the excellent hit "Genghis Khan", not to mention the surprising "Over and Over" that flirts with industrial music. For a very good album of creative pop music, you cannot be wrong with iii. (March 2016)
Music Videos: « Heart is Full » - « Genghis Khan »



½

Orbis is the seventh album by Quebec harpist Valérie Milot, who is again accompanied by the Violons du Roy. After well-known works for harp and orchestra of the classical and romantic periods, she takes a much more contemporary direction going into rarely explored territories for harp. So she performs works of Canadian Marjan Mozetich, Americans Steve Reich and John Cage, Quebec violinist and arranger Antoine Bareil, as well as two songs by leading progressive rock artists, Gentle Giant and Frank Zappa. Many of the pieces presented install an ethereal atmosphere to the limits of new age. But above all, the album shows all the possibilities of this instrument which is among the oldest stringed instruments. In addition to the Violons du Roy directed by Mathieu Lussier, you can hear the clear voice of soprano Marianne Lambert on the song "Castile in 1382" which was specifically composed for Valérie Milot by Antoine Bareil, inspired by Jacob Senleches. Here is an album of harp like you've never heard of. (March 2016)



½

The Montreal-based artist is back on record after five years of absence. Roxanne Potvin pursues the shift started on Play with a much more pop sound than before, even though folk is still well present. Her rich and melodic music also leaves room for her virtuosity as a guitarist. Then she participated in all stages of the creative process, from writing to production, she expresses herself more than ever in her songwriting with intimate and very personal music. This is certainly her most accomplished work to date, an album tailored for fans of contemporary and intelligent pop music. (March 2016)



½


The Swedish DJ now based in Los Angeles, also a member of Swedish House Mafia, has worked hard in recent years, but he issues now his first album of original material. We previously knew him for his covers or remixes, including his version of Steve Winwood's "Call On Me" with a music video that gained much attention, or "Proper Education", a dance version of Pink Floyd's "Another Brick in the Wall, Pt. 2". It is a double album of 19 tracks totaling two hours of music that he gives us with Opus. He offers an inescapable progressive house music as much for fans of electronic music as for simple dancers who cannot leave the dance floor. Highlights abound throughout the CDs with "Black Dyce", "Floj", "Breathe" and many others. It is important not to forget the epic title track to the very end that gradually builds over nine minutes to become a favorite of both house and trance clubs. In fact, Prydz may have taken his time before releasing his first "opus", but the wait was worth the cost since he offers one of the best albums in the genre for a long time. (March 2016)
Music Videos: « Liberate » - « Generate »



½

The Acadian electro-rap duo arrives with its fifth album, but this time, completely in English. Although their music fits beautifully the language of Shakespeare, we particularly appreciated their uniqueness when they were singing in chiac. On Light the Sky, Radio Radio seem determined more than ever to make us dance, with custom concocted beats for the dance floors. The arrival of two talented beatmakers in Shash'U and J.u.D. to replace Arthur Comeau certainly adds to the festive atmosphere that is full of energy. Despite this unstoppable energy, Radio Radio is less successful in capturing our attention on this new album that seems a bit too much like the mass of the genre recordings. Radio Radio guys may very well sing in English if they wish, but a few songs in chiac should always be part of their world, since that is where they really shine. (March 2016)
Music Video: « My Dance Floor »




After 45 years of career and now 66 years old, Bonnie Raitt is still present in the American blues rock landscape. Dig in Deep is delivered to us four years after the surprising Slipstream, and this is the 20th album of her career. The record was produced by Bonnie except "You've Changed My Mind", recorded in 2010, which was written and produced by Joe Henry, the very man who had produced her previous record. Bonnie signs five of the 12 songs on the CD, in addition to do a very nice new version of INXS' "Need You Tonight" and Los Lobos' "Shakin' Shakin' Shakes". Again, her slide guitar and her voice dominate this varied album that includes a superb blend of energetic and mid-tempo tracks, as well as two ballads in conclusion, the composition of Joe Henry and "The Ones We Couldn't Be". Bonnie Raitt managed again to offer us a solid album in the genre. (March 2016)
Redwing



½

Santi White (aka Santigold) is back with her third album. Her amalgamation of styles remains as relevant as she pursues to deftly walk the line between commercial and indie pop music. On 99 Cents, she joined again new wave, reggae, R&B and electro elements to often accessible pop music which also has its unsettling times. In fact, what is the most unsettling with Santigold is that she still offers both a highly creative pop sound throughout the 12 tracks. Although it is her most accessible album to date, few titles stand out from the whole and after a few listens you will certainly accept her own world. Another good record for the American artist! (March 2016)
Music Videos: « Who Be Lovin' Me » (feat. ILOVEMAKONNEN) – « Chasing Shadows »



½

The Small Glories is a folk duo from Winnipeg, Manitoba, which issues its debut album. Cara Luft and JD Edwards give us acoustic folk music with a mastery of their instruments: guitar, banjo and vocals. Both could well make separate careers, but when they come together, magic happens and they become a powerful tandem. Produced by Neil Osborne (54-40), the disc recorded "live to tape" beautifully showcases the talent of the two musicians, their vocal harmonies and the quality of their compositions. Here is an excellent folk album, certainly one of the best of the year so far! (March 2016)



½

After four years of waiting, the female singer and bassist is finally back with her fifth album. This time, she leaves out jazz and Latin standards by taking a different direction. She proposes instead a concept album around the character of Emily (which is her middle name). Musically, there are still elements of jazz, but above all it could be described as experimental pop rock. She co-produced the album with the legendary Tony Visconti (David Bowie) and the result is a mix of progressive rock with aggressive guitars, energetic fusion jazz and poetic pop music. It's a mix that surprises at first and may be scaring for many of her longtime fans. Otherwise, the creative richness of this record makes it a unique work for the artist, surely her most eclectic record to date. (March 2016)



½

Three years after a rock album with Beautiful Africa, the Malian female singer returns to a folk style incorporating world music, especially African of course. This sixth Rokia Traoré album grows introspective and questioning her identity, while her country is still in civil war. Still produced by John Parish (PJ Harvey), the intimate record is based on subtle rhythms and inventive acoustic guitar. The lyrics go between Bambara, French and even English, among others on "Strange Fruit," a 1937 song made popular by Billie Holiday. The lyrics also seem to become more important than ever in the work of Rokia Traoré. Note the participations of John Paul Jones (Led Zeppelin) and Devendra Banhart, even if they do not do so much notice. Né So is an album that provides a great feeling of satisfaction. (March 2016)



½

Underworld – Barbara Barbara, We Face a Shining Future
For their new album, Rick Smith and Karl Hyde started a unique writing process, writing a new song every day without much thinking. This resulted a few weeks later in several interesting compositions on which they could put a little more effort and then get to this album of nine tracks exceeding 55 minutes. Ultimately, that creative process has surely been beneficial for the British duo as they introduce their best album in 15 years, maybe even the best since Second Toughest in the Infants issued 20 years ago. With their style of techno and progressive house, which sometimes slows the pace, they certainly give a nod to their best years, but Underworld (the music directors of the opening ceremony of the London Games in 2012) remain well oriented to the future. Barbara Barbara, We Face a Shining Future is a leading electronic album, an important addition to the Underworld discography. (March 2016)



½

Narcissistic, egocentric, megalomaniac apply increasingly to Kanye West while he was claiming for quite some time to be about to release the best album in history. After various title changes, he finally presented his new album at a mega release concert at Madison Square Garden in New York City on February 11, before returning to the studio in the following days to touch up some of the 18 tracks of The Life of Pablo. Not so perfect ultimately this album Mr. West! The album finally reappeared in his final version a few days later on the Tidal sharing platform (owned by his friend Jay-Z), but West was quick to declare that it would not be available elsewhere. Result: The Life of Pablo is nowhere in the Billboard top 200, while four of his previous albums are there. It feels more like a professional suicide... However, that's a shame because the album has great times, even brilliant passages worthy of the greatest hip hop recordings in history. The first half includes experiments somewhat unsettling, but we discover a few gems whose opening piece, "Ultralight Beam", and very good moments of soul, R&B and even gospel. We only have to avoid paying attention to his lyrics in which he loves himself too much (for example in "I Love Kanye"). The second half has more conventional hip hop, but with the usual creative flair of Kanye West. And what about the surprise appearance of Kendrick Lamar for the excellent "No More Parties in L.A.". The album certainly contains inequalities, but there are enough prominent compositions to make it one of the best albums to date in 2016. By tightening it a bit, he might have been able to approach the so desired perfection, but it seems that he finally failed... (March 2016)



½

After the success of its first album and the huge tour that followed, the band now based in Nashville is back with its second album, Lonely is a Lifetime. One still finds traces of the classic American rock sound of their debut, but the group expands its sound well beyond. One can even hear big influences of brit pop with bands like Oasis and Blur that can come to mind at various times. As much their style can now be easily screened in an arena context, they move away a bit from what wowed the audience at start, their very Americana side near its roots. Here, everything is a little too clean and this is too much, for a pop rock album that probably will appeal to the general public, but which should leave their fans indifferent and orphans. Disappointing! (March 2016)




Josh Groban – Stages Live (DVD + CD)
After his Stages album in 2015 that revisits classic musicals like Broadway's, Josh Groban has carried these timeless songs on stage in Los Angeles. This is the show that is presented on an 87-minute DVD with the best moments on CD. We can hear among others parts from the Phantom of the Opera, Les Misérables and Carousel, in addition to "Le temps des cathédrales" from Notre-Dame de Paris. You can even hear an excerpt of the movie The Wizard of Oz, "Over the Rainbow". There are two exceptional duets with Kelly Clarkson and Audra McDonald, the latter in a live studio recording since she could not be on stage the night of the concert. The DVD features a large show with many musicians on stage. We can find in bonus a 22-minute behind-the-scenes documentary. As for the CD, it contains a bonus studio track for "Unusual Way". The DVD will certainly appeal to the fans of the singer. (March 2016)
Reprise / Warner



½

Vinyl: Music From the HBO Original Series Volume 1
The new HBO series created by Mick Jagger gained much attention even before its premiere. It depicts the world of rock music in the 1970s. This compilation presents 18 songs from the series. There are of course rock music from the 1970s, but also soul and R&B from the 1950s and 1960s. Rock moments include David Johansen (from the New York Dolls), Mott The Hoople (with "All the Way From Memphis"), The Edgar Winter Group (with "Frankenstein") and Foghat (with "I Just Want to Make Love to You"). The 1950s and 1960s are represented among others by Otis Redding (with "Mr. Pitiful") and Ruth Brown (with "Mama He Treats Your Daughter Mean"). We can also hear of course the theme song of the series, "Sugar Daddy" by Sturgill Simpson. Some more obscure songs complete the set for a full picture of the time and to make us travel back 40 years ago. (March 2016)



½

Two days after the release of Blackstar on January 8, which was also the day of his 69th birthday, we learned the death of David Bowie, as the result of a long battle against cancer. He almost managed to conceal the last 18 months of his life, cloistered for recording what would be his last work of a long and successful career. For this new album, Bowie does not hesitate to experiment. There are a few references to the past, but he still manages to innovate. After all, he contributed directly to put forward several styles throughout his career, so it's not a small cancer that would prevent him to remain at the forefront! Two songs were already presented in 2014 to promote the collection Nothing Has Changed ("Sue (Or in a Season of Crime)" and "Tis a Pity She Was a Whore"), and they have been revamped for Blackstar. Moreover, this new record contains two snapshot masterpieces with the 10-minute title song and "Lazarus" (in which he prepared his own death). Despite its 40 minutes total, with only 7 tracks, Blackstar feels a little like an unfinished work when it ends with "I Can't Give Everything Away". Yet this is still his most accomplished album in 35 years. A great way to say goodbye! (February 2016 Featured Review)
Music Videos: « Blackstar » - « Lazarus »





Coasts was formed in 2011 in Bristol, England. The quintet releases its first album in an indie rock / new wave style incorporating electronic elements. We can compare them more easily to American bands like Imagine Dragons and X Ambassadors than to English bands. Otherwise, there is the Irish Two Door Cinema Club that can also come to mind with a rock sound generally danceable. The rhythms dictated by drums dominate the record with power. But also memorable melodies occupy a more than important place in the music of Coasts with catchy choruses that will be sang along with great pleasure at their concerts, surely huge ones soon. A simple listening of "Modern Love" quickly gives an overview of all their rallying potential. "Oceans", "You", "Your Soul" and "Tonight" are the other cornerstones of this 16-track CD. Some pieces come to slow down the beat on occasions but, despite its 60 minutes, the album maintains a certain consistency to the end. Some tracks in less would only have further tightened a little more this excellent album. (February 2016 Featured New Artist)
Music Videos: « A Rush of Blood » - « Modern Love » - « Oceans » - « You »



½

A

a

R

ON

– We Cut the Night
Ten years ago, the French duo had a remarkable debut with the hit "Lili". Simon Buret and Olivier Coursier now have a new album of aerial electro-pop, with influences of Radiohead and Portishead. The space atmospheres of the record are always hypnotic, and we end up more than once not really listening but rather just following this dark music that takes to the guts. Depeche Mode are never far in the music of AaRON. Some irresistible melodies require us to sing with them, among others in "The Leftovers" and "Blouson noir". Otherwise, light times are rather rare and We Cut the Night instead offers the perfect music to live at night. With this new album, AaRON managed to renew in a very nice way for an impressive record. Impressive by its atmospheres and unique power of attraction. To listen to from beginning to end! (February 2016)



½


The singer and songwriter from New Brunswick already has his seventh album, following the success of Weightless issued in 2014. Recorded in New York City with producer Commissioner Gordon (Joss Stone, Amy Winehouse, Santana, Quincy Jones), Honest Man presents especially the personal side of Matt Andersen, also with political topics. This is an intimate blues sound that gives us the artist, with a strong folk, country and even R&B trend. Otherwise, for the first time we discover electro elements (sampling, drum loops, etc.) that can easily be considered unnecessary in Andersen's music, as he is at his best in a guitar-voice naked style. Among the songs to pay particular attention to, there is the touching ballad "I'm Giving In" which will surely leave no one indifferent. (February 2016)




One day on a beach of the US East Coast, Quebec composer and guitarist Michel Cusson saw a woman throw to the sea in panic all her family photos. She seemed to want to erase her past. Unable to let those memories disappear, Cusson recovered the photos and forgot them in a box for years. The day he decided to take a glance, these pictures became the inspiration for a personal musical project. Matured for ten years, Solo includes nine instrumental pieces influenced by this reconstructed story from altered images of an unknown life. Cusson offers an atmospheric and cinematic sound blending jazz and world music, with even some touches of Arabic music. The virtuoso guitarist manages to make us travel and he is varying the emotions transmitted from one song to another. Again, Michel Cusson managed to upset by his huge talent as a composer and musician. (February 2016)



½


The progressive metal band never does things by halves and so once again with The Astonishing, an album of 34 songs in two acts exceeding 130 minutes. It was perhaps their own way of celebrating their 30-year career. Guitarist John Petrucci has created a rock opera of science fiction that exceeds anything the band could offer previously in concept albums. He just invented a new country for which we can find the map in the booklet, a country that prohibits music created or played by humans, relying on a small group of rebels to perpetuate the tradition. For this grandiose album produced by Petrucci, the group was accompanied by the Prague Symphony Orchestra and three choirs, all directed by David Campbell (Beck's father). This is the singer James LaBrie that ensures the voices of the characters, while all the music seems headed by the keyboards, pianos and organs of Jordan Rudess. Obviously, the guitar playing of John Petrucci is still hallucinating, a musician who is considered by many as one of the best guitarists in the world. His performance in "A Better Life" is particularly remarkable, even if he plays a little fewer solos than usual on the album. Few songs stand out of the lot, but the album was initially designed to be listened to in full, an exercise rather challenging but greatly rewarding. We cannot say that The Astonishing rivals the greatest rock operas in history as Tommy, but it offers great moments of satisfaction and will certainly delight the many hardcore fans of the band. (February 2016)
Music Video: « The Gift of Music »



½

After two albums that have got attention in 2013 and 2014, the Louisiana rapper is back with Islah. Unlike most other artists in the genre, he is not surrounded by a bunch of collaborators, but he rather presents a personal work. The only exception is for a bonus track, "Jam", on which he is accompanied by Trey Songz, Ty Dolla $ign and Jamie Foxx. The recent newlywed gives way to his romantic feelings in a few occasions, but everything stays wrapped up in a macho atmosphere typical to east coast rap. He also deals with tougher topics like drug-dealing, prison, depression and suicidal thoughts. Musically, Gates has more substance than in the past with several layers perfectly merging into a rich sound that is very interesting to discover throughout the CD. Here is a very good album by a rapper who has a bright future. (February 2016)
Music Videos: « La Familia » - « Really Really » - « 2 Phones » - « Pride »



½

The Manchester England trio was introduced primarily as an experimental jazz trio. But it goes far beyond the traditional jazz piano trio by integrating electronic elements (not using computers), trip hop, brit pop and indie rock. In fact, they borrow as much to Radiohead and Massive Attack than to some of the most innovative jazz standards. Brad Mehldau and St Germain may also come to mind. The virtuosity of the three musicians leaves no doubt as the drums of Rob Turner may seem straight out of a preprogrammed beat box and the piano of Chris Illingworth beautifully replaces any other instrument, including voice. The powerful bass of Nick Blacka fills in the space to make an album of a surprising richness. The 10 instrumental tracks that offers the band impress by their creativity, even if after a while the surprise is a little less present. Despite its complexity, Man Made Project is listening admirably well to the end. (February 2016)



½

Elton John – Wonderful Crazy Night
For his new album, the veteran English singer and pianist seems determined to have fun again, if we go by the title, the front cover and most of the lyrics by Bernie Taupin, his faithful collaborator. Elton John brings back his touring musicians for the first time since 2006 and it is once again T-Bone Burnett who produced it, the one who had worked on the duet album with Leon Russell, The Union, in 2010. His sound of the 1970s could well recover old fans, but unfortunately after the first songs, most compositions fall flat and give us very little fun in the end. One can find the CD nice to listen at different times, but there is little chance that we want to return to it again, which is the sign of an album that lacks inspiration and misses its target. Wonderful Crazy Night is therefore far from the album that would have marked a return to the genius of Elton John in the 1970s. (February 2016)
Music Video: « Blue Wonderful »


½

Lake Street Dive is a Boston quartet featuring contemporary soul music. There is a blend of influences from 1960s rock to the music of Motown, certainly with a jazz background. Side Pony is their fourth album and they pursue the same path as before. Their music is centered on the voice of Rachael Price, and although the album was recorded in Nashville, there is no trace of country, a style that was also part of their influences at their debut. Among the remarkable moments of the CD there are in particular "I Don't Care About You", which seems like a cross between The Beatles and Janis Joplin, and the disco/soul "Can't Stop" which contains a sample of "Love Pains", a 1978 hit by Major Lance. The album features several interesting elements, especially for the nostalgic fans. Otherwise, there are very few innovations. (February 2016)




Majid Jordan is a Toronto duo formed of singer Majid Al Maskati and producer Jordan Ullman. Endorsed by Drake, they issue a first album focused on moods and R&B rhythms that make stomp. They remain especially effective when their beats can be carried on the dance floor, because in some songs for late evenings as "Love Is Always There" and "Warm", they become downright annoying. Fortunately, there are those mid-tempo ballads in limited quantities. Catchy melodies and exciting rhythms are comforting and we realize that this first album by the duo is not so bad after all. To listen to in skipping some tracks to keep the pleasure. (February 2016)
Music Videos: « My Love » (feat. Drake) – « Something About You » - « King City »




Makaya is a Montreal Creole jazz quintet. After a first album in 2009, the band returns with Elements. It contains 11 tracks, four songs and seven instrumental pieces, seven original compositions and four covers. The covers specifically include the first single, Gerard Dupervil's "Gwog Mwen", a 1963 standard of Haitian music performed by the Jazz des Jeunes (Youth Jazz) and often revisited since. We can also hear their unique version of a traditional Haitian folk piece "Peze Kafe" attributed to Lina Mathon. Their jazz music, which uses no drums, draws heavily in African roots that have shaped Creole music. Their effective beats quickly create an irresistible attraction to their music. With Makaya, there is no better way to celebrate the Month of Black History. (February 2016)
Music Video: « Gwog Mwen »



½

Matt Dusk and Florence K combine their voices to offer us an album of great sweetness. They have jazz arrangements with superb orchestrations reminiscent of crooner music from another era. The very symbiotic duo performs great standards like "Girl of Ipanema", "Ces mots stupides/Somethin' Stupid" and "You Are the Sunshine of My Life". Quiet Nights is undoubtedly an album of choice for Valentine's Day, a retro album yet but modern at the same time. (February 2016)
Music Video: « Ces mots stupides/Somethin' Stupid »
Royal Crown / Productions J



½

Modern Space is a Toronto quintet which is issuing a first EP of seven tracks totaling nearly 25 minutes. They offer us an energetic rock sound with greatly effective pop melodies. The group already has extensive stage experience with bands like The Vaccines and The Arkells and let's bet that with songs as catchy and fun to sing they are very successful in concert. A first full-length album should certainly be eagerly awaited because we can certainly hear about them for a long time. (February 2016)
Music Video: « Let It Out »




Monster Truck is a band from Hamilton, Ontario, which gives into classic rock and rock 'n' roll, but also with blues influences. Their music focuses on a wall of guitars and effective beats. Their second album, Sittin' Heavy, was produced by Eric Ratz (Billy Talent), and it continues in the same raw energy as demonstrated before. On "For the People" can be heard Ian Thornley (Big Wreck) as a guest. Even if the album will not reverse any rock barrier that does not already have been demolished, some tracks stand out of the lot: "Don't Tell Me How To Live", "She's a Witch" and "The Enforcer". (February 2016)




The Las Vegas band is back with their fifth album. It offers an excellent mix of emo and pop rock with great theatricality. Death of a Bachelor represents the vision of singer Brendon Urie whose marriage in 2013 marked "the death of his bachelor life". Urie co-produced the almost concept album with Jake Sinclair (P!nk, Taylor Swift, Five Seconds of Summer). The group explores a more expansive sound with some hip hop elements, Queen-like exuberance, gospel inspirations ("Hallelujah"), and even phrasing like Sinatra (the ballad "Impossible Year" at the conclusion of the CD). A sampling of "Rock Lobster" of The B-52's comes to give life to the excellent "Don't Threaten Me With a Good Time". Death of a Bachelor is a grand production that pursues in the direction taken by the band in the last few years and still less and less punk rock. (February 2016)
Music Videos: « Hallelujah » - « Emperor's New Clothes » - « Victorious » - « Death of a Bachelor »



½

The singer from New Jersey already had a huge success with "Marvin Gaye" (featuring Meghan Trainor), the first single from his first album. The CD opens strongly with the unforgettable "One Call Away", but unfortunately it goes out of steam very quickly with abuse of ballads and mid-tempo songs that become downright boring over the CD beforehand. It is therefore easy to limit ourselves to the first three tracks and drop everything after the excellent "Marvin Gaye", with Motown influences. (February 2016)
Music Videos: « Marvin Gaye » - « One Call Away »



The work on Anti began more than a year ago, in the fall of 2014. Despite several singles that appeared in 2015 like "Bitch Better Have My Money", none of these hits is included on the album, probably because they did not fit in the special atmosphere of the record. Anti is indeed an album that is listening as a whole, rather than a bunch of hits. It includes a beautiful sensitivity, enhanced by the unique atmosphere of the CD. The focus is much more on the atmosphere than on beats and catchy pop melodies, as it was especially the case in the past for Rihanna. This therefore results in her most consistent and coherent album to date, not bad for a pop singer who is often overlooked. Here's what could prove to be one of the best pop / R&B albums of the year. (February 2016)



½

Suede – Night Thoughts
The London band, which had taken a long break in the 2000s, is back with a second album in three years. On Night Thoughts, the leader Brett Anderson seems to reach a new level of maturity and the result is the band's best album in over 20 years. Both grand and intimate, the album placed on what the group has always done best, intelligent Brit pop music that requires a minimum of effort. Few tracks stand out of the lot, and we must focus on the whole. Night Thoughts is perhaps not a concept album, but the pieces are linked beautifully to form a whole that is important not to split. The album still reaches its climax at the fifth track with the epic "I Don't Know How To Reach You", which exceeds 6 minutes. Here is a superb album for Suede, an album that is savored slowly for 48 minutes and then that makes us want to return to it. (February 2016)
Music Videos: « No Tomorrow » - « Pale Snow »





The Tedeschi Trucks Band is an American collective assembled around Derek Trucks and Susan Tedeschi. They have set a particularly rich blues rock sound incorporating piano, organ and brass to the electric guitars. Susan's voice also adds a nice color to the set that will satisfy demanding fans of blues rock. The Tedeschi Trucks Band is very pleasant to listen to and it is certainly a good fun to discover on stage. (February 2016)
Swamp Family / Concord / Universal




The Temperance Movement is a rock 'n' roll British band releasing their second album, White Bear. They offer a sound sometimes hard rock with blues influences. The 1970s are never far away and they seem rather nostalgic of the good years of rock. As much as some songs are energetic, the album also offers some softer moments, like in the verses of the title track for example, when the chorus hits us right in the face afterwards. Without revolutionizing rock music, The Temperance Movement come to us with an interesting and entertaining option. The group will be performing at Montreal's Corona on March 9 opening for Monster Truck, a band they tour with across Canada. (February 2016)




Toothgrinder is a hardcore metal band from New Jersey which arrives with its first full-length album after the Schizophrenic Jubilee EP. They have a fairly violent music, but also with some moments of "softness" integrated into several songs. The guttural voice certainly does nothing melodic, but the guitars very often catch our attention for an overall sound that is not too aggressive in the end. The tempo changes continuously, just to keep us on the alert, and they manage to maintain our curiosity throughout the CD. Without revolutionizing post-hardcore, Toothgrinder offers an intelligent alternative to everything we hear on the market. (February 2016)




The French trumpeter returns with a new album in quartet formula accompanied by Benoit Corboz, Marcello Giuliani and Arthur Hnatek (replacing Marc Erbetta on drums). Doni Doni offers jazz music very strongly inspired by African music. Malian singer Rokia Traoré sings on four songs, then you can hear the rapper Oxmo Puccino, also born in Mali, in conclusion of the album on "Le complément du verbe". The other half of the CD still remains instrumental with jazz music that occasionally flirts with instrumental pop. Doni Doni is nice to listen to from beginning to end. (February 2016)
Foufino / Parlophone / Warner



½

Roman Zavada – Résonances boréales
With Résonances boréales, the Montreal pianist, known as an accompanist for silent films, presents a unique project. Inspired by the northern lights during a car ride to the Iles-de-la-Madeleine, Quebec, Roman Zavada had the idea of ​​a dialogue between the northern lights and the piano. After going once to the Northwest Territories in 2013 for inspiration, he returned in 2015 and brought back more than 10 hours of piano recordings under the northern lights, as well as twenty hours of video material. He overlaid textures and resonances of three different pianos into a rich music evoking the vastness of the North, and the beauty of the northern lights. We may lack the visual on the album, but his evocative music manages to immerse ourselves in the atmosphere he wanted to create. However, an immersive film was produced, inspired by the compositions of the album, and it will be presented at the Society for Arts and Technology (SAT) in Montreal from February 18 to March 4 with a live performance of Zavada. (February 2016)
Videos: Introduction – Demo 360o



½


Country Voice Love Songs
Country Voice Love Songs is a compilation of 18 tracks combining several of the finest voices in contemporary country. Among the most famous singers, there are George Strait, Blake Shelton, Dierks Bentley and the young Hunter Hayes. The only woman in this male tide is Shania Twain with the song "Forever and For Always". A highlight of the CD is presented by Chad Brownlee with "Thinking Out Loud", but all of these love songs are likely to appeal to a public which is fan of modern country. (February 2016)
Music Video: « Forever and For Always » (Shania Twain)




Arno – Human Incognito
The Belgian rocker is back with a new studio album, recorded between Brussels and Bristol, England with acclaimed producer John Parish (PJ Harvey, Eels). PJ Harvey is also a name that comes to mind listening to Human Incognito, of course with Tom Waits and Leonard Cohen. Arno returns to a basic sound centered on the guitar by dropping most of the synthesizers used previously. This is an excellent blend of experimental folk and rock 'n' roll that offers us the veteran, who has obviously lost none of his passion and his creative abilities. His hoarse voice delivers beautifully his inspired lyrics in French and English. Once again, this is an excellent record for Arno. (January 2016)



½

Daughter – Not to Disappear
Formed in London in 2010, the Daughter trio offers a rather intimate indie pop sound with moments of rock and electro. Not to Disappear is their second album after If You Leave in 2013. The lyrics by Elena Tonra often turn dark and sad as she deals with separation, brokenness, loneliness and disappointment. It is therefore not a sunny record! Otherwise, the whole album creates a very pleasant world that surrounds us quickly into its comforting atmosphere, carried on by the beautiful voice of Elena and effective guitars. Some lengths could be avoided, but it is still a successful second record for Daughter. (January 2016)



½

Cécile Doo-Kingué – Anybody Listening Part
2

:

Dia

logues
After the discreet and soft Monologues issued last year, the guitarist and singer returns with her second album of an exploratory trilogy of blues and roots music. This time, she plugs her electric guitar to offer us an energetic sound, which has groove, and is even sometimes hard. This is an excellent blend of blues and rock which admirably suits her warm voice. We can also hear some jazz, folk and soul influences. For the occasion, Cécile is accompanied by some of the best musicians and singers in Montreal. The result is a rich, unifying music, contemporary blues played with some skill. As a final point to the CD, Cécile even offers an impressive cover of Jimi Hendrix' "Manic Depression". Again, Cécile Doo-Kingué demonstrates the breadth of her talent in this record that wants to be a perfect complement to Monologues. It remains to see how she will complete her trilogy… (January 2016)



½


With two critically acclaimed hits, "All Clear" and "The Arp", the third album of the singer from Victoria, British Columbia is already on a roll. Knight proposes a dense indie pop / indie rock sound that is reminiscent of Patrick Watson and Jeff Buckley. His lyrics have a mixture of melancholy, comfort and positivism. Although it lasts only 33 minutes, the 8-track album is thick enough to give us a lot for our money. Some additional tracks might have been too much. Here is a more than successful record for Aidan Knight. (January 2016)
Music Video: « All Clear »



½


Custom Search